Baker Tilly Cyprus, a firm specialising in assurance, audit, and financial compliance reporting, as well as advisory, tax and specialist consulting, this week released its Cyprus Tax Facts guide for 2023.
This publication, the company explained, provides general information about the Cypriot tax system, incorporating various useful notes and relevant tax figures, based on Cyprus' current tax legislation and practices.
In addition, the company clarified that the tax information contained in the guide is accurate as of the date of its publication, with the guide being intended to be used for general guidance only and does not constitute professional tax advice.
"All of us at Baker Tilly are here to assist you to develop an effective tax strategy consistent
with your personal and corporate objectives," the company said in a statement.
"Our mission is to proactively use the expertise that we have gained over the years, to help our clients to resolve their needs and problems and to manage their tax risks. Acting on behalf of our clients, our focus is to offer a single point of contact approach, enabling our clients to have all their tax requirements catered for through a single point of contact," the company concluded.
Baker Tilly Cyprus' Tax Facts guide for 2023 can be viewed on the company's website.
Deputy Minister of Shipping Vassilis Demetriades on Wednesday will attend a maritime conference in Athens, where he will present the positions and initiatives developed by Cyprus at the national, European and international levels in order for shipping to effectively face present and future challenges.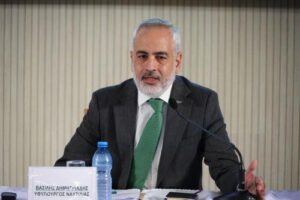 According to a statement, the maritime conference, which will take place in the auditorium of the War Museum and is entitled '2023, Sailing in a new Geo-economics: The effect of the World Energy Crisis in Seaborne Trade and the role of Geopolitics on the Future of the Shipping Industry', will focus on the challenges facing the shipping sector, in relation to the global energy crisis and wider geopolitical developments.
On the sidelines of the conference, the Deputy Minister is expected to have meetings with shipping agents and representatives of shipping companies that trust Cypriot shipping, in order to present the new actions and initiatives of Cyprus resulting from the national strategy "SEA Change 2030".
Demetriades is expected to return to Cyprus at noon on Thursday, January 12.
There was an increase in unemployment in Cyprus in November 2022, according to a report released this week by Eurostat.
In addition, according to revised data, the unemployment rate rose to 7.5 per cent in October, up from 6.9 per cent.
What is more, unemployment stood at 6.6 per cent in November 2021, with the figure in November 2022 signifying a year-on-year increase of 0.9 per cent.
Moreover, the number of unemployed increased to approximately 36,000 in November 2022, up from 33,000 in October of the same year, and 31, 000 in November 2021.
Eurozone unemployment remained steady at 6.5 per cent, while the same figure stood at 6 per cent across the entirety of the European Union.
Finally, Eurostat said that according to its estimates, 13 million people were unemployed in August across the EU, 10.8 million of which are in eurozone countries.
The Cyprus Stock Exchange (CSE) ended Tuesday, January 10 with losses.
The general Cyprus Stock Market Index was at 91.82 points at 13:20 during the day, reflecting a drop of 0.41 per cent over the previous day of trading.
The FTSE / CySE 20 Index was at 55.39 points, representing a decrease of 0.43 per cent.
The total value of transactions came up to €30,745.
In terms of the sub-indexes, the main and alternative indexes fell by 0.36 per cent and 0.48 per cent respectively.
The hotel index rose by 1.06 per cent while the investment firm index remained unchanged.
The biggest investment interest was attracted by Vassiliko Cement Works Public Company (-1.52 per cent), the Cyprus Cement Public Company (-3.33 per cent), Louis PLC (+2.13 per cent), the Bank of Cyprus (-0.56 per cent), and Logicom (-1.04 per cent).