Popular dessert around the world has its roots in ancient Greece finds ANDRY VOSKARIDOU
What is the one thing that makes this creamy and rich baked treat of cheesecake special? Well, first of all it is not considered a cake but rather a custard.
Usually categorised in baked or non-baked versions, the key to its texture and flavour is the flawless balance between its elements: sugar, eggs, vanilla and any kind of soft cheese – usually set on a crunchy base of cookies.
It took a lot longer than one might think to develop the perfect version of this dessert – and even though one of the most famous versions is named after New York, the history of cheesecake doesn't start in the US: it surprisingly dates back to 5BC in ancient Greece, where a basic recipe of fresh cheese mixed with flour and honey was named 'Plakous' (flat mass). These basic patties were cooked on a fire under a hot brick.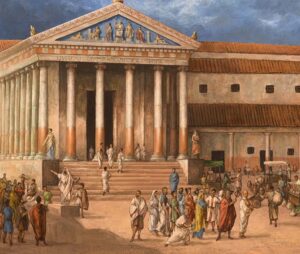 It was such a popular dish in ancient Greece that smaller versions of these patties were served to athletes during the first Olympic Games, in Delos in 776BC to provide them with much needed energy whereas in Ancient Rome, they were often presented as a temple offerings.
The creamy custard started being served on a crumbled cookie base during the late 14th century, when a few medieval recipes were developed by the cooks in the court of King Richard II. Records of these combinations have survived; we know that one version was scented with rosewater and flowers and another one flavoured with ground ginger.
And even though various cultures throughout history had at least some version of a cheesecake in their gastronomies, the catalyst that led to the form of the dessert as we know and enjoy it today, was the invention of cream cheese in America. William Lawrence invented cream cheese by mistake in 1872 while trying to create another soft cheese from France, called Neufchatel!
Later on, around 1920, a German-Jewish immigrant named Arnold Reuben, who owned the Turf Restaurant at 49th and Broadway Street, introduced the New York cheese cake after tinkering with a recipe of a dessert he tasted at a party. He added cheese curds in place of cream cheese and in no time, after gaining widespread recognition from high profile clients of his restaurant and the attention of other bakers in New York, chefs and bakers continued experimenting with and evolving the recipe of the cheesecake.
One can find – as a special treat on their way to the latest Broadway show – numerous versions of the cheesecake at roadside delis made with sour cream, curds, spices, fresh strawberries, lemon, fruits or graham crackers.
The largest Cheesecake ever made weighed approximately 2132 Kg and was made by Philadelphia Kraft Foods Mexico on January 25, 2009, in Mexico.
The best baked cheesecake recipe
Crust base Ingredients
1.5 cups graham cracker crumbs (or Digestive biscuits)
2 tablespoons white sugar
1 tablespoon brown sugar
7 tablespoons unsalted butter
Pinch of salt
Cheesecake Ingredients
910g cream cheese at room temperature
1 cup sugar
2/3 cups sour cream
1.5 tsp liquid vanilla extract
2 tsp grinded lemon or orange rind
Pinch of salt
4 large eggs lightly beaten
Preheat oven to 160C
To make the crust, in a glass bowl combine all dry ingredients and then pour melted butter and then, using your hands or a fork, combine them very well. Pour the crumb mix into a 9-inch springform pan and press firmly. Set aside.
For the cheesecake custard, add the cream cheese into a bowl and mix until lightly creamy and smooth with a hand mixer. Add the sugar and continue beating until fully incorporated. Add the sour cream, vanilla, rind and salt until well combined – you can use a rubber spatula to scrape the sides of the bowl to mix evenly.
Next, set your hand mixer on low and then slowly add the eggs. Scrape the sides of the bowl again at intervals as to ensure sufficient combination of ingredients.
Pour the cheesecake batter on the crust base. Place the springform pan into the centre rack of the oven and bake for about 1 hour 15 minutes or until edges have slightly risen and browned and centre is jiggly but bounces back when pressed. If you over bake its texture will be affected.
When done, remove from oven and let cool.
After 10 minutes, loosen the crust from the inside of the pan with a knife and remove outside ring of pan as to minimise possible cracks from shrinkage during cooling period.
Then cool for another 2 hours before placing into fridge as to cool overnight.
Serve as is or add fresh fruits, compotes, melted chocolate or caramel sauce on top!
Enjoy!
Andry has been cooking since she was five and is a member of the World Gourmet Society in addition to organising the Desserts Festival Cyprus