Although faced with a record 14 candidates in today's presidential election, the campaigns have been marred by the widely held belief that none of the hopefuls present any "real change", largely due to the fact the three top candidates have all been described as the president's men.
Although campaigns have focussed on bringing about change, the top three all have close links to current president Nicos Anstasiades: Averof Neophytou is ruling party Disy's leader, Nikos Christodoulides is a former Disy member and former minister largely blamed for splitting the party due to his independent candidacy, while Akel-backed Andreas Mavroyiannis was Anastasiades' chief negotiator at the Cyprus talks.
The lack of interest has been shown by a low interest in registering to vote among those who have become able to since presidential elections were last held five years ago.
And while all candidates called on the public to vote, only 561,033 are registered to do so. Nonetheless, the cost of the elections is estimated at €7 million.
Polls have so far pegged Christodoulides as the clear winner in today's vote with the battle expected to be between Neophytou and Mavroyiannis for who will join him in the runoff on February 12. To win outright today a candidate must garner 51 per cent of the vote.
Among the remaining 11 candidates some are more high profile than others with independents Achilleas Demetriades and Constantinos Christofides saying they are here to stay and will not disappear from politics once the election is over.
Demetriades had been close to getting Akel's backing but an in-party vote led Akel to back Mavroyiannis instead. This has left some well-known Akel members adrift from the party's presidential race, with some like Erato Kozakou Marcoulli openly backing Demetriades' candidacy instead.
Many in Akel were – and continue to be – uncomfortable with Mavroyiannis' candidacy as he held the post of chief negotiator. Accusations by Akel on the handling of the Cyprus problem are hard to manage when its candidate of choice was the one leading negotiations.
The attempted workaround has seen Mavroyiannis pointing the finger squarely at Anastasiades, who was his boss. The strategy has been effective to a degree as some polls have showed Mavroyiannis having strong chances in heading to the final round of elections.
Nonetheless, some have been less forgiving, with Demetriades slamming Mavroyiannis during a televised debate for not resigning from his post for five years after the talks in Crans Montana sank, if he was so genuinely upset with Anastasiades' handling.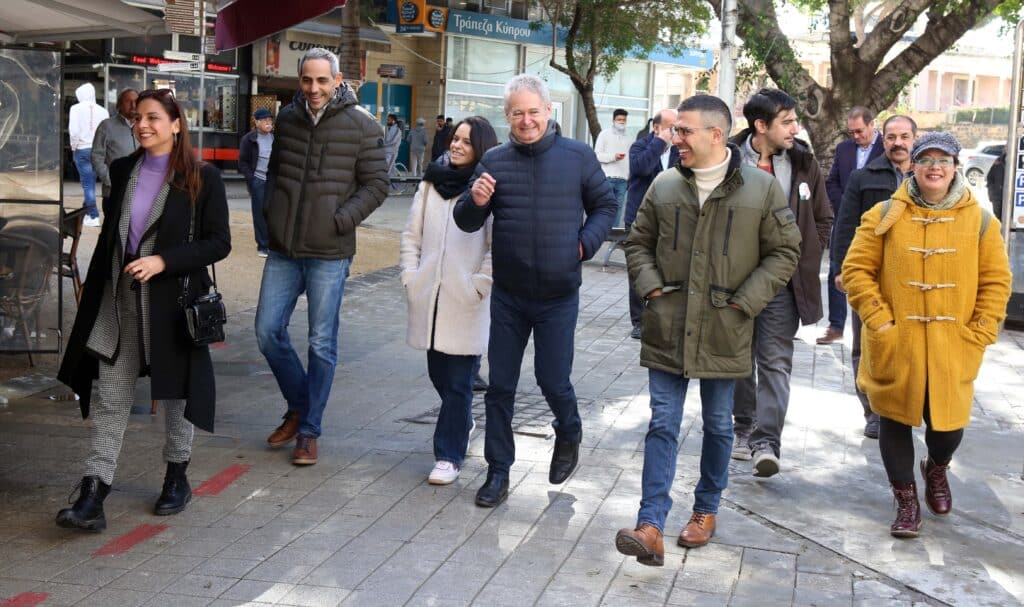 Akel was not the only party with internal strife, and its issue was overshadowed by the Disy infighting, which has seen its members split into two camps.
The schism became apparent when Neophytou described Anastasiades as "the elephant in the room" due to his ambiguous stance on who he was in fact supporting: his party's leader Neophytou or his former foreign minister Christodoulides?
Shortly after this comment, Anastasiades threw his weight behind Neophytou in the public sphere, stressing the importance of Disy's unity.
But what of the changes the candidates say they are bringing to the table? Christodoulides has made a lot of platitudes about participatory democracy to include all facets of society, securing the backing of centre parties but floating his candidacy as being independent, even while he was still a member of Disy. He was eventually kicked out.
Neophytou has pegged his presidency as a continuation of Disy's successful management of three major crises over the past 10 years: the financial crisis, the pandemic and the current energy crisis.
Mavroyiannis has insisted he will work to solve the Cyprus problem and offer respite and support to vulnerable groups of society.
Among the other candidates, Demetriades has presented himself as an outsider to political games but with the skills and knowledge to handle problems. His campaign has often come with modern quips such as having a dog with him when submitting his candidacy, highlighting that the way animals are treated is indicative of a country's sensitivities. His famous case with Titina Loizidou who took Turkey to the ECHR has largely been played to his favour.
A former rector at the University of Cyprus, Christofides has kept his academic background to the fore, highlighting solutions to mainstream renewable energy sources and practical steps that could make Cyprus an effective green economy.
Former Diko member Giorgos Kolokasides has poised himself as a candidate that no longer believes the Cyprus problem can be solved on the basis of a bizonal bicommunal federation and it is time to stop trying to use solutions that have 'demonstratively' failed to reap any results for decades.
Meanwhile Elam's Christos Christou has unsurprisingly weighed heavily on the importance of getting rid of immigrants.
More obscure candidates include Celestina De Petro who suggested butchers should retire early with an extra €550 per month, so as to reduce the number of animals getting killed. Soviet-born presidential candidate Yulia Khovrina-Komninos is advocating that Cyprus should leave the Euro currency behind and reinstate the old Cyprus pound.
Loucas Stavrou, Alexios Savvides, Andronikos Zervides, Andreas Efstratiou and Charalambos Aristotelous are also part of the 14 but have hardly featured in the news.
On election day, some 2,000 police officers will be deployed across the country, with police presence at every polling station, and the offices of presidential candidate's.
While voter turnout remains to be seen, the biggest group of voters, 107,801, are aged 70 and above. A total of 276,029 men and 285,004 women are registered. This includes 730 Turkish Cypriot voters and 240 displaced voters.