THEO PANAYIDES meets an actress who's in people's living rooms every night, a woman who was quiet and not very brave as a child but grew up into an old-fashioned radical
We meet in a geodesic dome (more on this later), just outside Nicosia; 15 cats – five inside the house, 10 in the garden – and two dogs. It took a week to arrange because Stella Fyrogeni is busy these days, her days given over to a TV show called I gi tis elias ('Land of the Olive'); they shoot 12 hours a day, five days a week – the show is essentially a soap, with a new episode coming out every day – and indeed they were also in Mani this week, the Peloponnese peninsula where the show is set, for a few days' filming. Stella and the cast are heroes in Mani; people come up to greet them, meals and drinks are often on the house. The show's become so popular in Greece, she reports with a touch of amazement, that tourists now travel to Mani just to gawp at the locations.
Her amazement is real, not just because everything about her seems to be real – she doesn't play the diva; we speak in informal 'tu' mode from the get-go – but also because all of this is relatively new to her. For many years, since graduating from the Drama School of the National Theatre of Greece in her 20s (she's now in her 50s), Stella was exclusively a theatre and (occasionally) film actress – barely even watching TV, let alone starring in it. "It's very interesting and very – very sweet, what's happening," she muses. You're in people's living rooms every night, so "once they get to like you – through your character, and how you handle yourself in the show – they approach you with a great deal of love… And of course that's very nice, for someone to come up and say good morning, it's good to see you, I'm happy to meet you – even if they don't actually know your name, just your character's name!" Well-wishers call her 'Haido', the woman she plays on the show. Still, their affection is real.
Keeping it real is a theme in our conversation. She doesn't gossip (well, maybe a little), or deal in the effusive luvvie waffle we associate with actors; we talk about power relations, Covid, animal cruelty, the state of the world. She's a serious actress, not because stage productions are inherently more serious than TV soaps (maybe they are; she won't be drawn on the matter), but because she comes across as a serious person.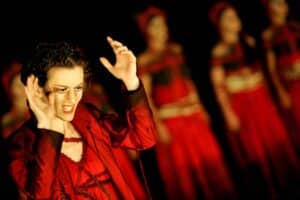 We talk about her achievements too, of course: 30 years in the biz, three-time Best Actress winner at the Thoc State Theatre Awards (she worked there till 2016, when the organisation stopped offering contracts and began employing actors on a freelance basis). Asked for highlights, she cites Orlando – the first of those three awards in 2005, directed by Lea Maleni – a monologue that kept her onstage for almost two hours, and Palace of the End by Judith Thompson, another series of three monologues about the war in Iraq, which she directed herself and also performed the first part, playing Lynndie England of Abu Ghraib infamy. 'What kind of energy do you feel you give out, as an actress?' I ask, but of course it's a question she's unable to answer. That's for viewers to say – and my own take is perhaps an impression of a churning in her soul, an inner torment. A good actor, needless to say, can play anything – but Stella's stark, high-cheekboned face is more of a tragedienne's face. You can picture her as Electra or Clytemnestra, or a world-weary courtesan in some sad period drama – or alternatively Elpida, the helpless, 'invisible' woman trapped in a loveless marriage whom she played in Pause, Tonia Mishiali's prize-winning film from 2018.
This all sounds a bit heavy – and perhaps pretentious. Even the informal air is a bit suspect, like the passive-aggressive pose often adopted by actors (they are, after all, actors) to seem more approachable when dealing with plebs. But Stella has something else, something harder to fake: a vulnerability, an exposed-nerve quality. She makes no attempt to shield her feelings, or her own inadequacies. Why did she move here in 1995, two years out of drama school? "I fell in love with a Cypriot," she shrugs, "and also Athens was very… Because I was so extremely quiet, I felt it was going to be hard to pursue my career." Earlier we talk about her parents, a working-class family. Her dad was a mechanic for heavy vehicles; her mum worked in a factory in Germany, where they met as immigrants (they returned to Thessaloniki when their daughter was two). What values did they impart to her? "That it's bad to owe money," she replies with a grin, then turns serious: "But unfortunately they didn't teach me to be brave. At least, not as much as I'd have liked."
As a child she was timid, withdrawn, the kind who wrote poems compulsively but never had the nerve to read them out loud, even (or especially) to her parents. Her passions – books, music, singing, theatre – "concerned only me"; they occurred in private, detached from the rest of her life. It's significant that her road-to-Damascus moment, at the age of 17, came not from watching some glamorous stage play but an amateur production starring some of her classmates. "You can't imagine what a great revelation it was, to realise that this magical thing was something we ordinary people could also do."
One presumes she struggled at first, in a profession so at odds with her upbringing, being quiet and not very brave, having to externalise what she'd spent years keeping to herself. (She's still quite a private person – avoiding social media, for instance, which is unusual for an actor.) One presumes this middle-aged self is something she grew into gradually – which may also be why, though she has strong opinions, she's loath to impose them on others. Take vegetarianism: Stella hasn't touched meat in 20 years – but doesn't feel she can judge those who eat it, after all "until the age of 35, so did I". Everyone has their journey; this is her own, forged in the crucible of theatre – and it's brought her here, in the lifestyle she's fashioned for herself.
We sit in the geo-dome, as already mentioned – built on a plot of land owned by her partner Christos' family but actually constructed in Minnesota, by a company called Natural Space Domes. (Stella and Christos made some adjustments to the standard design, then the parts were built in the US, shipped, and assembled here.) It's wooden, eco-friendly, three or four degrees cooler than neighbouring homes in the summer, warmer in winter, a wigwam-shaped open space with an upstairs bedroom. Outside is a garden where 10 of the 15 cats live, also frequented by a small, friendly mutt named Lulu and a frisky dog whose name sounds like Bobby but is actually 'Bombiras' (Greek for 'brat' though it's actually more like 'imp', i.e. cute and mischievous). I sit clutching a glass of Seville orange squash with brown sugar and carob syrup, the oranges and carobs picked from the couple's own trees. She spent much of the day before my arrival – her precious day off – weeding the garden, sighs Stella, one of her few 'interventions' in Nature. She and Christos don't spray the trees or use chemicals, instead they compost household waste and use organic hacks like taking the nests of praying mantises (usually found on olive trees) and dispersing them in the garden; mantises are carnivores, and prey on the other bugs.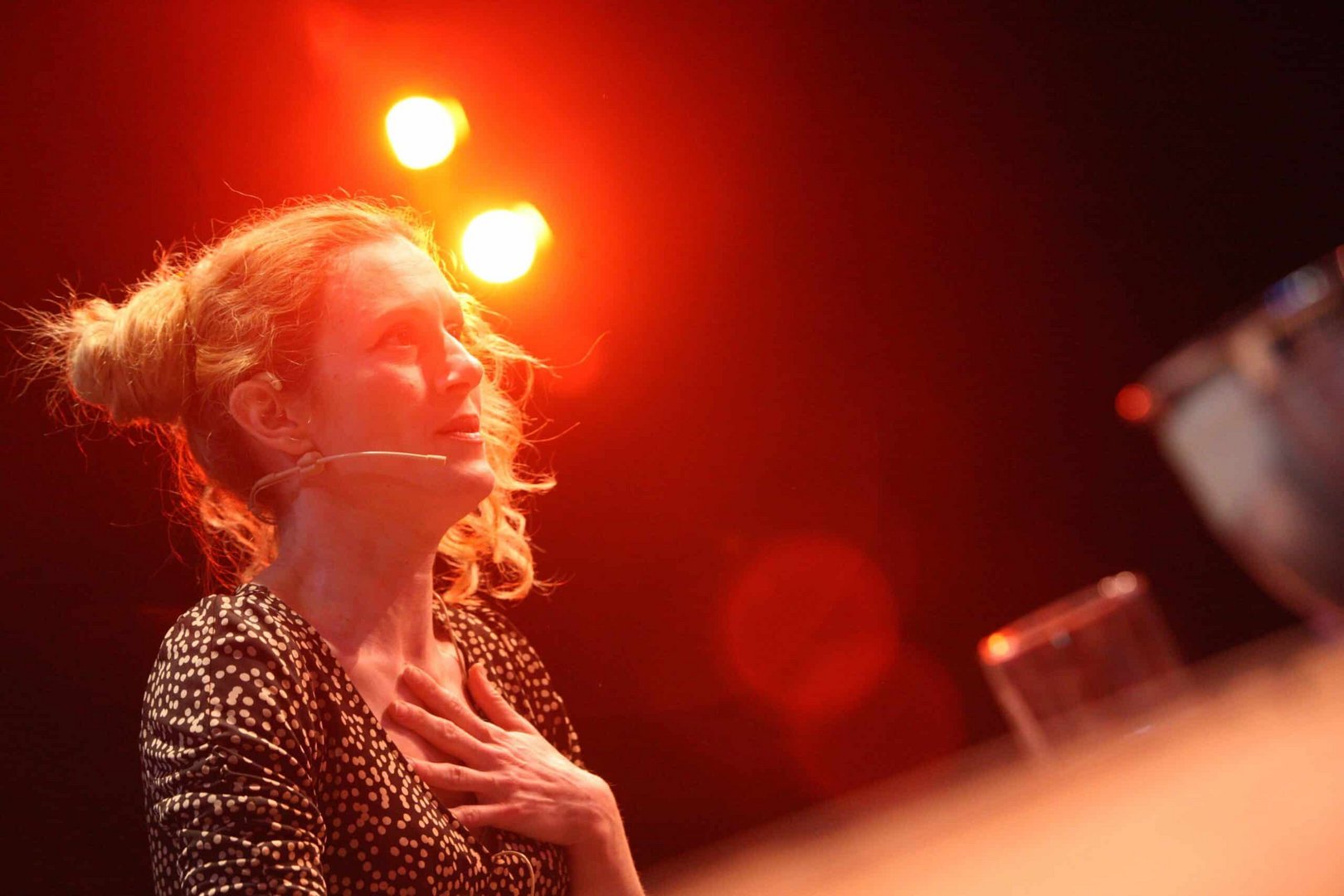 It's a simple, self-sufficient way of life, or at least more than most people's. Self-sufficiency is key, tying in with her faith in self-expression and creative endeavour. Simplicity is also key, tying in with acting which is ultimately about paring down, working on instinct, keeping it real. This is where being around animals is inspirational, she says – because of their "incredible directness", the way they perform complex actions with instinctive simplicity. Cats in particular enthrall her, "just the way they go through life… And this physical ability to go from total relaxation and deep sleep to total alertness in a fraction of a second. Thought, movement, action – done!" Actors might do well to study that.
All well and good – but it's not all rosy in the garden. Lulu, for instance, is a rescue dog, picked up just a month ago. Her paws were stained yellow, which initially puzzled Stella (it took ages to wash off the stains) – but then the vet explained that the dog must've lived all her life in a cage, constantly standing in urine. (Lulu also initially wouldn't eat off a plate, eating only when the food was thrown on the ground in front of her.) The endless cruelties and humiliations visited on animals in Cyprus are just one of the many issues that trouble Stella – even as she lives her own life, and strives to stay in touch with her freedom and creativity.
She's a feminist, that goes without saying. ('Feminist' shouldn't even exist as a concept, she says; men and women are the same, it's self-evident.) She's an environmentalist, deeply worried by the push to patent seeds and make only GM available, urging people to eat only local and in season. She's an old-fashioned radical, deeply mistrustful of state power, whether it's George Floyd in the US or increasing authoritarianism in her home country: "Greece burns down every summer, and instead of hiring firefighters they're hiring cops… They're barging into people's homes and beating them up!" – yet, unlike many Left-leaning, ACAB-minded dissidents who, for some reason, applauded restrictions on freedom during Covid (actually, the reason is simple: irrational fear, stoked by media hysteria), she also opposes what took place during the pandemic, and remains proudly unvaccinated. Actually, 'proudly' may be the wrong word; it's simply that she wasn't convinced, she explains, there wasn't enough good data, not to mention "the way it was done – the obscene way that they tried to force it on people". She did take precautions, especially around her elderly in-laws.
In the end, Stella is an artist – not just a woman working in the arts but an artist in the more exalted sense, one who takes refuge in creativity (as she did in childhood) and extends it to the way she lives her life, used as a sort of bulwark against everything she finds worrying or objectionable in the world. She's undoubtedly 'alternative', from the art she enjoys (I ask about films she's liked lately and she cites the surreal Czechoslovak fantasy Valerie and Her Week of Wonders, made in 1970) to the media she follows, but that's okay; "The majority isn't always right". She's mildly unusual in another way too: it's just her and Christos in the family, "from very early on [in life], I knew I probably wasn't going to have kids – and it's one of the few decisions where I've never faltered". Even had she wanted children, she'd probably have preferred to adopt; there are so many kids in need – and the whole idea of people wanting "a small version of themselves…" She shakes her head: "Having a child so I can leave behind something of myself, are we being serious?".
That's another piece, the final piece of the puzzle – because Stella Fyrogeni is essentially a theatre actress (sorry, TV fans) and theatre is the art of the transient. "It's alive," she says, it exists in the flickering spark between actor and audience – then it's gone, "like that glorious feeling when you're out in Nature, and look up at the sky and see a shooting star". The idea of art as something that remains – like the idea of becoming a parent so as to leave something behind – doesn't really move her. (Maybe she finds it too consumerist.) What matters is the texture of life itself – like the cycle of plants that grow and die in her garden, like the way a cat devotes itself to living in the moment, without any thought of past or future.
Stella's own past is quite distinguished – and of course she's more popular than ever, thanks to TV. Life is good, all things considered; yet she can't settle down, she worries about human rights and animal rights and the state of the world, and work (and money, of course). Would she agree that her energy is restless? She pauses, looking mildly surprised: "I mean, restlessness – not being complacent, if that's what you mean – I think is synonymous with being an actor. I mean, if you're not restless, as an actor – what are you? We can't be civil servants." Keeping it real, indeed.