Like Cyprus, Guernsey is a tax haven for foreign investors and offshore finance. But the two have something far more important in common than mere money: potatoes!
We may have the Big Potato of Xylofagou, but Guernsey actually gets the nickname 'Potato Isle'! One of four main isles (the others being Jersey, Alderney and Sark) and hundreds of rocky islets located 130 kilometres off the south coast of England, this small Channel Island is all rolling hills, sandy beaches and rich farmland. And though it's probably best-known for its cows, Guernsey potatoes have been lauded for centuries: a unique and highly-prized delicacy often sought after by gourmets for their nutty flavour and firm, creamy texture!
Even today, much of the isle's cuisine relies on potato-based fare, including the traditional Guernsey Stew (a hearty, herby concoction made with diced veal, onions and oodles of local potatoes); the Bean Jar (a slow-cooked casserole consisting of haricot beans, bacon, and potatoes); and the local version of rabbit stew (basically wild rabbit, flavoured with red wine and thyme, and heftily layered with onions, carrots, and potatoes).
Being an island, marine cuisine looms large on the local menu in Guernsey. Traditional fish chowder is a favourite: a creamy soup of freshly-caught fish, potatoes, onions, and leeks. Scallops and oysters are also popular, and fish and shellfish are often cooked in traditional French styles, such as bouillabaisse or grillades. And you'll also find award-winning lobster and crab dishes on most menus.
Of course dairy is also big business here – this is the original home of the Guernsey cow, and dairy farming has been an integral part of life here for centuries. Guernsey cows produce milk so rich and creamy that it's highly sought after on the mainland: transformed into everything from luxury ice cream and premium butter.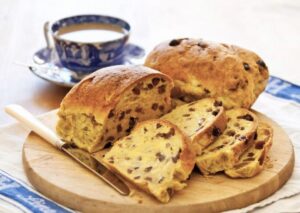 The best of the dairy remains, of course, on the island itself, and is often used in local delicacies such as Black Butter, a savoury spread made from apples, cider, and spices; Guernsey Biscuits (more of a savoury roll, firm on the outside and fluffy inside); and Guernsey gâche, a traditional tea bread made with creamy butter, full-fat milk and handfuls of dried fruit. There's also Gâche Mélée, a delicious dessert made with Guernsey butter, nutmeg, cinnamon and local honey. A staple sweetbread, this is one dish you'll always find at the infamous local parish feasts…