Of all the cuisine I've had the privilege to try, that of Georgia is one of the most intriguing. Somewhere between Middle Eastern and Eastern European, the Caucasian country's traditional flavours are bold and complex, yet somehow also delicate and harmonious.
Every big city in Europe is bound to feature at least one Georgian restaurant due to the country's restless diaspora – sometimes, sadly enough, more forced than willing.
So it did not come as a surprise to find out that even in Nicosia one can find a place that serves kincali, khachapuri and countless other Georgian delicacies.
Midi Modi in located in the most unassuming part of Pallouriotissa, where the capital starts to become more industrial than residential.
That said, the place feels warm from the very entrance. Everything inside acts as a link to Georgia, from the relatively kitsch wallpaper attempting to depict the country's history through the ages, to the blowups of its many mountains and rivers.
Occasionally, a Georgian singer will also delight the patrons, whether they are locals eager to taste new flavours, or nostalgic compatriots.
However, and rightly so, food certainly takes centre stage.
Offering customers a very large choice of dishes, Midi Modi features a truely comprehensive menu.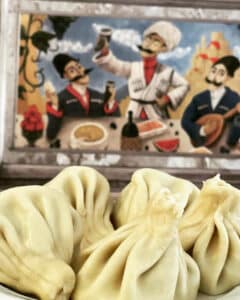 As I was feeling particularly famished, I chose to order a variety of entries, regardless of the fact that I had no dining companions with me. Kincali and khachapuri, true staples of the cuisine, needed to be tried.
The first consist of twisted knobs of dough, stuffed with minced meat, usually a mixture of beef, pork and lamb, parsley, coriander, garlic, onions and broth. Every place, however, will have its secret ingredient and I suspect Midi Modi's could be cumin, as its distinctive aroma filled every bite.
Khachapuri, on the other hand, is a traditional leavened bread filled with cheese and various other ingredients. The 'adjaruli' version I ordered featured a runny egg yolk at its centre, perfect for dipping chunks of the dough.
The dish, however, felt a tad too strong, perhaps due to the distinctively sour imeruli cheese used to make it, and unfortunately the dough was rather chewy, perhaps even undercooked.
Moving on to the mains, I went for kharcho, a hearty beef soup in tomato broth cooked with a wonderful blend of spices and fresh herbs. This one did not disappoint at all. The pieces of meat were tender and juicy, and the soup, with the unusual addition of rice, added to its complexity and richness.
That said, the best dish of the night was the chashushuli, which in Georgian translates as 'stewed' and consists of veal casserole cooked in tomato sauce, onions, peppers, garlic and adjika, a spicy dip accompanying many of the country's most traditional dishes.
Every bite of the stew gave me distinct goulash vibes, with a subtle Levantine feel. Simply marvellous.
All dishes were also accompanied by a side of tkemali, a typical sauce made from plums, which I believe is an acquired taste, as I did not particularly care for it.
Perhaps it will never be my go-to restaurant, but Midi Modi definitely succeeded in reminding me that sometimes getting out of my comfort zone to experience the quirky, the bold and the unusual at a dinner table can turn a meal into a cheap, accessible and satisfying journey.
VITAL STATISTICS
SPECIALTY: Georgian cuisine
WHERE: John Kennedy Avenue 105D, 1046, Nicosia
WHEN: Tuesday to Friday 5pm-12am, Saturday and Sunday 12pm-12am, Monday closed
CONTACT: 70003066
HOW MUCH: €6-12 for starters, €9-16 for main courses