In a brilliant young woman mired in hypocrisy, THEO PANAYIDES finds someone used to 'bursting bubbles' in her quest for knowledge, and the course of the island's national problem
Eating isn't really a priority – which is odd, since she loves to cook. (Tennis and cooking are her main relaxations; reading is more of a daily necessity.) Andromachi Sophocleous has been up since six (it's now 11) but hasn't had time for even a bite to eat – which, apparently, is not too unusual. She gets an iced coffee and a slice of rather dry-looking pound cake, but barely touches the snack as she talks (and talks) for an hour and a half. Who can think of food, with the world in such a shambles?
We meet – where else? – at the Home for Cooperation in the buffer zone, a hub for all things bicommunal. She's serious-minded, and not too optimistic at the moment – but also extroverted, and a great talker. Andromachi has big frizzy hair and an ardent, importunate expression, the look of a woman who has the solution to all our woes written down on a piece of paper, but can't find anyone to read it. She looks much the same as the fiery young woman in videos from the Nicosia protests organised by Unite Cyprus Now (UCN) – even though that was back in 2017, when she was 28 (she's now 34). "This initiative is not 'the flower people', as many call us," she declares in one such video, strikingly decked out in scarlet. "It's not the happy-happy people who think they will bring a solution to the Cyprus problem with music and balloons on the buffer zone." Around her, a crowd hold up signs with slogans like 'Solution Now'. That was June 2017. Crans-Montana was just around the corner.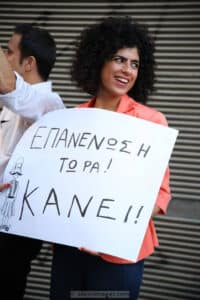 UCN was that rare thing, an entirely organic political movement. A Facebook group was formed to encourage the negotiations between Anastasiades and Akinci – which seemed in danger of derailing – "and everyone was adding people that they knew from being involved" in what she calls "civil society". Andromachi herself had previously been a founding member of a project called The Cypriot Puzzle – though it's not like it took a particular project to become known for being 'involved'. The number of people actively working for a BBF (bizonal bicommunal federation) in Cyprus was, and remains, very small; that's the problem.
There were noisy, exuberant demonstrations, people from both sides meeting at the checkpoint on Ledra street, singing songs and making speeches; it was a heady time. There were also strong reactions, and threats on social media (even now, she pointedly avoids giving too many details about her personal life). "Out of the blue," she recalls, "you had your picture circulating in various groups, with comments like 'We need to put them in front of a firing squad'… We used to get photos of bullets with 'Unite Cyprus Now' written on them, we were getting them in our social-media inboxes".
It wasn't just nutjobs on social media; many in the mainstream also sought to "present us in a very negative light, as they often do. It's always 'foreign agents', it's always someone paying us". It was worse on the Turkish side: "There were very famous front pages of our pictures with dollar signs on them, saying that we were agents of Greece. But in the north, I need to stress this, we also got a lot – a lot! – of support. People were coming up to us, telling us that we give them hope, that they want us to continue, we got it a lot – a lot – from the Turkish Cypriot community. Definitely much less from the Greek Cypriot. But I understand this. I mean, it's rational". Simply put, Turkish Cypriots need a solution more.
She's always rational, that's a huge part of her makeup. She's not really the type who cries at movies, admits Andromachi (in fact, she barely watches TV – only political shows – and doesn't watch Hollywood movies at all). "I'm cerebral, in general. The things that can really move me is when I discuss politics. I get invested – but, at the same time, I'm cerebral. Definitely. I'm a rational agent". She was always a good student, in fact she was an excellent student: "When I went to university, I got a scholarship as the best student entering from Europe… And when I graduated, too – I graduated Dean's List, etc," she recalls at one point, looking a little shamefaced lest it sound like she's bragging. That was University College London, a BA in European Social and Political Studies followed by a Master's in History of Political Thought – after which she came back to Cyprus and did unrelated jobs for about five years (she spent two years as a 'spine product specialist and sales representative' at Johnson & Johnson) before settling down as a freelance political analyst. Even at J&J, when it came to doing training courses on medical equipment – not exactly her life's work – she excelled, because that's what she does. The pursuit of knowledge is her thing, including through the non-fiction she devours voraciously.
Knowledge – and debate too. It wasn't just the grades that made her an impressive high-schooler; she also took part in "international public-speaking competitions" (i.e. debates), representing Cyprus, through the English School, all over the world; often, she recalls, she'd be given a subject and only a few minutes to prepare her position. Our own interview also ranges through a wide variety of subjects – urban planning, helmets on cyclists, the environment, the role of teachers, the rise of the far-right, the decline of good journalism (I beg your pardon!), the camp at Pournara, the cops during Covid – on all of which she offers a cogent, articulate opinion. "And nobody discusses this!" she laments after one particularly vehement tirade. "And nobody offers solutions – but true solutions! It's all about pictures, and social media, and showing that we're 'doing something' without actually doing something."
That's her defeated mood coming out again – a pessimism, as already mentioned. Andromachi Sophocleous is a brilliant young person, full of ideas, in a place where everything is mired in hypocrisy and stalemate. "It is a very, very gloomy situation," she tells me. "And the Cyprus problem is only a part of this."
Only a part – but a big part. Andromachi wasn't just a prominent member of Unite Cyprus Now in 2017. She was also in the UCN delegation (around 10 people) who actually went to the Crans-Montana conference, their tickets and accommodation – but nothing else – paid for by Sir Stelios Haji-Ioannou, who'd been following their activities. The official narrative, still being peddled by the Greek Cypriot side, is that the talks foundered on the usual rock of Turkish intransigence. What's her own take?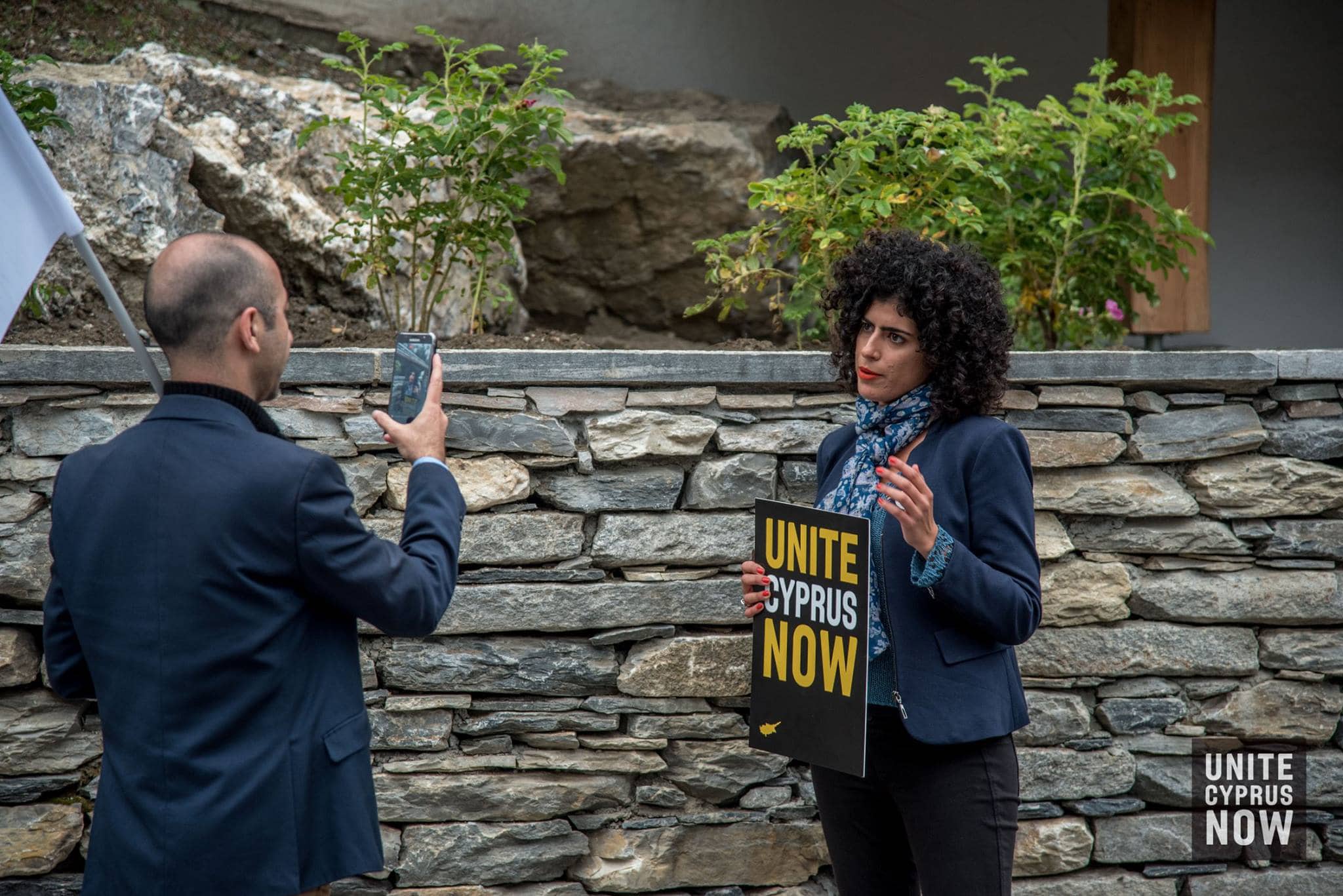 "Well, you understand I was not part of the negotiations," she cautions – "but we were speaking to all the major stakeholders. We spoke to everyone," not just the two sides but also the UN, the Brits, the Greek foreign minister. Andromachi recalls the night of June 30, after Antonio Guterres called the talks "highly constructive" – and recalls getting a message at 3am "from a very high-ranking member in the Turkish Cypriot delegation". The message was a photo of herself at a UCN demo, with a text that read: "We have taken a very big step towards your goal tonight". Next morning, Greek foreign minister Kotzias said the same thing. "We really believed it," she says now, looking almost apologetic amid her coffee dregs and half-eaten pound cake. "I cannot explain this, we really believed it would happen. I'm not sure to what extent this feeling was transferred back home – but we really, profoundly believed that it was there, that we would solve it."
She's not, like she says in that video, "happy-happy"; she's not gushy, or utopian, or one of the 'flower people'. When it comes to Crans-Montana, though, "I feel that we [Greek Cypriots] accepted the collapse of the conference way too easily. I honestly think that there was no understanding of the gravity of the situation. I remember we were in the airport crying, honestly crying, after the collapse of the negotiations – but you didn't get this feeling among the public, or among our politicians. There was no sense that we missed something great there." You had Guterres saying the right of intervention was not sustainable, she recalls, growing animated: "You had potential openings about the military, that we didn't test enough… We are saying that we didn't push to call Turkey's bluff – if we believed that they were bluffing.
"It's very easy to say 'Well, they didn't put it down in writing'. Yes, we understand that… But you had the UN secretary-general there, you wouldn't be trusting Turkey in a vacuum." Andromachi shakes her head: "It was like we were so used to saying that Turkey will never make an opening, that it's become a reflex". Even now, she muses, when you talk about the Cyprus problem, "the reaction you get is (she sighs and clicks her tongue, to signify the response of the average citizen), whatever you say, 'It's Turkey, it's Turkey'… We have done nothing to cultivate in people an understanding about what the Cyprus problem is, and what we need to do ourselves – ourselves! – in order to change it."
Crans-Montana ruined everything; her defeated mood more or less stems from that – and of course UCN also took a blow. Is the group even still active? "It is active," she replies, a little hesitantly, then sighs: "No, we have been doing things. But it really relies on the willingness of a very small number of people".
Is she even planning to stay in Cyprus?
"That's another good question. And that's the other thing that – sort of destroys me, especially recently. I think there's a group of people around me who really care about this country. And we're always in this situation, 'Shall we go? Shall we stay? Shall we go? Shall we stay?'. And I know I can go. I can find a job elsewhere. I mean, I have the CV, I have the knowledge… What keeps me from taking the decision I cannot answer now," she adds a little cryptically (it's unclear if she means she doesn't know why or can't reveal it). "But – it's like we give Cyprus up. It's like we accept that this is what we are. It's like we accept that we have no European future. It's like we accept that we cannot progress. It's like we accept that we're going to stay stuck in the past – in what destroyed, or hindered, the lives of our parents and grandparents. No, honestly, it gets me – I don't know what to say now… It paralyses me. The thought paralyses me, that we've accepted that we cannot change anything. We cannot change – we just need to go abroad and save ourselves."
It's a transitional time for Andromachi; "It's run its course," she admits, of her 10 years back in Cyprus. Still, the taste for debate dies hard. (She seems to have picked it up early; her parents – her dad's a businessman, her mum an accountant – are "a very good mixture of left- and right-wing".) "I think you'd be surprised at the amount of discussions I have with far-right people," she notes mildly when I wonder if she lives in a bubble, surrounded by like-minded friends. Just the other day she got into a 45-minute argument with a couple of Elam types she met in a café, arguing about the morality of crossing over to the 'other side'. They said it was akin to accepting the occupation, she says it's actually the opposite: "There is nothing more important for me than being asked, when I'm in the north, 'Where are you from?' and me replying 'From here'." (Her dad's a refugee from Famagusta, but that's not the point: "I know the north", she has her own experiences.) Andromachi grins at the memory of that recent discussion: "I like to burst bubbles. I like to challenge people – without getting aggressive. I'm not an aggressive person in any way."
Really? She seems very vocal.
"I'm a very vocal person," she agrees. "But I'm a very harmless person." Even when playing tennis – which she does most days – she's not competitive, or a bad loser.
'Just as well,' a hater might remark, given that Andromachi, and the group she represents, have indeed 'lost' the game. The idea of a BBF is as good as dead; "The prospect of a comprehensive solution, at this moment, is not viable". The Anastasiades government cared mostly for covering up its own role in the fiasco; the Christodoulides government is unlikely to be any better. "Why keep wasting more time and money on this charade? The dream is over," wrote British Cypriot journalist Eltan Halil in a Twitter exchange with Andromachi in 2019. Turkey has its claws firmly in the north, Turkish Cypriots are fleeing, and meanwhile there's a whole generation of young Greek Cypriots who feel that "Cyprus finishes at the crossing point. And for me, there's nothing sadder."
What to do? Leave, stay, give up, keep fighting? "I have rejected an incredible amount of jobs in the past five years," she admits – so there must be something keeping her, or perhaps the effort is its own reward. There's a famous phrase by Romain Rolland about "the pessimism of the intellect, but the optimism of the will," she tells me wryly. (Actually it was made famous by Gramsci, she adds pedantically.) "Rationally, when you look around, you can be pessimistic – but when you're acting, when you're trying to work for things, you get that optimism out of the action". Work keeps her going, even if the dream collapsed six years ago. Food? Who has time for food?