As we stepped inside the dimly-lit, wood-laden interior of the renovated, stone-built, erstwhile traditional Cypriot house that is the Cicchetteria, I thought of how fitting it was to be inside in such pleasant surroundings on a crisp March evening.
The combination of the aforementioned elements is always suitable for the cooler times of the year, particularly when they suggest that the consumption of belly-warming wine and flavour-heavy, calorie-dense dishes are in your immediate future.
In terms of its exterior design and unorthodox layout for a restaurant, Cicchetteria, near the heart of Limassol's old town mere steps from Anexartisias street, shares a few elements with its neighbours, with numerous establishments in the area having received a new lease of life after being restored and adapted from their previous-century residential purposes.
After being greeted by the manager at the entrance, we were shown to our table, which was located in a converted exterior space, under a semi-permanent structure that features a removable roof and side panels, allowing the restaurant to offer al fresco dining during the warmer months of the year. Along the central spine of the structure, as well as the surrounding walls, are hanging flower pots decorated with low-key light fixtures, a feature which lends a lovely ambiance to the space, hinting at perpetual spring, while injecting colour to the room.
We started our evening with a glass of rosé and red wine, both the restaurant's default by-the-glass options. According to the menu, the wine was made from a Genovese variety of grapes and imported directly from Italy by the establishment itself. Each glass will set you back €7, which may seem dear, however, in both instances, the pour was quite generous. The red wine was on the dry side, albeit smooth and sweet, while the rosé was refreshing, fruity and did not become noticeably acidic during a leisurely sip.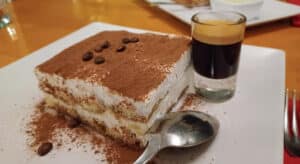 In terms of the food, we had a single starter, which was the restaurant's seasonal salad, containing rocket, mushrooms, cherry tomatoes, croutons, and a vinaigrette drizzle on top. Simple enough, fresh-tasting, and flexible, in that it can also be ordered as a complement to your main dishes. Speaking of which, we opted for the ricotta and spinach cannelloni, as well as a dish called branzino all'acqua pazza, the seabass.
The cannelloni were topped with a light tomato sauce. It's impossible to dislike this dish. Spinach, tomato and soft, creamy cheese make for a wonderfully simple offering. Additionally, keeping the pasta al dente in a baked dish with several 'wet' elements is a bonus. The seabass, meanwhile, was well-cooked, soft and flaky, topped with tomato sauce and fresh herbs, and served with grilled vegetables as well as a side dish of homemade and freshly-fried potato chips. At €26, the dish is one of the pricier options on the menu, however it also a reflection of present-day meat and fish prices.
We capped off the night with an apple pie and a tiramisu for dessert. Ordering two dishes was a mistake, as they are easily large enough to share, particularly the rich, creamy tiramisu. Two quick notes on each dish. The apple pie, which was softer than it was crumbly, to my preference, I must say, was served with lemon sorbet to accommodate a request for a vegan dessert. It's a combination I've not had before but was surprisingly good. As for the tiramisu, it was served with a shot glass of fresh coffee which you can either sip or pour over the tiramisu. I went with the latter option and did not regret it. As for the service, the staff was cordial, friendly and attentive. A pleasant experience overall.
VITAL STATISTICS
SPECIALTY: Italian cuisine
WHERE: Cicchetteria, Italian Restaurant, Ayiou Andreou 292, Limassol
WHEN: Daily 6-11pm
CONTACT: 25 100500
HOW MUCH: €14-16 for a salad, €14-20 for pasta, €25-32 for mains