For such a small country, Cyprus has more Guinness World Records than you'd think. ALIX NORMAN finds which Cypriots are Number 1 in the world
The record for longest time trapped in a lift goes to one Kively Papajohn. Returning from the supermarket to her Limassol apartment block, the 76-year-old entered the lift on December 28 1988, and emerged on January 2 1989, having survived on the contents of her shopping bag for six whole days!
It's a record that – thanks to mobile phones and improved rescue services – is now unlikely to ever be broken. And yet it's hardly the strangest of the Guinness World Record to come out of Cyprus…
Small we may be. But Guinness lists over 100 World Records that are either held by Cypriots or took place on the island. Unsurprisingly, many are in the field of food – when it comes to having a feast, Cyprus snags quite a few firsts.
Both the records for Largest flaouna (259.5kg, made by Carrefour Limassol in 2012), and Largest vassilopita (cut on January 1, 2000 in Paphos, and weighing in at 1,900kg!) were achieved right here. So too, was the Largest skewer of kebab meat, a combined effort that saw Zith Catering Equipment and the Municipality of Paphos create a whopping 4,022kg-souvlaki in December 2008.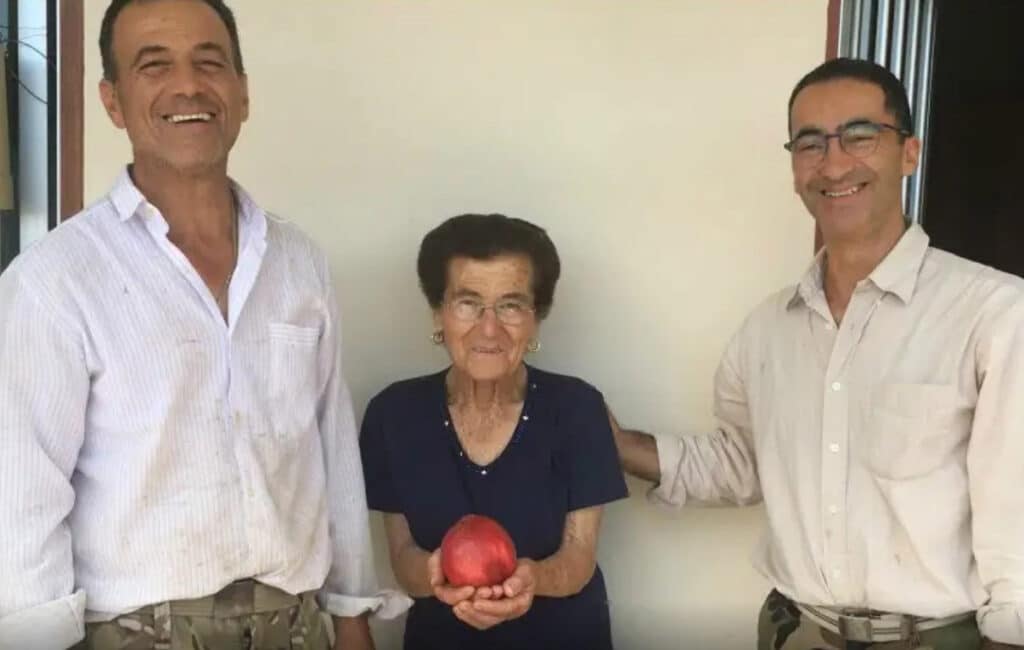 In 2018, the world's Heaviest nectarine honour went to Eleni Evangelou Ploutarchou of Vavatsinias; a farmer since 1950, Eleni was staggered to discover she'd grown the 500g, 9cm fruit in her orchards. The nectarine has, we hear, since been consumed!
Several of our records are ancient beyond compare. Cyprus can lay claim to World's oldest wine (Commandaria, which can trace its origins back to 2000BC), and First domesticated cat (which, 9,500 years ago, was lovingly buried next to a human in the Neolithic village of Shillourokambos). We also get Oldest Greek vessel to be excavated, the 4th-century Kyrenia, discovered off the northern coast in 1967. And, in related news, the island also takes the record for First instance of piracy: Egyptian writings from 1400 BC tell of swashbucklers from Turkey's Mediterranean coast raiding the island.
But the majority of Cyprus' Guinness World Records are modern and obscure, set by people who clearly have a very niche talent…
Take Andreas Protopapas for instance. This 5th-year medical student holds the record for Longest duration juggling three objects while wakesurfing, an act he achieved in Paralimni on September 11 last year. Unsurprisingly, nobody had previously attempted the feat. "Mostly because nobody had thought of it!" says Andreas. "In practice, I was managing times of six minutes, and Guinness required over five minutes for a new record. So I went for it…"
On the day, the 24-year-old (see below) smashed expectations, juggling three tennis balls while riding the wake of a speedboat for a staggering 19 minutes and 17 seconds! "As soon as I'd finished I wanted another challenge," laughs Andreas. "But I'm in the middle of my studies. Now I'm trying to be the best orthopaedic surgeon in the world!"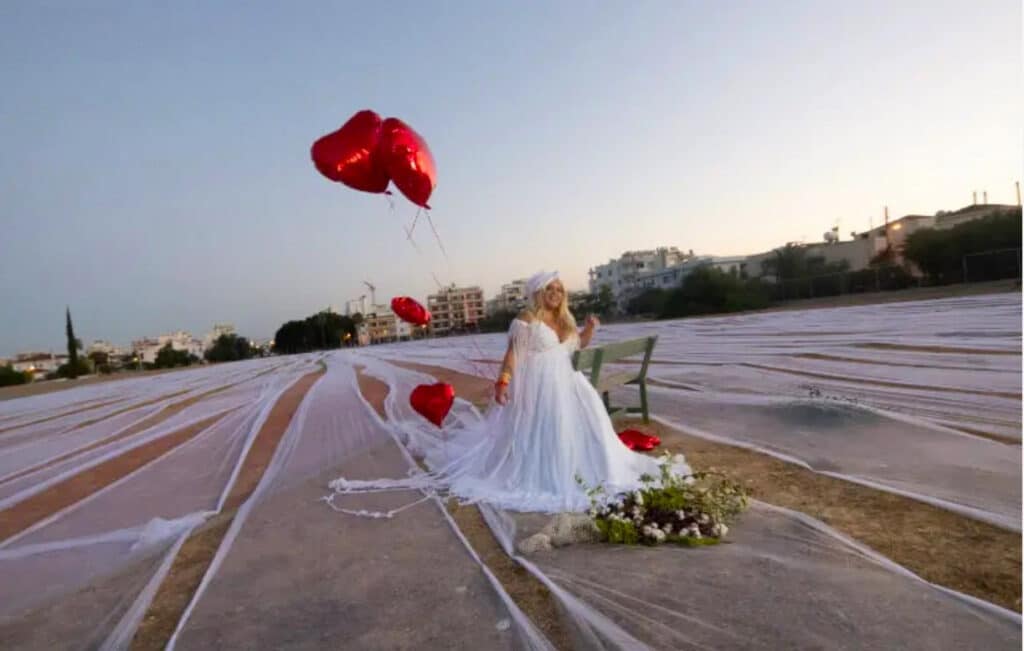 Another local exploit unlikely to attract fierce competition is Longest wedding veil in the world. Held by Maria Paraskeva, who married in Larnaca in August 2018, this record was apparently the culmination of a childhood dream. Clocking in at 6,962.6 metres in length (roughly the distance of Limassol's promenade from the old port to the St Raphael Marina!) the tulle veil cost in excess of €4,000, and had to be unfurled from the back of a pick-up truck by 30 volunteers. Let's hope the marriage is as long as the veil!
On the sporting front, Cyprus holds quite a few records. And though it's unlikely multiple World Cups will suddenly come our way, various locals have found other approaches to sporting notoriety…
Limassolians Dimos and Renos Christodoulidis hold the Guinness World Record for the Most consecutive football headers by a pair. In October 2014, at the Nikos Solomonides Stadium, the two brothers completed 1,013 headers without once dropping the ball – a precision feat, especially given that both were in their 50s at the time!
And on the field, Guinness' Most goals scored by one player in a single match is jointly held by Frenchman Stephan Dembicki and Cypriot Panagiotis Pontikos. The records, however, were made 65 years apart: Stephan played for RC Lens against Auby Asturies in the first round of the 1942 Coupe de France; Panagiotis for Olympos Xylofagou against SEK Ayios Athanasios in 2007. Both scored a cool 16 goals (Panayiotis' match eventually ended at 24-3!).
The island doesn't do too badly in the arts, either. Tatiana Stupak, a professional musician from Limassol, holds the record for Highest altitude concert, having this January performed in front of 30 hardy souls at the summit of the 6,701-metre Mount Aconcagua. Three years ago, English School student Alex Dzaghigian, who at the time was a teenager,  took Largest drawing by an individual for his massive 323.90-square metre sketch of a turtle, designed to raise awareness of marine pollution. And the Largest Hasapiko dance goes to the 749 dancers of Larnaca Municipality who, in 2010, pranced their way into the record books to the strains of 'Frankosyriani'.
Countless records have also been set in Cyprus by non-locals. In 2015, Uzbek Jamshid Turaev took Most two-finger pull ups in one minute' at a Limassol gym. In 2012, 104-year-old Brit Margaret McKenzie McAlpine achieved Oldest female person to paraglide tandem in Ayios Georgios in the Kyrenia district.
And the island as a whole makes an appearance in several others, including Most countries to record a highest temperature in one year when Cyprus was one of the 19 nations to set a new summer high in 2010. But it's local Liopetri lad Nicholas Theodosiou who takes perhaps the most iconic (and romantic) record of all…
This young man holds the record for Most languages for a written marriage proposal. His 2014 proposition, which took the form of a poem entitled Bury Me in Her Eyes, was penned in 26 different languages: Afrikaans, Arabic, Bulgarian, Chinese, Croatian, Czech, Dutch, English, Farsi, French, German, Greek, Hebrew, Hindi, Hungarian, Italian, Japanese, Latin, Norwegian, Polish, Portuguese, Romanian, Russian, Somali, Spanish and Swedish. Sadly, Guinness doesn't say whether or not his efforts proved successful. If anyone knows whether Nicholas' intended did actually accept, we'd love to know!
While all records have been confirmed by Guinness, some may have changed since going to press