Billing itself as 'the most important film ever made on the Cyprus problem', an upcoming documentary approaches an old subject from a new angle, the pain carried through generations finds ALIX NORMAN
 Set to be released later in the year, The Divided Island is a highly unusual documentary. This full-length feature film refuses to damn, blame or coerce. It isn't politically biased, nor is it driven by any particular agenda. Instead, it seeks to present a fair and nuanced portrayal of the complex issues and experiences surrounding the conflict by addressing an aspect of the Cyprus problem that has long been buried. Intergenerational trauma.
"Any conflict, past or present, causes trauma," says Cey Sesiguzel, the 35-year-old producer and director. "Losing loved ones, compelled to flee your home, bombarded with propaganda – this is the basis for suffering; for a trauma that will affect not just you, but the generations to come. And while Cyprus may not currently be experiencing the bloodshed of the conflicts in Ukraine or Sudan, Cypriots nevertheless continue to suffer from the traumas of their past. Perhaps," he adds, "it's time to help the island heal."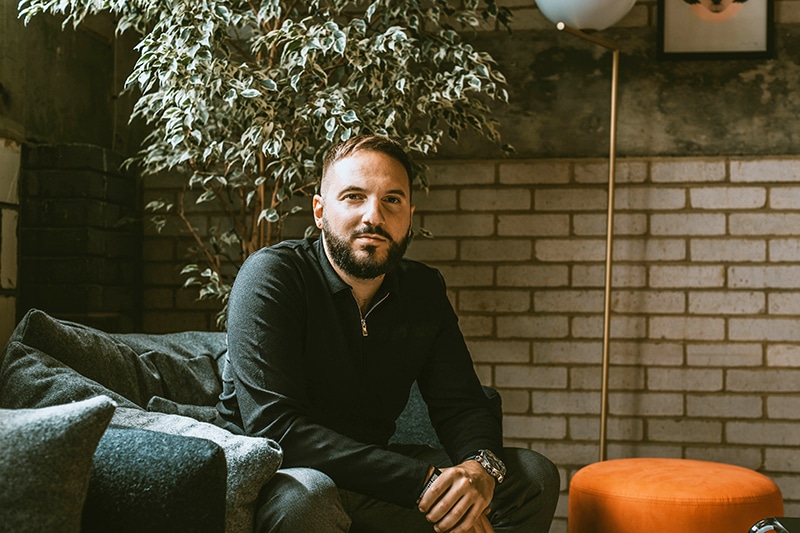 Cey and his associate producer Andreas Tokkallos have spent years working on The Divided Island. Friends since childhood, the Turkish Cypriot and Greek Cypriot grew up side by side in London, eventually launching their own film production house, Two Fresh. Since then, they've worked with many of Britain's biggest brands, including BT and Transport for London. But neither has ever forgotten the island their families once called home…
"The Divided Island is a passion project," says Cey. "It's the film I've wanted to make since I first visited my ancestral homeland as a kid. Growing up, I was just another Enfield Cypriot. Sure, my parents were of Turkish Cypriot descent and many of my friends came from Greek Cypriot families. But it never mattered. We were just British Cypriot kids who enjoyed kicking a football about. It wasn't until I began to visit Cyprus on holiday that I even became aware of the division, of any contrast between the two communities."
Intrigued by this sense of 'the different', Cey began asking questions. "As a child, I'd bug all the Cypriots I knew about the island's past. I wanted to hear about their experiences: what they'd been through in the 1950s and 60s, what happened in 1974," he adds. "I guess, even as a child, I was sowing the seeds of the documentary to come."
While Cey's fascination with the Cyprus problem has been lifelong, his official film research began in 2019. "I started with the core questions. Why was the island divided? What events had led to the division? And what effect had the division had over the years? And that," he adds, "is where it got really interesting. Because the trauma of the troubles lives on to this day."
Among those interviewed in the documentary is Tom Fortes Mayer, a trauma specialist who works closely with the Cypriot community. "His findings are fascinating," says Cey. "In both communities, intergenerational trauma from the troubles of the last century continues to cause problems, especially in terms of addiction. And yet little has been done to address this; even in subsequent generations, the knock-on effects of unresolved family trauma are evident."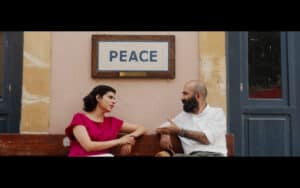 Featuring archival footage, conversations with experts (including Professor James Ker-Lindsay of LSEE, whose knowledge of conflict, peace and security in South East Europe is world-renowned), and any number of interviews with those who lived through the troubles, The Divided Island has proven a remarkably emotional undertaking for Cey and his team.
"When you listen to elderly Cypriots discussing the before and after of division, you can't help but pause for thought," he acknowledges.
'There was no difference at all,' says one interviewee describing her early years. 'We were all Cypriots.'
'We used to share things together,' says another. 'It was a really nice feeling. We were very close.'
"It's hard to hear the change in their voices as they speak of what came next," says Cey. "As you'd expect, the documentary touches on the role of the British, of Enosis, of Makarios; of the educational systems on both sides of the divide. Because, from the very start, we wanted to create a film that presented all points of view."
Cey and his team spoke to people who believe whole-heartedly in unification; to those seeking a two-state solution; to others who are fine with the status quo. "We interviewed people who had lived through it all, as well as those who were born long after 1974 but who nevertheless bear the burden of frozen conflict. And every single one of them stressed how important they felt it was to prevent future generations from undergoing the same ordeal."
Amongst Cey's interviewees were a Turkish Cypriot mother who had lost her son: "Decades later her pain is still palpable," says Cey. "'God willing,' she pleaded, 'this never happens to your generation'. We spoke to an elderly Greek Cypriot from Gialousa: 'When you lose your home,' he lamented, 'you lose a piece of who you are.' And, when one of our interviewees looked straight down the lens and, utterly unprompted, whispered 'war? All war is suicide', the entire crew froze."
While the immediate conflict may be years in the past, The Divided Island underscores how very present and powerful its traumas remain. "This is trauma that has never been healed, never resolved," Cey acknowledges. "Even those born years later carry that pain – an intergenerational distress that can never quite be shaken. My own dad lost his father in the troubles of 1964. And I can see how easily he could have succumbed to animosity.
"But he refused. Instead, he practised compassion and empathy. He taught me not to condemn, but to understand. And, in The Divided Island, that's what we're trying to do – to heal our traumas through understanding. Because this isn't a simple documentary aimed at a Cypriot audience. It's a film whose universal themes, whose human stories of trauma long-buried but not forgotten, will resonate worldwide."
For more information, visit thedividedisland.com or the Instagram account @thedivided_island