In a Cypriot singer from South Africa, PAUL LAMBIS finds a man who pours life-changing experiences into song, with music that speaks from the heart
There are a handful of local musicians who have performed as an opening act for well-known international Greek artists such as Anna Vissi, Eleni Foureira, Antonis Remos, Stelios Rokkos and Thanos Petrelis. However, they have also not had the privilege of being coached and mentored by their music idol Antonis Remos in a reality TV competition, while impressing a judging panel comprised of Despina Vandi, Kostas Makedonas and Christos Mastoras.
Of course, to have direct access to a line-up of world-renowned music performers from Greece and Cyprus, one would have to be a resident of either country, working full-time in its burgeoning music industry. Nico Thomaides, on the other hand, is a South African Greek music artist who has become a household name within the country's Hellenic community.
"The feeling you get on stage performing for the people, the connection you have with the audience is honestly incomparable to anything else I have ever felt," Nico said.
With the recent release of his first Greek single through independent record label Heaven Music in Greece, Nico intends to shed light on the conflict and challenges people face, as well as the ongoing struggles between rationality and the emotions encountered following a breakup.
Nico was born in Johannesburg, South Africa in 1994 to a Greek Cypriot father and a Greek mother, and attributes his parents for his deep connection to his heritage.
"My father constantly played Greek music, whether in the car or at home, and although I was oblivious to its impact at the time, I now realise how much it trained my ear and developed my appreciation for it.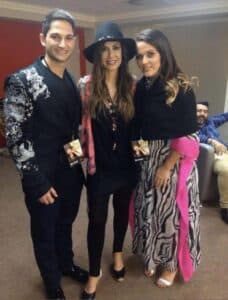 "My parents were my biggest supporters," he told the Cyprus Mail, "and while it was difficult for them to understand my determination to pursue music as a full-time career, they were always there to cheer me on, taking me to events, and supporting me to the best of their abilities."
As a South African Greek whose native language is English, it would be logical to conclude that Nico would be drawn to producing English music rather than Greek. "Greek music is extremely passionate, and when I sing in Greek, it simply feels right and makes absolute sense," he said.
2009 was the year when his love for Greek music took precedence over everything else, and although he is building a successful business that involves manufacturing acoustic treatments while also nurturing his music career both locally and internationally, he is determined to continue producing music that will speak to audiences about love and the pain he felt after losing his mother to cancer.
"My mother, who pushed me to achieve everything I can within the industry, remains my biggest motivation for my music, particularly my new single," he said.
"When she lost her battle with cancer, it inspired me to pour my emotions into music and communicate these life-changing experiences through song. I have also recognised that time is valuable, so focusing on my music interest has become a top priority in my life."
As Nico proceeded on his musical journey, fate led him to enter the reality musical television competition ANT1 Rising Star in 2016, catapulting him to popularity and eventually reaching the competition's advanced stages.
He said he was in Crete visiting his family when he noticed an advertisement for the contest and decided to enter. "I didn't expect a call back, so I was surprised when I was invited to participate a few weeks later."
His first live performance, which garnered 95 per cent of the audience vote, allowed him to advance to the following stage of the contest, where he would be mentored by his all-time idol Remos. "His mentorship helped me achieve the desired vocal results, such as better tone production and the ability to sing extended phrases and sustain notes for longer," he explained.
"In addition, and although he is unaware of it, Remos' music helped me tremendously by providing comfort during my grieving period."
Nico's new release, Kardia Mou Pseftra, is a song that has been in the works for six years. "It is a piece of music that has evolved over the years, with all of the knowledge and inspiration I have acquired over time, while working with an incredible team of individuals who have helped me along my journey," he said.
"The song itself focuses on the love someone feels for their former partner following a relationship breakup, which prevents them from moving on. It expands rationality by speaking to one's emotions and sentiments, telling them to forget the past and move on for their own good."
In the same way, Nico concedes that the difficulties of the music industry frequently encourage artists to "throw in the towel", given the criticism encountered along the way. "It is important to believe in yourself, and you should not let other people's opinions of your music affect your dreams. Simply utilise them as fuel to propel you on towards greater things."
Nico Thomaides has certainly established himself as one of South Africa's most popular Greek artists, promoting his cultural heritage while highlighting personal life experiences through his music. "My music speaks from the heart, and I am looking forward to visiting and sharing more of my work with audiences in Greece and Cyprus in the near future."