Can a venue change so much in accordance with seasonal demands that it may merit two distinct assessments? Sometimes yes, albeit the way it adapts translates to more of an experiential change for the guest and not so much the actual drinks and menu items consumed.
Enter Library (no Limassol local keeps the 'bar' when referencing it). This particular bar has undergone a number of organic, coherent changes through the years. During the winter, it offers a cosy, minimalist environment in which to enjoy a well-crafted cocktail or bottle of wine, complete with exposed concrete details, symmetrical decoration, and a somewhat unorthodox layout, in a sort of asymmetrical t-shape.
Upon stepping inside the building, the bar stretches in front of you, to your right-hand side, while on your left, through a doorless frame, lies the primary interior seating area. Crucially, in that area, you will find a stage, where the bar hosts its popular live jazz night on a weekly basis. Should you wish to attend one of these nights with a table in view of the stage, prior reservation is highly recommended. On nights when there is no live music, you may find neo soul, R&B, blues, light rock, and other generally smooth genres playing through the speakers.
Now, during the summer, the interior area essentially closes for Library's open-air version. In previous years, the establishment ran an outside bar across the street, referred to as the Gin Garden. This has now closed and the restaurant has created a new exterior area directly connected to the interior bar. The new area combines dainty, white seating with more meal-suited wooden tables, as well as bench seats integrated into the architecture. Again, you will see naked concrete, gravel, and plenty of flowers and other plants. There is also an exterior bar which serves cocktails and other drinks.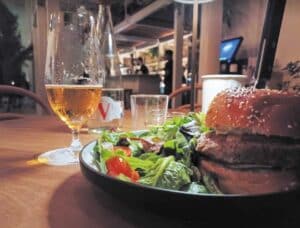 In terms of food, we tried a simple margherita pizza, and two burgers, each one very slightly different to the other, but more on that in a bit. The pizza is very well-made, in the Italian style, with a crispy but airy outer crust, and a soft, floury middle, topped with a nicely balanced tomato base, mozzarella cheese, and basil. Would definitely recommend this as a sharing dish to accompany a glass of wine among friends, alongside the various platters, of course.
Now, onto the burgers, both of which were the restaurant's New Yorker burgers. Seeing as their burgers come with one, albeit generous, side, we ordered one with fries and one with salad. The fries were plentiful, thick, and homemade, while the salad was fresh, flavourful, and suitable for the warm, humid evening of our visit. The burger itself was also homemade, thick, and served medium-rare, which helps it to retain its juices. This may be a little jarring to some people, so if you're not accustomed to your meat being served like that, you may wish to instruct them to cook it medium or medium to well done.
For dessert, there are only two options, which helps the indecisive, if nothing else. We tried the chocolate fudge with pistachio cream, and I think I wouldn't deviate from this in a future visit. The pistachio cream is a fine counterbalance to the chocolate. It is a fairly rich dish however, so, again, this is suitable to be shared among two people. Overall, a very pleasant experience. Now if only the humidity subsides a smidgen, sitting outside on a summer evening would become a bit more enticing again.
VITAL STATISTICS
SPECIALTY: Cocktails, pizzas, burgers, platters, salads
WHERE: Library Bar, Themidos 1, Limassol
WHEN: Daily 6-12:30am
CONTACT: 96 108877
HOW MUCH: €14 for a burger, €10-15 for pizza, €7.5 for dessert