Hellenic Bank takes real action for the community and the environment, with an emphasis on implementing sustainable practices and supporting 'green' initiatives and businesses
Leading the way in the transition to the Green Economy, Hellenic Bank is adopting sustainable operating practices, financing 'green businesses' and participating in 'green initiatives'. The Bank's strategy dictates that environmental awareness becomes embedded across the spectrum as we aim to minimise our carbon footprint – both internally and among our customers.
Believing that the Group's growth depends on society's prosperity and the protection of the environment, the Bank has adopted a strategic approach to sustainability and ESG. Key factors in shaping the new ESG Strategy included EU and local strategies, the competitive environment, the evolving regulatory framework, and materiality analysis. As a result, the new ESG Strategy hinges on four pillars: energy efficiency and carbon neutrality; building the workforce of the future; resilience and performance; a sustainable ecosystem.
Energy efficiency and carbon neutrality
Hellenic Bank is dedicated to reducing its environmental footprint, which it does in the way its buildings are designed and by implementing systems involving less consumption of paper, water, and electricity, as well as lower emissions from operations. According to the 2022 Sustainability Report, the Bank cut its energy consumption by 6.5 per cent (kWh/m2) and its carbon dioxide emissions by 15.6 per cent. Moreover, it consumed 54,500 kWh deriving from renewables and carried out environmental inspections across all premises. The Bank aims to become energy-neutral by 2050.
Meanwhile, Hellenic is the first bank in Cyprus to join the Priceless Planet Coalition – an initiative by Mastercard where leading banks from across the world coordinate their environmental actions. As part of this partnership, Hellenic Bank issued the environmentally friendly Mastercard, using materials from Mastercard's directory of sustainable materials – specifically a biodegradable material, the production of which requires 82 per cent less PVC. The same practice applies to Visa cards.
In addition, the Bank encourages customers to receive their account balances in digital format, in this way doing their part in saving on paper.
The workforce of the future
Regarding the workforce, in 2022 staff spent 458 hours training on ESG and on issues relating to climatic and environmental risks. Hellenic Bank offers employment and career opportunities to some 2,000 people. It has upgraded its assessment system to continuously improve its staff performance, recognise their contributions, and focus on corporate values. The HB Skill Development Lab and the Credit Academy programmes are focused on re-skilling and up-skilling as well as on improving the customer experience.
Resilience and performance
As part of its customer-driven strategy, the Bank is financing the growth of the economy by supporting sustainable businesses and households. Hellenic Bank finances large-scale projects involving energy generation from renewables, while applying criteria for assessing societal and environmental risks when processing new loan applications. Its enhanced profitability and robust capital reserves prove that Hellenic Bank has in place a sustainable business model that safeguards customers' deposits while creating value for shareholders.
For this pillar, the Bank has issued an ESG policy for 'green lending'. In the meantime the shift towards digitisation is ongoing, with 90 per cent of all transactions now carried out digitally.
Sustainable ecosystem
In 2022, new green lending came to €177 million. Hellenic Bank has set specific criteria for assessing societal and environmental risks when processing new loan applications and has created a dedicated team for sustainability and ESG. By offering quality products and integrated services, along with advice and incentives, the Bank encourages customers to improve their environmental performance.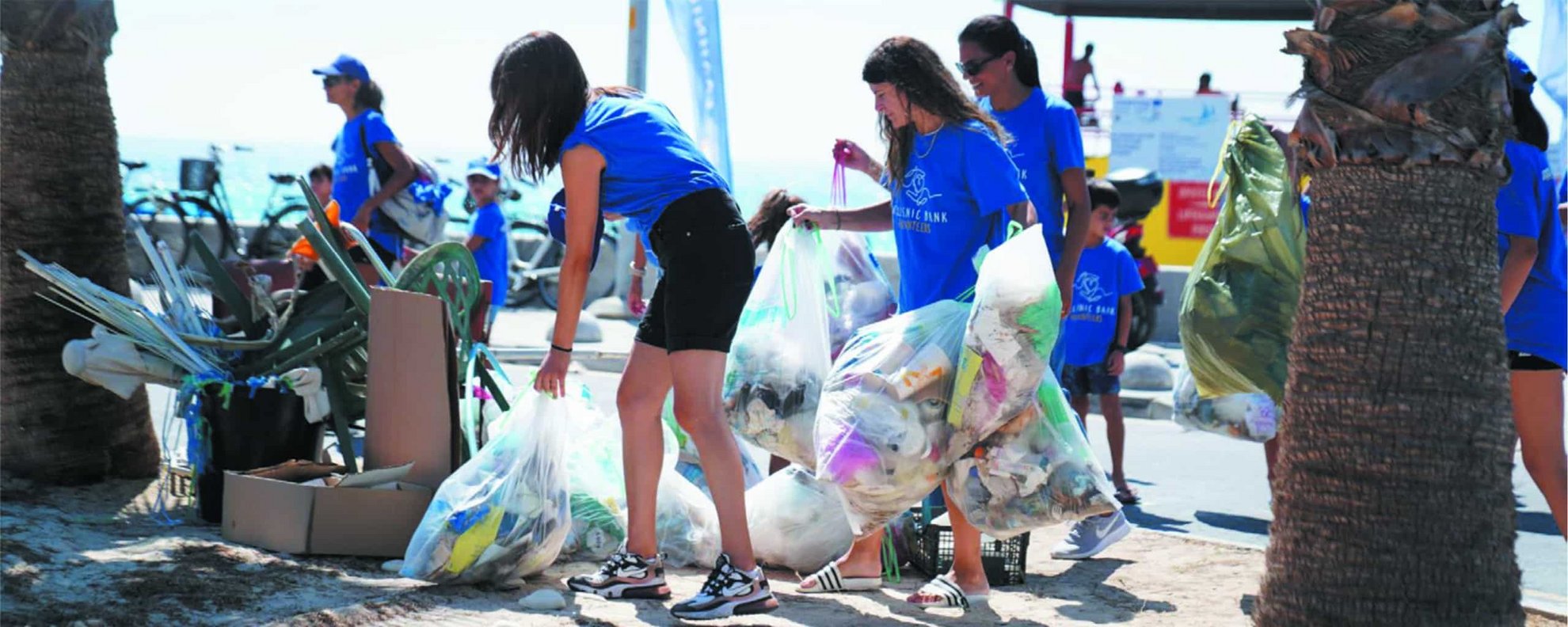 Hellenic Bank offers preferential pricing on home loans used for purchasing/building and renovating residences of the A energy-saving classes. It's the first Cypriot bank to offer more favourable pricing on home loans for the purchase/construction of 'green homes', beyond the renovation/energy upgrade of existing residences. It also offers lower interest rates on financing for electrical/hybrid cars and discounted insurance premiums for such cars through Pancyprian Insurance.
Also in 2022, our overall contributions to environmental and community actions came to more than €500,000. Hellenic Bank supports the work of the Karaiskakio Foundation and takes part in the 'Alliance for Life' programme. Some of the actions include sponsoring the donors' award ceremony, sponsoring 'Leukemia Month', establishing self-recruitment stations for bone marrow donors, and donating a state-of-the-art CFX Opus System molecular analyser from Bio-Rad, installed at the Karaiskakio Foundation's research centre for childhood cancer.
Further, Hellenic Bank recently marked 25 years of partnership with the 'Eco-Schools' programme, which strives to make environmental awareness part of formal education. Other pro-environment actions during 2022 included a team of volunteers cleaning up Landa beach in Ayia Napa, on the occasion of World Cleanup Day – during which more than 43.4kg of waste was collected. Also, a section of the Athalassa National Forest was cleaned up as part of the 'Cyprus – Let's Do It' initiative, where 5,656 litres of garbage were collected.
Hellenic Bank's own team of volunteers continues to undertake actions aimed at supporting vulnerable groups and charitable foundations. In fact, over the last three years, Hellenic Bank has received awards from the Pancyprian Volunteerism Coordinative Council for its #HBVolunteersChallenge that takes place in the context of Pancyprian Volunteerism Week. Additionally, Hellenic Bank supports organised groups carrying out important social work, such as Hope for Children, the Sophia for Children Foundation, the Elpida Foundation, PASYKAF (Cyprus Association of Cancer Patients and Friends), Europa Donna, Unicef, the Karaiskakio Foundation, Telethon, the Red Cross, food banks, Ronald McDonald House Charities, the 'Majestic' Miniature Horse Therapy, the Fairytale Museum etc.
CONTACT INFO
Tel.: 8000 9999 (calls from Cyprus are free)
+35722 500500 (if dialing from overseas)
E-mail: [email protected]
Webpage: www.hellenicbank.com