Living in Nicosia means one is rarely exposed to touristy places.
Bar a few restaurants in the old town, especially near the Ledra crossing, no establishment can pride itself as being popular with visitors. Because, let's face it, tourists would rather spend their time by the sea than in the capital, especially during Cyprus' sweaty summer months.
So, when I sat down at Los Mexicanos in Ayia Napa, smack in the middle of one of the busiest areas of perhaps the most visited place on the island from the beginning of June to the end of August, I was taken aback. I sometimes forget that Cyprus is still a big hit with tourists and I blame the pandemic for that.
After two years marred by Covid-19, Ayia Napa is once again teeming with Britons, Poles, Swedes, Israelis and so on and so forth.
But I digress. As you surely guessed by its name, the restaurant specialises in Mexican food. The authentic, complex and ancient one? Absolutely not. Rather the Tex-Mex version popular in southern US and Tijuana at best. Did that spoil my experience? Definitely not.
Along with two very faithful dining companions, we headed to Los Mexicanos with a carefully planned empty stomach and a big appetite.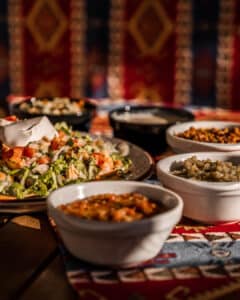 The first dish to arrive was a Mexican salad, served in a crunchy tortilla basket with corn, tomatoes, cilantro and sour cream. Purists, don't recoil! The dish was actually well executed and the edible basket pleasantly crumbled under the weight of its content, allowing for an easy and satisfying bite.
We then feasted on a plate of fajitas. Nothing out of the ordinary in terms of originality, but the beef strips were absolutely fantastic. Tender, expertly spiced and clearly of good quality, they made for a fantastic dish.
Other entries consisted of a serving of flautas (also knows as taquito) and a plate of quesadillas.
The first one was a small, rolled-up, deep fried tortilla filled with a generous amount of chicken, cheese (perhaps too much) and refried beans served with lettuce. The quesadillas, no explanation needed I suppose, featured both beef and chicken, as well as the ubiquitous sour cream, jalapeños and guacamole, which, by the way, was one of the best I have tried in Cyprus, the cilantro refreshingly used freely, rather than sparsely, as is often the case.
I expected a loud, rather overcrowded place and I was not wrong. What I did not expect was a very pleasant dining experience. The ingredients were as fresh as they get, the portions generous and filling and the staff friendly and attentive.
Sometimes we try so hard to find the wow factor in a restaurant – yours truly included – that we forget to simply enjoy our meal.
Los Mexicanos might be touristy, perhaps unoriginal and even a tad tacky. But I know very well that I will find myself longing to return there from time to time.
VITAL STATISTICS
SPECIALTY Tex-Mex, Mexican
WHERE Los Mexicanos, Archbishop Makariou III 23, Ayia Napa
WHEN Monday to Sunday 5pm-11pm, closed during winter months
HOW MUCH €8-12 for starters, €13-20 for mains, €8-10 for desserts
CONTACT 99 473570