Spoiler alert, you are about to read a lot of praise and virtually no criticism whatsoever.
As far as I am concerned, the recently opened Kritamo in Strovolos, which replaced the old tavern Stou Kyriacou is bound to become one of the best and most popular restaurants in the capital and is already a breath of fresh air in an area that is not normally associated with fine dining, at least for me.
The name Kritamo comes from the Latin crithmum maritimum, which means rock samphire, an ancient and extremely valuable herb, extensively used by Mediterranean peoples throughout the centuries.
The place serves traditional Cypriot dishes with a subtle yet quite distinct Greek twist. And in contrast to one's usual taverna, focuses on quality rather than quantity.
On to the food. Four of us around a table meant we could order more and share, my favourite thing when eating out.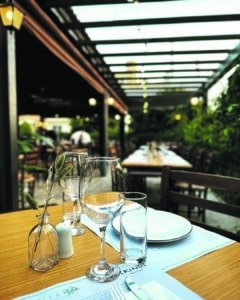 We began with a few appetisers, namely boiled halloumi with tomato jam, fried zucchini sticks accompanied by a fresh yogurt-based sauce and fava purée with orange and… kritamo!
The last one was a revelation, it turned out that the herb is quite strong and packed more flavour than expected, which went perfectly with the subtle fava and orange.
Boiling the halloumi meant the cheese lost its distinctive texture but the tomato jam made up for it brilliantly while the zucchini sticks happily reminded me of the ones I once tasted at Smith & Wollensky in New York, a memory that filled me with joy.
The mains included an orzotto with beef cheeks, caserecce with fresh mushrooms and one of my most beloved Greek dishes, spetsofai, a humble sausage and pepper stew. This one featured a generous amount of leeks as well, which balanced the otherwise potent flavours of the dish.
The orzotto, a popular entry in most modern Greek and Cypriot restaurants nowadays, went perfectly with the beef cheeks, tender and melt in the mouth. On the other hand, the mushroom caserecce (an unusual type of pasta) did not live up to my expectations. Nothing bad, of course, but they lacked bite.
Finally, my sweet toothed dining companions wanted dessert. A traditional piece of orange pie or a slice of 'ekmek', a syrupy bread pudding dating back to the Ottoman Empire, will make you finish strong.
I left the place wondering how sometimes it takes very little to elevate both a place and a dish.
Kritamo, with its twists, its revisitations and its originality, manages to do so and I can't wait to go back!
VITAL STATISTICS
SPECIALTY Cypriot-Greek food
WHERE Kritamo, Konstantinou Palaiologou, Strovolos, Nicosia
WHEN 7pm-midnight Monday to Saturday, closed on Sunday
HOW MUCH €3.50-6 for appetisers, €10-30 for mains, €6-10 for desserts
CONTACT 22 497539