Firefighters were battling a blaze that threatened the Ayios Neophytos Monastery in Paphos in the early hours of Saturday, authorities said.
The blaze was declared under control some five hours later. The fire had broken out around 4am. It has burned some nine hectares of scrubland and trees.
The monastery's monks were evacuated earlier as a precaution and the buildings well protected by firefighters to stop the blaze reaching them, according to fire department spokesman Andreas Kettis, who posted on X.
Kettis said the call came in about the fire at 4:05am.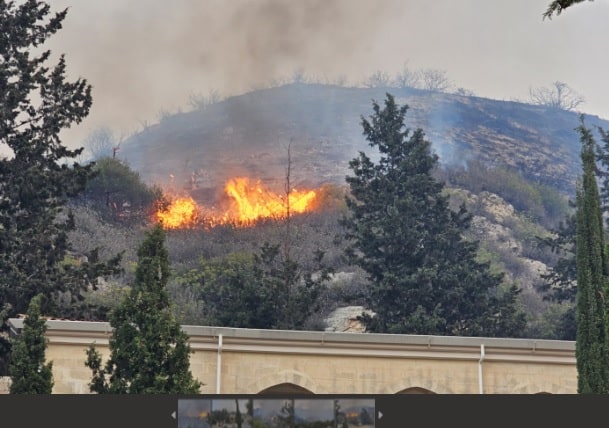 The blaze had broken out in an area of dry grass and wild vegetation and  had burned a number of trees between the communities of Tsada, Koili and Tala, coming very close to the monastery.
"The monastery of Ayios Neophytos was in danger but was protected," he said. The monks were asked to evacuate as a precaution but no one was in danger. Personnel were moved from the area of the fire to the monastery building to make sure the blaze did not reach the premises, Kettis said
Six fire trucks from the Paphos fire station, the Polis Chrysochous station and other Paphos field stations. From the forestry department four fire engines went to the scene and one fire truck from the game and wildlife service.
Kettis said at first light, two firefighting helicopters were also activated with additional manpower from the forestry department and the game service.