Kition Ocean Holdings has officially declared zero increases in berthing fees for yacht owners in Larnaca Marina for the year 2024, according to a statement released by the company.
The statement revealed that this decision was made after numerous internal meetings within the company for the 2023-2024 period, noting this reflects their commitment to maintaining positive relations with vessel owners.
The announcement was made during an event held on Thursday, September 21, for the marina's clients, attended by Panos Alexandrou, the founder of Kition Ocean Holdings.
Additionally, the company announced its decision to shoulder the costs exceeding €100,000 euros for the purchase and installation of a small pier, which will be placed next to the existing wooden pier.
This additional infrastructure aims to facilitate smooth mini-cruises and accommodate tourists during the next three years while construction projects are underway in Larnaca Marina.
Alexandrou stated that "this initiative is a gesture of goodwill and a desire of the investors in Larnaca Marina to collaborate with yacht professionals and minimise any potential impacts that may arise during the project's development".
"Furthermore, our goal is to upgrade the historical pier to become an attraction point for visitors and residents of Larnaca," he added.
He further explained that the pier would be made more attractive, allowing the public to walk alongside it, enjoy quality time with music and food, and observe the progress of the marina's work safely.
Referring to the event for marina clients, Panos Alexandrou stated that "this event provided an excellent opportunity for us to get to know each other better and build bonds".
"The company aims to maintain good relationships and effective communication with yacht owners," Alexandrou added.
He continued by saying that "yacht owners will have the opportunity to submit their suggestions and address minor issues that may arise to discuss and jointly decide on sustainable solutions".
"We rely on building relationships and aim to avoid conflicts through proper communication and cooperation among all parties involved," Alexandrou said.
Alexandrou addressed reports of delays in the project and explained that issues of stability were encountered in the historical building "Nautical" and some areas of the pier, requiring extensive underwater work.
The building had deteriorated over time, and asbestos was removed, actions that caused some delays.
He also mentioned that the renovation of the existing piers and dredging are planned to occur concurrently with the marina works.
Extensive inspections are set to be carried out to ensure the uninterrupted operation of activities within and outside the marina by yacht owners and visitors.
Jack Kaye, Chief Executive Officer of Davion Healthcare Plc, a Cyprus-registered public company specialising in the design, development and manufacture of medical devices, recently met with Popi Kanari, the Minister of Health of the Republic of Cyprus.
The meeting, which took place on Thursday, September 21, 2023, allowed Kaye to outline Davion's upcoming range of temperature-based home tests to help monitor a number of potential medical conditions which the company will be launching in the first quarter of 2024.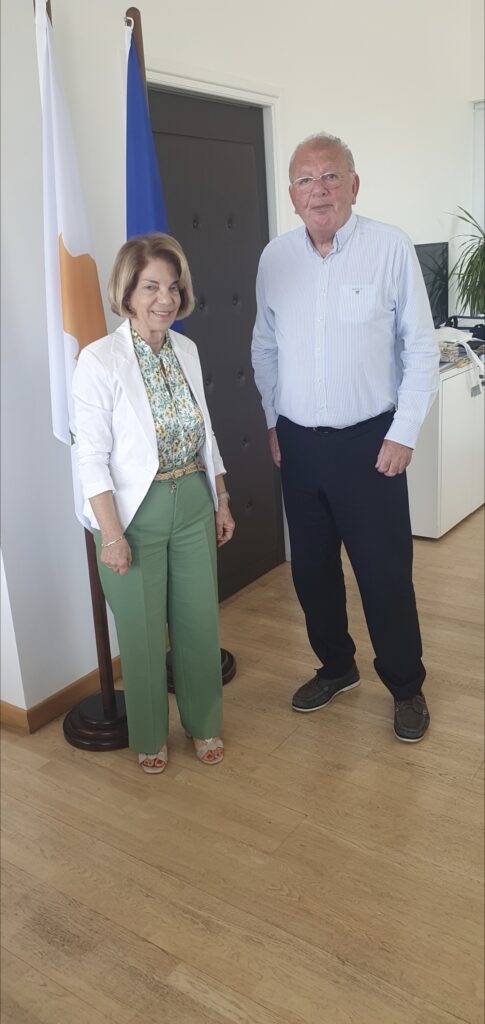 Also discussed was the company's prior announcement that it plans to assemble some of these medical devices here in Cyprus for distribution within the EU market. Minister Kanari was very supportive of these plans.
It should be noted that Davion Healthcare Plc transitioned its public status from the United Kingdom to Cyprus in November 2022, becoming a publicly listed company. The company consolidates various subsidiary companies specialising in medical devices.
Davion's medical device division is notable for its FDA-registered home test kit for breast anomalies, with ongoing projects focused on home tests for conditions such as testicular cancer and blood circulation related to diabetes and PADS.
The company's vision is to become a global hub for commercialising, distributing, and expanding innovative medical technologies, pharmaceutical products, and healthcare services.
According to an interview given to the Cyprus Mail in June of this year, the company's strategic move to Cyprus reflects the country's growing reputation as an attractive destination for businesses in numerous sectors, including healthcare.
"Cyprus will be the global hub for the company, as well as one of the distribution points and assembly points for Europe," Kaye said at the time.
"Being here in Cyprus gives us the opportunity to operate throughout Europe, being an EU country, which was difficult to do while based in the UK," he added.
The Cyprus Stock Exchange (CSE) ended Monday, September 25 with losses.
The general Cyprus Stock Market Index was at 131.22 points at 13:04 during the day, reflecting a decrease of 0.73 per cent over the previous day of trading.
The FTSE / CySE 20 Index was at 79.53 points, representing a drop of 0.75 per cent.
The total value of transactions came up to €103,174.
In terms of the sub-indexes, the main and alternative indexes fell by 1.02 per cent and 0.02 per cent respectively. The hotel index rose by 1.13 per cent while the investment firm index remained unchanged.
The biggest investment interest was attracted by the Bank of Cyprus (-1.31 per cent), Logicom Public (-2.78 per cent), Petrolina Holdings (-0.88 per cent), Hellenic Bank (-0.44 per cent), and Demetra Holdings (no change).