The commercial real estate market is an integral part of Cyprus' economy and, over the past few years, it has experienced major growth and development. This is largely thanks to the island's booming business sector, which is a result of the Cyprus' unique geographical position and diverse economy. This makes Cyprus an attractive, international business hub, and a popular destination for foreign investment. Sales of office buildings, retail spaces and industrial properties have skyrocketed, contributing to one of the most active years in the Cyprus real estate market since 2008.
Choosing your property
There are several factors to consider when selecting a commercial property in Cyprus, including location, proximity to major transport hubs, and the surrounding local business climate. Galaxia Estates offers a range of properties to suit all needs and budgets, as well as an experienced team who can help you navigate the buying process and find the right property to suit your needs.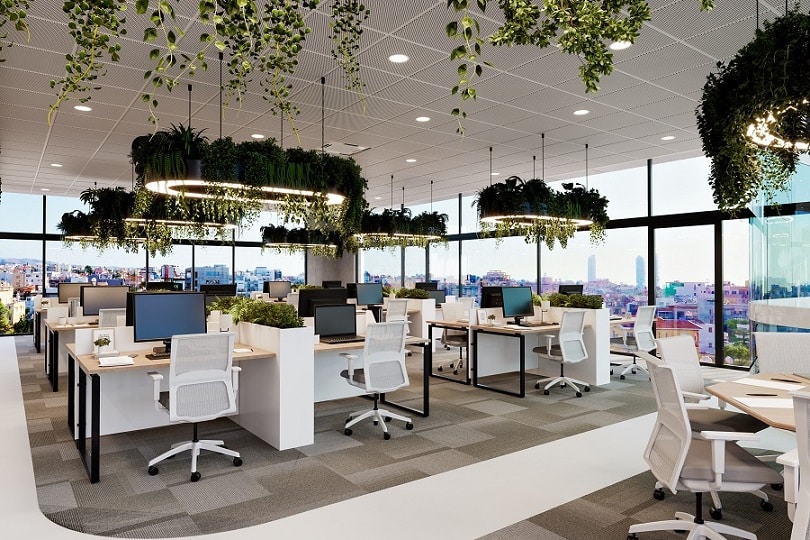 Macedon Business Centre
This commercial property in Galaxia Estates' extensive portfolio is located in the heart of Limassol's city centre, on the buzzing commercial Spyros Kyprianou Avenue, and is easily accessible from both the highway and the city centre. In this prime location, shops, offices and other amenities are in close proximity, making it an ideal spot to establish your business.
The modern building features a contemporary design of glass concrete, and comprises five floors that include four floors of luxury office space, a communal roof garden, and 15 parking spaces at basement level. Its unique location and south-facing orientation means the building overlooks both the city of Limassol and the sea, allowing for unique views from the large windows and generous, 23-sq.m balconies that extend out from each office. The open-plan office areas are spacious, and can easily be adapted or partitioned to suit any type of working environment.
State-of-the-art technology
Featuring high-performance materials and state-of-the-art provisions, the Macedon Business Centre makes for a productive and efficient workspace. Every office offers provisions for VRV climate control air-conditioning and heating, while CCTV cameras throughout the building and electric gates in all entrances and exits provide an added layer of extra security. Most impressively, the Macedon Business Centre is a bioclimate building, with 25 per cent of its energy produced by renewable energy sources in the form of photovoltaics, making it an almost zero energy building.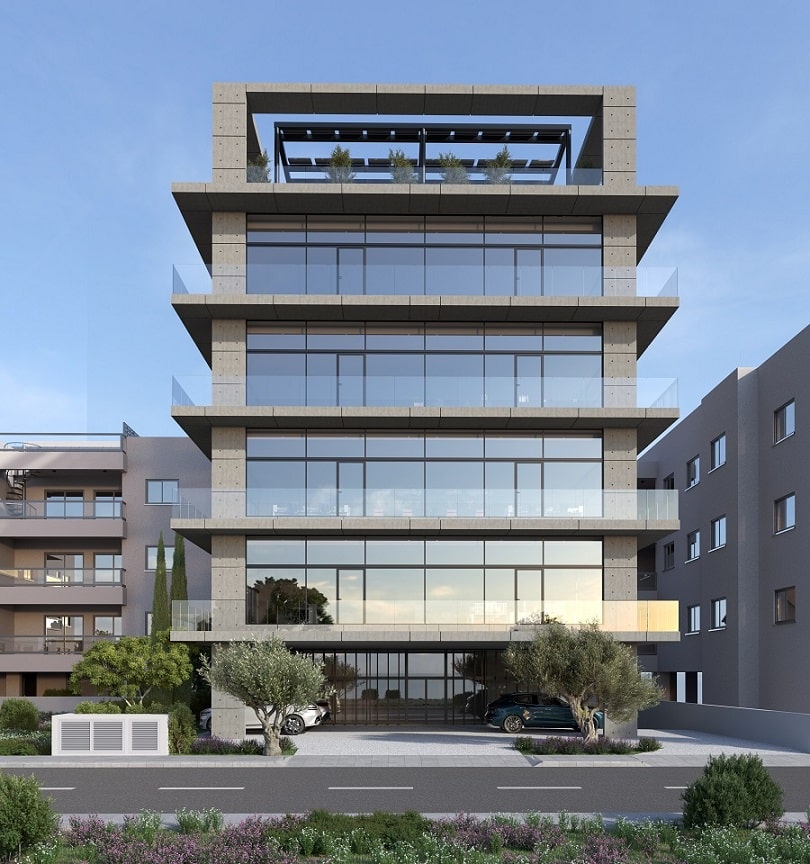 Why choose Galaxia Estates
Galaxia Estates is one of Cyprus' fastest-growing developers and estate agents. Established in 1977 as a family business, the company boasts masterfully-designed and expertly-constructed properties in some of the island's most sought-after locations.
From holiday homes to commercial spaces, our expert team is on hand to help you find the right space to suit your needs. Paying close attention to detail and the quality of our construction materials and engineering techniques, our team of architects, engineers and designers undertake projects from start to finish – from planning to construction and even interior design. Our services continue even after the sale is complete, and we can help with legal advice, contracts of sale, after-sales services and even property management.
The buying process
Buying property of any kind can be a daunting experience, and our team of experts at Galaxia Estates is on hand to lead you through the process. From guided tours of our projects to answering all your questions and concerns, we help you make informed decisions. Upon finding a property that suits your needs, our legal team will help prepare all documents and contracts needed to complete the sale smoothly and efficiently, explaining every step of the payment process, as well as agreeing on a flexible payment scheme that suits our clients.
To learn more about the Macedon Business Center, contact us today to arrange a meeting:
Galaxia Estate Agencies
Arch. Makarios III Avenue 219, Limassol 3105, Cyprus
+357-25-820606