Limassol's culinary scene has a dazzling newcomer. Nestled within the opulent confines of the City of Dreams casino resort, Anaïs offers a taste of France's elegant and refined cuisine, clearly catering to a distinguished clientele. As I stepped into the place, I was immediately struck by its stunning setting. The ambiance is airy and almost dreamy, bathed in a gentle, low light – a trendy choice that might ruffle the feathers of traditionalists but added a touch of modernity to the experience. Bear in mind that the restaurant only allows people over 18 years of age.
For someone like me, who often seeks out down-to-earth dining, Anaïs was a delightful departure. Sometimes it's refreshing to change the atmosphere and immerse oneself in a different scenario.
But, of course, the heart of any restaurant lies in its menu. Anaïs began our culinary journey with gougeres, delicate cheese puffs accompanied by truffle mayo. This choice held a special place in my heart, as my mother used to prepare them. While they weren't dry, I couldn't help but feel that a touch more butter would have elevated them to perfection. Still, the nostalgic connection made them a worthwhile start.
Next up was the beef tartare, an exquisite masterpiece served with bone marrow. The addition of chopped shallots and high-quality French mustard worked wonders, and the tartare's unexpected chill brought a unique twist to this classic dish.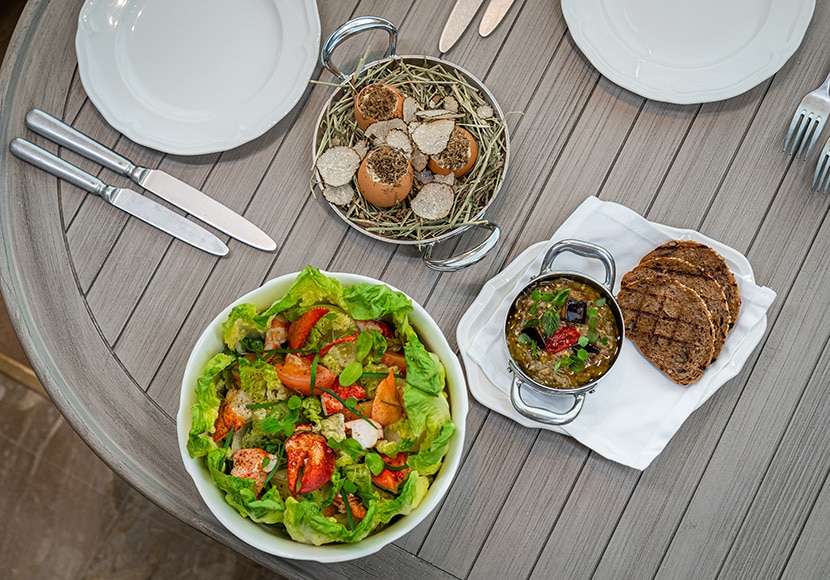 The pièce de résistance of the evening was the seafood platter – a true showcase of the establishment's opulence. Poached lobster, clams, langoustines, oysters, crabs, and whelks graced the platter. Sous chef Avinash, who took the time to explain his meticulous work, revealed that many of the restaurant's dishes feature ingredients imported from France, ca vas sans dire.
Calamari fricassee followed, served with pungent bigorre black ham, pequillos, and piment d'Espelette. It brought a welcome burst of spice compared to the platter's simplicity, and the addition of pine nuts added layers of complexity to the dish.
Then came the quintessentially French choices: Chateaubriand and sole meuniere, slightly more retro selections than the usual fare. The Chateaubriand was a revelation. Cut before our eyes and served with a perfect béarnaise sauce, it melted in the mouth, despite my preference for slightly bloodier cuts. The sole meuniere didn't disappoint either. Though I half-expected capers (a nod to my numerous Cypriot tavern visits), the preparation was flawless. It didn't hurt that it was Avinash's favourite – always a good sign when the chef enjoys what he creates.
Dessert arrived in the form of a rum-soaked baba and creme anglaise, both refreshingly light and almost digestive, a fitting finale to my gastronomic journey.
In some establishments, opulence and grandeur can mask culinary shortcomings. The luscious ambiance, the opulent decor can sometimes be deceiving. But Anaïs promised a lot, and I'm delighted to say that it delivered and then some.
VITAL STATISTICS
SPECIALTY French food
WHERE City Of Dreams resort and casino, Nikou Kavadia Limassol
WHEN 7pm-2am Thursday to Sunday
HOW MUCH €8-34 for appetisers, €33-260 for fish platters, €32-120 for mains, €7-16 for desserts
CONTACT 25 088888