AEL proved their title credentials with a 3-1 win over AEK Larnaca on Wednesday to take the lead at the top of the Cyprus First Division with 17 rounds played.
Dusan Kerkez's side took advantage of fierce city rivals Apollon's loss at the hands of Omonia in Nicosia to open up a one-point gap over Apollon, with Omonia and Anorthosis following in third and fourth place respectively.
Speaking after the game, Kerkez expressed satisfaction at the overall performance, saying that his team had controlled the match throughout.
"For me it's important that the players did not change their approach [after conceding first] and stuck to the plan", Kerkez said.
Referencing the furore which took place between the coaching staff on the sidelines, Kerkez voiced his disapproval while at the same time acknowledging that football can become intense at times.
"I have no problem if there's a little tension. It's better if there is a little tension, this is not ballet and we are not at the theatre. We are playing football", Kerkez explained.
AEK manager Sofronis Avgousti did not hide from the fact that this is the second consecutive derby game in which his team has conceded a number of goals.
"We allowed the opposition to control the game. This saddens us both as a club and as fans", Avgousti said.
"We are now focused on the next game and there's plenty of road ahead", the AEK manager added.
In Nicosia, Omonia continued their hot streak by defeating title rivals Apollon 2-1, with the Greens coming back from being 1-0 down to win the game.
Omonia are the most in-form team in Cyprus with six straight wins, firmly leaving their Europa League domestic performances behind.
Omonia manager Henning Berg had previously said that their games against European opposition would help the team develop and it is evident that is true, with Omonia displaying a maturity, composure and resilience that weren't quite there in the past, particularly after having gone behind fairly early in the game.
Speaking after the match, Berg highlighted his side's mental attributes, particularly their determination to not let Nicolas Diguiny's goal affect their morale.
"They showed bravery and sharpness. I am satisfied with the mentality and behaviour of our players. They did not give up and fought until the end for an important win", Berg said.
"Apollon are a good team with very good players and made it difficult for us at some stages. This is why we are happy we took the win", Berg added.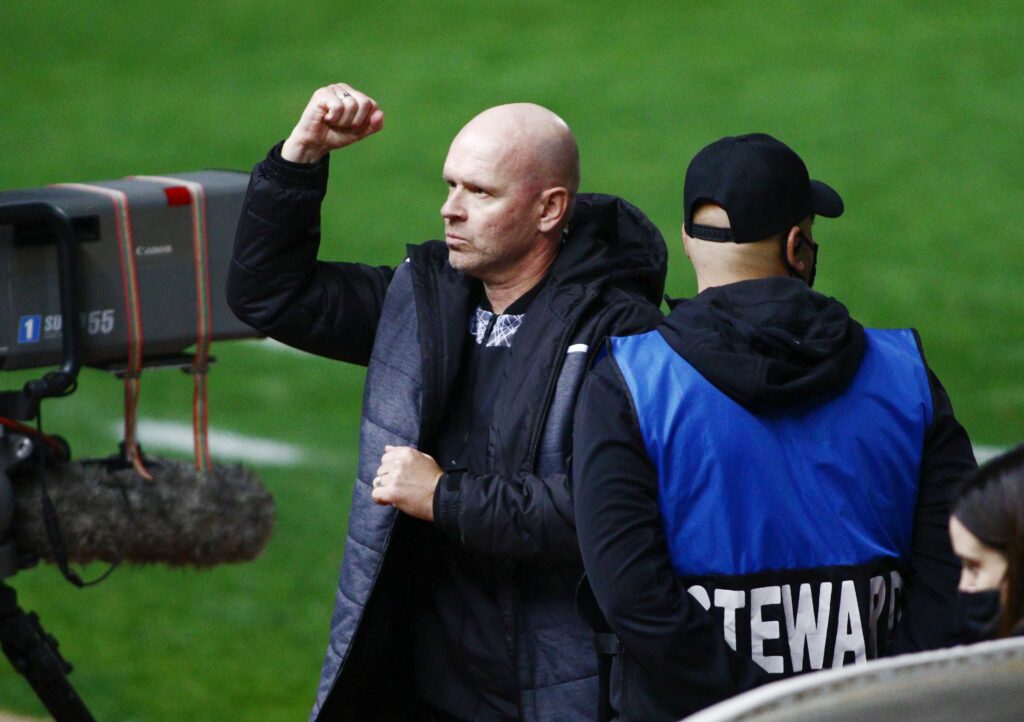 Omonia manager Henning Berg celebrating his team's win over Apollon Limassol
Elsewhere, Apoel sacked manager Mick McCarthy after yet another loss, this time 2-1 at the hands of Doxa.
This was Apoel's side's fourth straight league loss and sixth defeat in their last ten games. The Nicosia side are now four points off the drop zone with a game in hand but firmly entrenched in the relegation group who will play against each other to determine the other two teams to go down at the end of the season.
Apoel have already signed a replacement for McCarthy, former Apoel and Anorthosis player Savvas Poursaitidis. Poursaitides last managed Famagusta club Nea Salamina.
The fallout from Apoel's catastrophic season is not contained to their managerial choices.
Summer signing Omer Atzili, one of the early positive additions to the squad, has terminated his contract with the club and moved back to Israel.
Moreover, there is turmoil around the Apoel board, with pressure mounting from fans who wish to see a change in the club's administration.
There will be an emergency board meeting today in which the club's financial situation will be 'transparently presented', as per a club statement.