Renowned composer Savvas Savva tells THEO PANAYIDES why financial insecurity and three failed marriages is the price to pay for the freedom to write music
You can tell a lot about a person from the place where they choose to live. When it comes to Savvas Savva, for instance, it may be that he chose his Nicosia flat for its proximity to the Satiriko theatre, where he teaches music to aspiring actors three times a week – but it's far more likely that he chose it for its view, a panoramic sight that lifts the spirit and reflects his own taste for freedom, both personal and professional.
He's only on the first floor – but the flat is on the edge of town and the view of rolling fields, lushly green even in this relatively dry winter, stretches all the way to the mountains. "This is my castle," he explains – from the balcony where he stands gazing out, to the piano looming large over the living room and the bookshelves stacked with everything from Chaucer and Poe to Paolo Coelho, one shelf taken up entirely with first editions of Jules Verne, others hosting thrillers and romances and of course books on music, to match the piles of CDs. This is his castle, with a little studio at the back – and the place where he sits, every day, writing music.
63-year-old Savvas is among the most renowned, and prolific, classical-music composers on the island. "His catalogue of compositions," to quote Wikipedia, "includes symphonies (7), concertos for piano (3), violin, cello and flute, works for solo piano, chamber music, ballets (2), opera and many other works including a concerto for 10 pianos and orchestra (Mediaeval Cyprus) and a dancing suite for 10 pianos (Dances and Songs of my Country)." He's even better known as a pianist and has performed all over the world, from Italy to Australia and Panama to Romania. Just last year, before all the corona madness started, he played a special live-streamed selection of his works on the roof of the newly-built 360 Tower in Nicosia, dragging himself and his piano 135 metres up to the 35th floor from where he could see, he says – speaking of panoramic views – from the bay of Morphou to the west all the way to Tymvou (Ercan) airport to the east.
One thing – speaking of pianos – should be noted, however. He may indeed have a great musical beast taking up half his living room, but "a composer doesn't use an instrument. It's a mistake to touch an instrument… You'll never see me sitting at the piano to compose. I'll sit over there by the bar, or in the office. It's all in my head," he explains, gesturing at all the invisible music locked away between his temples. "As soon as you touch an instrument it carries you away to other things, and it's not what you had in your head anymore."
Doesn't it make the notes come alive, though?
"We hear them," he reassures me. "We composers who've studied classical music, we hear them."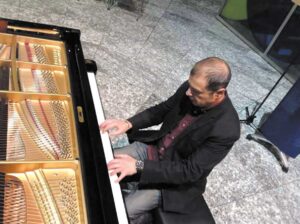 His studies are a point of pride, both because he studied classical music (actually composition and musicology) and because he studied, on a scholarship, at the venerable Tchaikovsky Conservatory in Moscow – though also, I suspect, because such studies must've seemed unlikely, given his background. His mum was an accountant with her own business, his dad a civil servant and part-time footballer (with Apoel); the parents divorced when Savvas – an only child – was two, and he was raised by his mother and grandparents. There were no musicians in the family, but Savvas liked to sing and bang along on improvised drums, the way kids do; an aunt insisted he had talent, so his doting mother signed him up at a conservatory. "You know how it is, in Cyprus everyone's a talent," he notes scathingly – thinking, perhaps, of the decade when he ran his own conservatory (a 'private school of musical and dancing arts') and was driven up the wall by constantly having to inform disbelieving parents that their offspring was not, in fact, a young Beethoven.
He himself was different, of course, the exception that proves the rule – and he knew it all along, though perhaps everyone else thinks they know it too. "From the third form at primary school," he recalls (i.e. from the age of eight or so), "I decided I was going to be a musician. And I was very firm with my family about that." He never wavered or changed his mind, coasting through high school with average grades and devoting all his energy to music – and he knew what kind of musician he planned to be, too, not the journeyman kind who plays all night in bouzouki places but a serious composer writing serious music. Even later, when he came back from the USSR in the 80s – with a wife and child in tow, no less – he chose not to compromise, turning down the offer of a teaching job in the public sector. "I decided not to be a civil servant, and I don't regret it," he says – but does admit ruefully, a little later, that, had he taken that teacher's job, he'd be on the brink of retirement and a fat pension now.
Instead, he's had… well, a full life, for sure, with three marriages (the third one to singer Lia Vissi, sister of the only slightly better-known Anna) and three children (the third one a six-year-old son unrelated to any of his wives) in addition to all those concertos and symphonies. One might also call it a free life, insofar as he's always been his own boss – the only catch being that it's well-nigh impossible to make a living from composing classical music in Cyprus. "No-one's going to come and say 'I'll give you €3,000 to write a piano sonata'. That just doesn't happen here."
You do get occasional commissions, as you would abroad (his 10-piano opus Mediaeval Cyprus was one such commission) – but mostly you have to scrape by, if you're determined to avoid the drudgery of a day job. Running a conservatory, as already mentioned, was one option; writing music for plays and films was another – though in fact the money was never great. "It just gives you some stimulation to work," he explains. "Because Cyprus never offered much. We're not a cultural nation – not yet." Savvas isn't bitter, speaking warmly of a new mentality among younger artists (he knows them from his part-time job at Satirikon) and putting our cultural illiteracy down to historical reasons. "Up till 1955, we were basically slaves," he reminds me. "We have to be patient. With the new generation, or maybe the one after that, I'm sure we'll reach European standards."
He himself never had much trouble reaching those standards, of course; among other things, he won top prize in a free-improvisation piano contest at his school in Moscow – not just once, but three years in a row! So why did he even come back? "Family reasons," replies Savvas vaguely. "I should really have stayed abroad – I had work, I had offers. Oh well…" I assume he's referring to his first wife (a fellow student, from the Dominican Republic; they had a daughter, now 37), but the 'family reasons' were actually his mother, left on her own back in Cyprus. I get a sense they were very close, in the way of an only son and a single parent – and he also seems close to his various ex-wives and offspring now (they all get along, he assures me), yet relationships haven't always been his forte. "Marriages, for me, are – a commitment," he laments, shaking his head.
Well… yes, they are.
"For an artist it's destructive, quite often. I mean, you get into a routine, it eats away at your time – and then, if you have a big family, you have to support them. Which means having to do 1,000 different jobs, especially in Cyprus." Savvas shakes his head again, depressed just at the thought: "So you're finished. You're finished."
But surely, if you find a woman who'll give you space…
"You have kids to feed," he replies a little sharply. "You have to pay the rent, pay for schools! It's not about giving space… It's about your nature as a person," he concludes sagely. "You're either suited to it, or you're not. And even those who are suited to it, maybe 90 per cent of them end up being repressed all their lives… It's not about 'do you like marriage or not' – you're either suited to it, or you're not. I was always a loner, for instance. Always, ever since I was a child. I like being alone – though I'm very sociable too". Lockdown hasn't really affected him much; this was always his life, by and large, staying in his castle, reading and re-reading his books (he's now reading Love in the Time of Cholera for the third time), and of course teasing out the music in his head.
That's a whole other matter, the way the music goes from head to page (he likes to write longhand, even in the digital age). Partly, perhaps, as a reaction to having chafed at routine all his life, and turned down a 'proper job' in the civil service, Savvas is very vehement about music being also a proper job, a daily routine – a craft, he insists, as with any craftsman. "The good house painter, the good plumber, the good builder, or mason. It's like that, you're a good musician".
Is that true, though? A builder, after all, has bricks to build with. He has to create notes out of thin air.
"Well, but I have a talent for writing notes. Just like the other guy has his own talent."
I once interviewed a musician who said he felt like his music came directly from God, I observe. (It was actually a poet, but same difference.) Has he never felt something like that?
"I don't think God really gets involved with this stuff," he demurs dryly.
Does he never get blocked, though? Aren't there days when the music just won't come?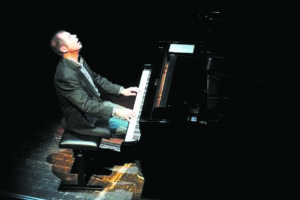 "Of course. But it comes. I'll make my espresso, maybe sit down with a book… It'll come by itself. But that's my point, you have to practise every day. A composer has to compose. If he doesn't like something he won't throw it away, he'll save it, then try again – and again and again, till it comes." He himself has entire crates full of old snippets (a jingle here, a melody there) which he'll sometimes recycle years later – and of course he has loads of music which he wrote for himself, as part of his daily labour, and never found takers for; actual paid work is seldom plentiful enough to justify working every day, especially in this barren year of Covid. "Someday they'll be heard, I'm certain," he insists airily, speaking of the hoarded pieces. "In art, nothing is lost."
It's a very philosophical attitude – and I guess that's what you end up adopting, after 55 years of first deciding to become a serious musician then actually becoming one. "With age, you get wiser," chuckles Savvas when I ask if he feels his creative powers starting to wane at all. "You subtract things more." One can picture him as a young man, improvising madly on the piano (winning improv contests suggests a quick, febrile musical mind, bursting with ideas) – and one sees him now, relaxed and steady, having seemingly boiled life down to its essentials. When it comes to marriage, you're either suited to it or you're not. When it comes to talent, you either have it or you don't. (He had it; most of his pupils at the conservatory unfortunately didn't.) Music is a craft. In art, nothing is lost. There's a brisk, succinct certitude about Savvas Savva, the no-regrets demeanour of a man who may have doubted once but doubts no more.
What would he have done, without music? He shrugs, as at a silly question (it is indeed a silly question): "I can't imagine. Music just happened, and that's what I decided to do". His private life, too, is water under the bridge; maybe Vissi was the woman of his life – they were together for over 12 years – or perhaps all relationships are equally precious, who knows. Meanwhile, the music goes on. Savvas spent much of last year re-reading Aesop's Fables and now plans to write an opera based on the fables – a big project that'll probably take a few years to stage, working with a librettist and an orchestra. "I won't get too stressed," he assures me – and gazes out the window, at the tranquil sea of green fields stretching all the way to the mountains.