By Katie Wright
"Horrible" – is how Niklas Ekstedt sums things up when asked how he's fared during the pandemic. "It's so difficult, because I'm used to travelling all the time and meeting people from all over the world… and now I'm just stuck," admits the Swedish chef, 42.
With more time on his hands, the chef and author has recently got very into fermenting, inspired by what he learned while working on his latest book, Happy Food For Life, alongside journalist Henrik Ennart.
The follow-up to bestselling Happy Food, once again it focuses on how what we eat can affect how we feel, combining the latest research with health-boosting recipes.
"The research within that field has [moved on] so dramatically quickly and so many new things have come up. So we thought we would make an update and make it a little more modern," Ekstedt explains.
"You feel more depressed, at least I feel more affected by bad food. I really need to eat healthy food to stay alert and be ready for battle."
So what's his key advice for staying fit in mind and body?
"I think the secret to a healthy lifestyle is to eat a lot of different things. Broaden your variety of foods when you shop, so don't get stuck on just one thing, and also you discover new things that you might find delicious."
Ekstedt and Ennart believe a largely plant-based diet, using whole ingredients rather than processed foods, is generally best – but they don't say you have to cut out meat altogether, unless that's your preference.
Pasta with Sage, Butter and Pine Nuts
400g pappardelle, dried
2 cloves of garlic
3tbsp butter
8–10 sage leaves, plus extra to garnish
50g Parmesan
3tbsp pine nuts, toasted
Black pepper for serving
Cook the pasta al dente, according to the instructions on the packaging. Drain and leave to steam thoroughly.
Thinly slice the garlic.
Brown the butter slightly and add the sage and garlic.
Add the pasta and mix thoroughly.
Serve with Parmesan shavings, toasted pine nuts, extra finely sliced sage and freshly ground black pepper.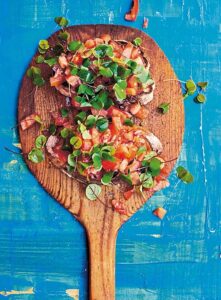 Tomato Dip with Sourdough Bread
500g sweet and ripe tomatoes
3 shallots
1 clove of garlic
4tbsp olive oil
2tbsp red wine vinegar
1 red chilli
6–8 basil leaves, wood sorrel or herb of your choice
Salt
Cut the tomatoes in half and roughly chop or grate the cut surface coarsely with a grater.
Add salt and suspend in a fine sieve for approximately one hour. If you grated the tomatoes you will obtain a thick consistency.
Finely chop the shallots and garlic and quickly fry without allowing them to brown in a hot pan with one teaspoon of the olive oil.
Mix with the tomato mixture, the remaining olive oil and red wine vinegar and season with salt.
Halve the chilli and remove the seeds.
Shred the basil leaves, sorrel or chosen herbs.
Top the tomato dip with chilli and herbs.
Serve with freshly toasted sourdough bread or roast chicken breast with grilled salad.
Happy Food For Life by Niklas Ekstedt and Henrik Ennart is available now