By Katie Wright
For Kwoklyn Wan, cooking has always been a family affair. Growing up in Leicester in the 70s, the chef has fond memories of a childhood spent running around the city's first Cantonese restaurant, owned by his parents, Myra and John.
"It was very much our playground growing up," says the 48-year-old, describing days spent "literally crawling under the tables – because when you're a kid you always want dens, don't you?" with younger brother Gok, who went on to find fame as a TV presenter.
As they got older, the mischievous brothers, along with sister Oilen, were enlisted in the kitchen.
"Mum and dad could ring us from downstairs and say, 'We're really busy, you need to come downstairs and help out', whether that was washing or peeling onions or peeling carrots, or even just tossing fried rice. And that's how you learn the trade."
After cutting his teeth in their parents' restaurants, embarking on his own culinary projects and later opening a martial arts school having also practiced kung fu since he was a child, five years ago, Wan decided to focus on cooking full-time.
"I've concentrated on sharing my experiences and my knowledge with through books, articles, and TV," which, he says, gives him the opportunity to be more creative in the kitchen.
Now on his fourth Cantonese cookbook, Chinese Takeaway In 5 features recipes that require just five main ingredients (plus a few store cupboard essentials), an approach he says is ideal for anyone who's looking to reduce the amount of meat they eat.
"The nice thing about Chinese food is the Chinese really have learned how to bring out the best of the vegetable, so you don't really need to supplement them with a meat substitute. You just use a nice vegetable and give it the TLC it needs to bring out the flavour."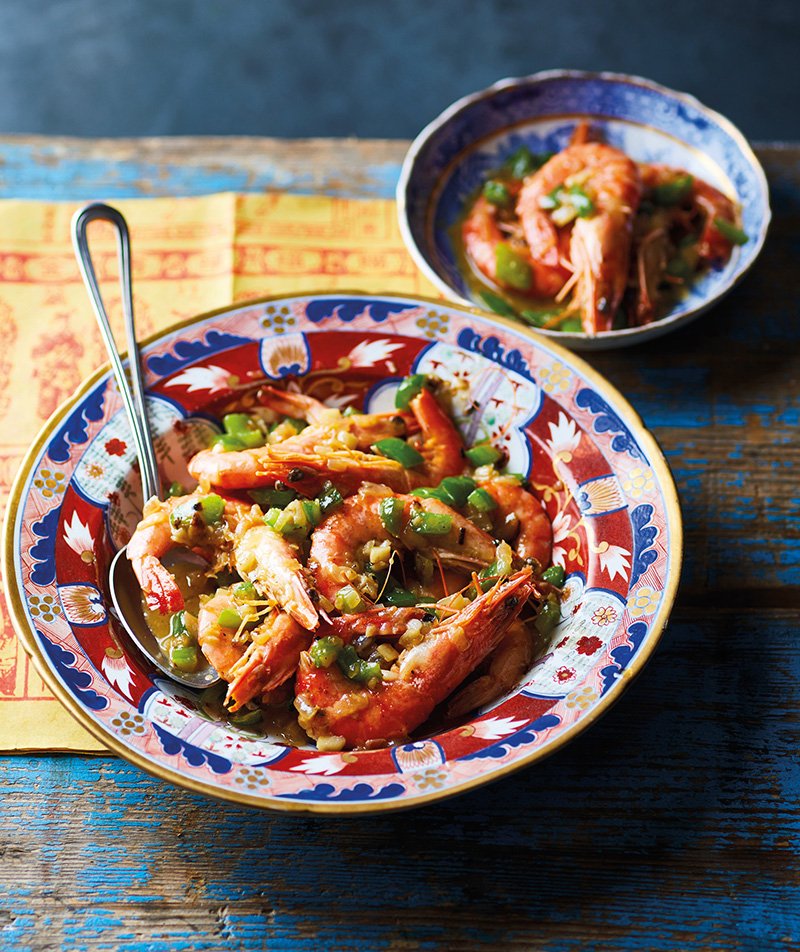 Cantonese Garlic King Prawns
(serves 2)
16 large raw king prawns (jumbo shrimp), left whole and unpeeled
1 medium white onion, finely diced
5 garlic cloves, finely chopped or grated
1 green pepper, finely diced
4tbsp salted butter
2tbsp vegetable oil
1tsp sugar
1⁄2tsp salt
1⁄4tsp white pepper
Carefully cut a slit along the back of each prawn and remove the digestive tract. Rinse under cold water, drain and set to one side.
Place your wok over a medium-high heat. Once hot, add the oil and swirl around the pan to warm, then add the diced onion and fry for 30 seconds, followed by the garlic; continue to fry for 20 seconds. Next add the green pepper and after 30 seconds add the drained whole king prawns. Continue stir-frying for two minutes, by which time the prawns should have started to turn pink.
Add the butter and evenly sprinkle in the sugar, salt and pepper. Mix well and fry for a further two to three minutes until the prawns are cooked through. Serve and enjoy.
Marinated Chicken Skewers
(serves 4)
340g chicken breast, cut into 3cm cubes
80ml honey
3 garlic cloves, finely chopped or grated
Juice of 1 lemon
250ml light soy sauce
If you are using wooden or bamboo skewers, soak them in water for at least one hour before using.
Put all of the ingredients into a large bowl and mix well, making sure the chicken is well coated. Cover and allow to marinate for at least two hours.
Preheat the oven to 180C. Thread three cubes of chicken on to each skewer, then place on a foil-lined baking tray. I'd recommend two skewers per person. Once all of the chicken has been threaded on to your skewers, spoon over the remaining marinade. Bake in the oven for 40 minutes, basting and turning the skewers every 15 minutes.
Once you are happy that the chicken is cooked through, transfer to a serving plate. These are best eaten warm but are also tasty as a cold snack or filling for baguettes, wraps or pittas.
Chinese Takeaway In 5 by Kwoklyn Wan is available now