It used to be tourists. But now it's residents who are exploring the island: savouring the true tastes of Cyprus.
Like so many local ventures, Cyprus Taste Tours has had to transform over the last year or so. But, unusually, this shift has been a huge success for owner Louisa Georgiou, who has been surprised to discover just how many island residents are jumping at the chance to explore the food, wine and culture of their own country.
"We had assumed that the people living here were already familiar with the island or would prefer to organise their own trips. But when the pandemic hit in early 2020, we were truly surprised at how many messages we received from local ladies' groups, team-mates, small businesses, and younger people looking to explore the tastes of their own island."
Originally launched in 2011, the Tours are divided into rural and urban. "Our rural day trips go into the villages where we visit locals making traditional products such as halloumi, olive oil, honey, and wine," Louisa explains, "and the city tours are an opportunity to try different dishes, become familiar with a city layout and check out different cafés and restaurants."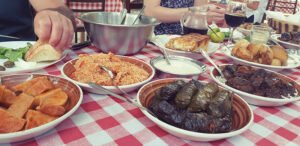 The Troodos Village Venture is one of the former: an exploration of selected villages and traditional workshops, during which trippers will taste a variety of Cypriot delicacies, learn about the sourcing of ingredients, the processes and traditions involved in the dishes. "We visit a traditional village, such as Lefkara, Omodos, or Kakopetria; we explore the craft shops and see the sites; and along the way we stop at a local village tavern to enjoy a full mezze," says Louisa.
There's also Beyond the Grape, which sees trippers visiting three selected wineries, exploring local villages, drinking in unique scenery and sites, and enjoying a wine tasting or two. And Halloumi Heaven takes you from the farm (where you can milk the goats and sheep yourself!) to a hands-on workshop, a slap-up cheesy lunch, on to a honey producer and donkey milk venture, and ends at the lace-makers of Lefkara, where there's time to shop and explore.
Each of the eight currently active tours is a celebration of the island's "amazing blend of the best cuisines," Louisa enthuses. A foody at heart, with a passion for experiencing food and wine tours wherever she travelled, she originally began Taste Tours as a hobby: "A great way to meet people from all around the world, and a perfect excuse to try out all the different restaurants and explore the foodie scene!" And over time, the venture became so successful that Louisa was able to quit her job, expand in scope, and bring in other guides: "Natural explorers with a real connection to Cyprus. People who are similarly passionate about culture, discovery, and the incredible food and wine of the island…
"You can find so much variety and so many flavours: super simple and then super busy and intense," she continues. "The traditional drinks are wonderful too – soumada, airani, triantafilo, and Cyprus coffee… They're a great blend of different cultures. Then there's the fantastic wines, with their rich and interesting history; the Cyprus wine-makers of today are doing great things, taking pride in the indigenous grape varieties they've inherited and are nurturing these to make wonderful wines."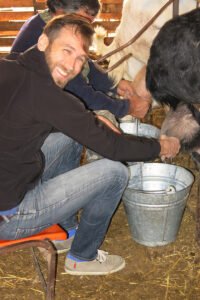 Today, with two teams of 12 guides based in Larnaca and Paphos, Louisa has transformed Cyprus Taste Tours into a thriving business, with more tours being added all the time. "We're constantly making a serious effort to broaden and further our food and wine knowledge," she explains. "All our guides have completed wine courses, belong to food and wine drinks clubs and associations, consistently take part in food and drink seminars, and participate in online experiences and conferences related to food and drinks.
"In fact, the periods when we were unable to operate have actually been a bit of a welcome break," says Louisa. "Because the tours had grown so quickly, there were lots of things I wanted to implement but didn't have time for: lockdown was a chance to do all these things, as well as ensure all the safety measures – weekly rapid testing, social distancing, masks, sanitiser, and cleaning of vehicles – were understood and in place."
Now, with measures relaxing, the Taste Tour teams are up and running once more: offering a door-to-door minibus service for small groups on day trips, providing us with an alternative way to explore and see Cyprus. "When you take a tour with CTT you'll gain a friend with a wealth of knowledge about Cyprus; they open up a world of current and relevant information, and you'll discover places, events, activities, food and drinks you simply cannot find in the guidebooks. You'll learn about the story of the island through the traditions and meet locals with amazing stories to tell. You'll try restaurants and wineries you might not otherwise get to hear of; try dishes that you might not think of trying alone; you'll get personalised recommendations for places and activities you might enjoy.
"These Cyprus Taste Tours are perfect," Louisa concludes, "for anyone who likes food, wine and culture. And, like our clients, we ourselves are really looking forward to restarting – we miss the interaction with both our clients and the locals we visit. We're ready to start sharing this amazing island once again!"
For information, call +357 96 645396, or visit cyprustastetours.com, the Facebook page 'Cyprus Taste Tours', or the Instagram account @cyprustastetours Under current measures, three people are allowed per day tour, and seven per city tour. Contact Cyprus Taste Tours for more information