In a tale of two eateries, Theo Panayides dines from two newly opened chef-led enterprises in Nicosia that are well worth visiting
First, an anecdote. Right after leaving Casa Burro, I stopped for a drink at Plato's bar down the road and ran into two older gentlemen who turned out to be well acquainted with the place. Both were Americans, and had lived extensively in Texas (one was actually a Texan) and California. "We're very opinionated when it comes to Tex-Mex food," declared one of the men. "And that's good Tex-Mex food!"
This is a tale of two eateries, and four young entrepreneurs. Casa Burro, run by the husband-and-wife team of Derek and Katerina Dupree (36 and 35 years old, respectively), is in old Nicosia, on the site where for many years an amiable Greek dished out hot dogs to the 3am crowd as 'Kafto Skyli'. Less than a five-minute walk away, down to Ochi Square then up Bouboulinas street, is MishMish Modern Palestinian Kitchen, run by best friends Serene Sadek (27) and Emily Lucantoni (24).
The two places fit together for numerous reasons. Both are recent arrivals (Casa Burro opened in December, MishMish in January). Both are casual, and takeaway only (though MishMish plans outdoor seating in the next few weeks). Both are a mix of Cypriot and non-Cypriot ownership. Serene is a Palestinian born and raised in Dubai, Emily grew up here with an English-Cypriot mum and English-Italian dad. Katerina's Cypriot but born in New York, Derek an American raised in Seattle.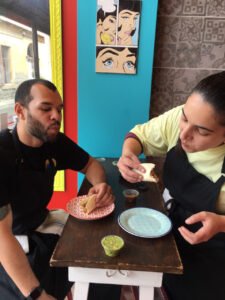 Above all, both exemplify a growing trend (paradoxically encouraged by the pandemic) for chef-owned restaurants, not the old model of moneyed investors hiring a designer and importing a chef – the restaurant as business project – but a case of enterprising owners being also the people who work in the kitchen, food "made with love" as Serene puts it.
That said, food is one area where the two diverge slightly. MishMish deals in the home cooking Serene remembers from her mother and grandma (the name means 'apricot' in the Palestinian dialect, but was also her own nickname as a child), the usual starters augmented by salads – including Freekeh, made with green wheat imported directly from Palestine – and a number of daily specials. These range from Za'atar Roast Salmon with Garlicky Bean Mash on Tuesdays to Mujaddara on Thursdays, the Palestinian version of our own rice-and-lentils Moujendra only with bulgur wheat instead of rice. There's even a political dimension, Serene saying she'd like – indirectly, of course – to "portray Palestine in a different way. There's more to Palestine than the occupation".
The food at Casa Burro is less exalted. "It's the most authentic Mexican in Cyprus," claims Derek (unlike those opinionated gentlemen, he doesn't consider the Casa to be Tex-Mex) – but in fact he's thinking of a quite specific genre of Mexican food, the so-called 'taco trucks' found on New York street corners, serving tacos, burritos and quesadillas packed with restorative combinations of meat, cheese and salsa. "When I was in Commerce," he explains, meaning Commerce restaurant in the West Village, "we'd get out of work around one or two. And everyone who worked there would go out to the bar, have your drinks, and then you'd go to the taco truck. Every night. It's a tradition."
Mention of Commerce brings up another contrast between the two places – and indeed this is where things get weird, because the owners' back stories don't really mesh with their respective ambitions. MishMish aims high, yet the two women have no previous restaurant experience and worked, till quite recently, in real estate (albeit with a pop-up called Messy Kitchen, specialising in Waygu beef sliders; MishMish still turns into Messy Kitchen in the evenings). Casa Burro aims for a taco-truck vibe – yet Derek previously worked at a number of Michelin-starred places including a stint at Eleven Madison Park, one of the very best restaurants in the world.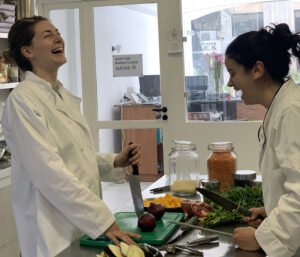 "People have no idea what goes into that food," he recalls of his experience there, sitting in the small confines of his current abode. "They'll tell you to dice celery root, so you dice the celery root – then they'll lay them all out, and they take a ruler and they measure, and if one of the 100 pieces isn't perfect they throw it all away and you start over again!"
So what brought him to a taco place in old Nicosia? Covid, apparently – and the Black Lives Matter riots, indeed the whole chaotic situation in the US last year. The couple had already decided to move to Europe, specifically Barcelona where they'd gone on honeymoon. The double whammy of pandemic and street riots was the last straw – but Europe wasn't taking US travellers so they came to Cyprus as a Plan B, hoping they could move on to Spain after a couple of weeks; then things deteriorated, everything closed down, "so we're like, 'Let's just stay for a while'." Hence Casa Burro – at least for now, till the world settles down again.
Emily and Serene also credit Covid, oddly enough – above all for allowing them to fine-tune their kitchen (Wolt delivers the food) without being distracted by the hassle of running a restaurant. "We're still learning," they admit – yet the place has become wildly popular, and it's only the beginning. Desserts are coming soon, the fabled Knafeh Nabulseyeh (Serene's family hail from Nablus), just as soon as the special cheese arrives from Palestine. Outdoor seating, as already mentioned. A new summer menu. They'd like to expand, maybe open a second shop – though of course any expansion would dilute their own personal involvement, which is personal indeed.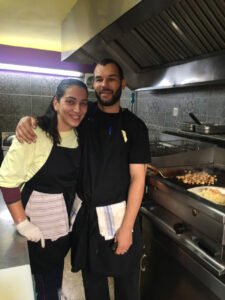 How big a gamble is this, for them? "All in!" replies Serene, and they both laugh. Not only have they sunk their savings into MishMish, it's taken over their lives. The girls live together in the same small flat, upstairs from the restaurant. They wake up early, going to the market twice a week to hand-pick ingredients. Don't they miss having fun, all the things 20-somethings are supposed to do? "What fun?" they reply with a rueful cackle; everything's closed anyway. Covid again.
There's no time for fun in this business. Derek Dupree used to work 100-hour weeks back in New York, "five hours of sleep a night then back at it, 10am to 2am, six days a week". "It's literally 24/7," agrees Emily at MishMish.
That's why it's easier when there are two of you, and indeed both couples work as a team. Serene is "boisterous" (her description), Emily more organised. Katerina is "AMAZING at customer service!" she declares cheerfully; "I live for it, I love it! People are so important to me." Her husband, on the other hand, is "not a social person. I like to stay back there, put my head down, and work."
A tale of two eateries: the owners are young, the places are young – and indeed this is probably the best time to visit. Serene and Emily are bound to lose a little fresh-faced enthusiasm as their business grows; Katerina and Derek may not even be here in a couple of years. Meanwhile we can only hope for more chef-owned restaurants, driven by passion and hours of hard work – and of course word-of-mouth, which is so important in promoting such places. Here's to the two opinionated gentlemen at the table at Plato's.