The concept of gourmet burger has long been explored and exploited by restaurants and pubs all over the world. What was once the simplest of dishes – two buns, a beef patty, ketchup and occasionally cheese – has been turned into a culinary art form.
World-renowned chefs over the years have slowly but steadily elevated the concept of the burger, kidnapping it from the humble burger joint, its natural habitat.
With such a creative force behind it, burger lovers have progressively been faced with a moral dilemma concerning their favourite food's true identity. Is the burger an unassuming, down-to-earth dish or is it a culinary blank canvas waiting to be reinvented and revolutionised?
Artisan's Burgerbar in Nicosia may just have found the key to the predicament. Their burgers are what can be described as 'down-to-earth gourmet', all unique and distinctive.
And there are lots to choose from!
The added oomph to the joint is its perfect hip location, just a stone's throw away from the bustling centre of Nicosia. The breezy patio, a key feature in Covid times, brings back memories of the cooler areas of London well away from its tourist hotspots.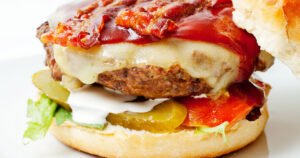 As for the burgers, Artisan's Burgerbar's strong selling point is certainly the overall quality found throughout its vast and diverse selection. Homemade chimichurri, crispy pancetta, truffle parmesan mayo and smoked gruyere cheese are some of the high-quality ingredients that feature on their menu.
I went for number 7 (extra points for no unnecessarily imaginative names), a burger with a double dose of melted smoked cheese, caramlised onion, pancetta and double chilli mayo. The ingredients blended together harmoniously and the meat was cooked to perfection, medium-rare, which was refreshingly not medium, nor rare, an accomplishment rarely achieved in Cyprus.
As a side I chose poutine, a dish of french fries and cheese curds topped with a brown gravy. The smart people at Artisan's even managed to elevate the ultimate comfort food, adding truffle mayo and parmesan cheese.
Other highlights of the sides menu are the beetroot balls with lentils and almonds, served with a wholegrain yogurt mustard sauce, and the crispy veggies, battered and fried, served with a homemade tyrokafteri dip.
Even though I did not go for one, word of mouth has is that the steaks are also a hit, as they are all prepared on a refined Josper charcoal oven, the hottest indoor barbecue available in the world, burning top quality charcoal at over 400C.
As every hip place deserving of such name, the place offers a decent amount of vegetarian and vegan choices, namely a beetroot, a mixed veggie and a shrimp burger with pomegranate sauce and guacamole to accompany them.
As I often found out throughout my many visits to similar restaurants in Cyprus and abroad, the dessert selection is rather thin, even though the sweet vanilla and chocolate burgers might be worth a try.
Last but not least, Artisan's Burgerbar offers a 'Challenge of the Month'. It might not be as "dirty" as the ones found in the US, but, during my next visit, I am more than willing to give it a try!
VITAL STATISTICS
SPECIALTY Burgers
WHERE Artisan's Burgerbar, Stasandrou 20, Nicosia
WHEN 12pm to 10.30pm every day (under current restrictions)
HOW MUCH €12-16 for a burger, including a side dish
CONTACT 22 759300