By Prudence Wade
With pizza, pasta and cheese galore, it's hard not to like Italian food. But few people love it quite as much as chef Theo Randall.
Randall – who runs Theo Randall at the InterContinental in London – admits to having a "lifelong obsession with Italian food". It stemmed from childhood holidays there, and an artist mother who was "mad about Italian", he says. "When we were kids, we grew up on her cooking from lots of Italian cookbooks."
The London-born chef gets almost misty-eyed when talking about past meals in Italy – particularly the first time he tasted spaghetti alle vongole (spaghetti with clams).
He has a particular obsession with the Italian deli, confessing he's "an obsessive shopper – I will go to a particular shop to buy one item, and I'll probably buy three different jars of passata", who often comes home laden with anchovies, olive oil and as much cured meat as he can carry.
"I would say I haven't got an Italian bone in my body, but I have an Italian soul," Randall muses – and he suggests we could all learn a lot about the country's approach to food.
"It's about keeping things really simple and not overeating," he explains. "Less is more – sometimes a really delicious plate of pasta is all you need, or maybe it's a baked dish or a risotto – if that's done really, really well, it doesn't have to have 25 ingredients in it. It could just be courgettes, butter, parmesan and some fresh basil."
Randall champions the Italian way of "frugal cooking" too. "It's making use of what you've got, rather than going out and buying things that are completely out of season, or making things too elaborate," he explains.
This is incredibly easy to do, particularly as most of us can whip up a pan of pasta with our eyes closed – and that's exactly what Randall wants us to avoid. "We do things automatically, we become like robots and cook things and we have our own ways of doing things," he says. "I think we need to open our eyes and look at Italian produce, and see what's out there and what's available."
Paccheri with Prawn, Courgette and Parsley Sauce
Serves 4 as a starter
350g paccheri
3tbsp olive oil
1 garlic clove, finely sliced
2 courgettes, cut into 1cm matchsticks
150g Datterini (baby plum) tomatoes, halved
1tbsp finely chopped flat-leaf parsley leaves
250g uncooked prawns, halved lengthways (frozen are fine)
75ml dry white wine
Sea salt and freshly ground black pepper
Bring a large pan of salted water to the boil. Add the paccheri and boil for two minutes less than the packet instructions, until very al dente. Meanwhile, make the sauce. Gently heat two tablespoons of the oil in a large non-stick frying pan on a medium heat. When hot, add the garlic and courgettes. Cook for three minutes to soften, then add the tomatoes, parsley and halved prawns. Season with salt and pepper, add the white wine and cook on a medium heat for about three minutes, until the liquid has reduced by half.
Once the pasta is ready, using a slotted spoon or small sieve, transfer it to the sauce. Add a ladleful of the pasta cooking water and cook for a further two minutes, until the sauce becomes syrupy. Add the final tablespoon of olive oil and check the seasoning. The pasta should have a lovely bite to it and it should be coated in the sauce.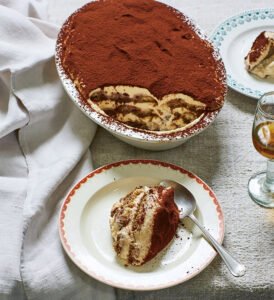 Tiramisu
Serves 6
100g caster sugar
4 organic eggs, separated
500g mascarpone
125ml cold, strong black coffee
50ml sweet Marsala
300g savoiardi biscuits
50g unsweetened cocoa powder
Add the sugar and egg yolks to the bowl of a stand mixer and beat on a medium speed for about four minutes, until the mixture is pale. Add the mascarpone and beat for a further three minutes until light and fluffy.
In another bowl, whisk the egg whites until stiff, then fold them into the mascarpone mixture until fully combined, light and creamy.
Combine the coffee and Marsala in a shallow dish. One by one, dip one third of the savoiardi biscuits into the liquid and use them to line the bottom of a medium-sized, deep serving dish. Using a spatula, spread one third of the mascarpone mixture on top to create an even layer. Repeat this layering process twice more. Sift over the cocoa powder and refrigerate for at least three hours before serving.
The Italian Deli Cookbook by Theo Randall is available now