Bristol-based chef Rob Howell's new cookbook, named after his restaurant Root, is all about "small vegetable plates, a little meat on the side".
And he does veg beautifully, imbuing humble green things with delicacy, panache and intrigue.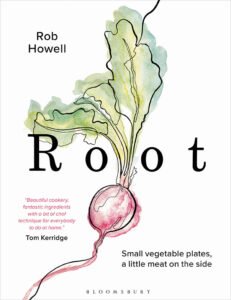 In the book, Howell bakes courgette ragu inside a marrow, turns swede into tagliatelle, chars hispi cabbage, creates tomato water, fills chicory leaves with apple, liberally applies burnt onion powder, gives parsnips the hasselback treatment, and amplifies pears and strawberries like you wouldn't believe (he even stuffs doughnuts with carrot jam).
Claire Spreadbury tested: Salt-baked beetroot with turnips, smoked yoghurt and savoury walnut granola
I have always fancied salt-baking veggies, but had assumed it would be an almighty faff. This recipe requires lots of prep, but none of it is especially difficult.
Making the salt dough is super easy – just four ingredients; salt, flour, water and oil, mix, knead, wrap and chill. If you don't have a fancy smoker, you'll need to smoke your yoghurt the old-fashioned way, which involves hanging salt and yogurt in a muslin cloth, before whisking in smoked rapeseed oil. After three hours with little success, I ended up pushing as much yoghurt as I could through the muslin with a wooden spoon, before giving up and slopping the rest in the bowl.
Making the savoury granola is a doddle and then the final prep-ahead step is whizzing up the dressing. Do allow plenty of time for the veggies to cool before serving, though. I had a hangry family desperate to be fed and was struggling to crack open the scalding hot dough to release the veggies and peel off their skins.
Salt-baking is definitely worthwhile though. The savoury granola is particularly delicious, but the strong smoky flavour of the yoghurt is quite challenging (especially for younger palates), so go easy on it, and the pickled walnuts might be best left on the supermarket shelf…
Lisa Salmon tested: Rice pudding with apple compote and milk jam
The added twist of apple compote and milk jam intrigued me enough to give this recipe a try. After all, what IS milk jam?
Turns out it's a caramel-type sauce made from milk, sugar and bicarbonate of soda, boiled until it's brown and sticky. It looks pretty grim, but is really easy to make and tastes lovely. The apple compote was pretty straightforward too – just apples and sugar boiled then pureed, with the addition of diced cooked eating apples. I actually cooked them for a couple of minutes longer than the two to three minutes Howell recommends, but they could have done with even longer as they were still a little firm when we ate it.
The rice pudding itself was also surprisingly simple, I must admit though, I didn't bother with vanilla seeds taken from a pod – vanilla extract was a much easier option. I also used a few bits of star anise from a jar.
The finished dish didn't exactly look fantastic, but the creamy, aniseediness was a step up from the tinned stuff, although not quite different enough to make me bother making it again!
Rice Pudding with Apple Compote and Milk Jam
Serves 4
For the apple compote
20g caster sugar
3 large cooking apples, peeled, cored and thinly sliced
2 Granny Smith apples, peeled, cored and cut into 3mm dice
For the milk jam
65g caster sugar
280ml whole milk
½tsp bicarbonate of soda
For the rice pudding
100g pudding rice
650ml whole milk
50ml double cream
65g caster sugar
1tsp vanilla seeds (scraped from ½ vanilla pod)
1 bay leaf
1 star anise
Zest of 1 unwaxed lemon
Make the apple compote. Tip the sugar into a medium saucepan and add the sliced cooking apples. Place the pan over a medium heat and allow the apples to break down for about five minutes, until soft. Transfer the apple mixture to a food processor and blitz until smooth. Return the purée to the pan and add the diced Granny Smiths. Place the pan over a low heat and cook the sauce for about two to three minutes, until the apples have softened. Remove from the heat.
Make the milk jam. Place all the ingredients into a small saucepan over a medium heat. Bring to the boil, then turn down the heat to a low simmer. Cook, whisking occasionally, for approximately 15-20 minutes until you have a dark brown caramel. Leave to cool.
Rinse the pudding rice in a bowl and repeat until the water runs clear. Tip the rice into a large saucepan and add the remaining pudding ingredients. Place over a low heat and cook, stirring well, for 15 minutes, or until the rice is softened but still has a little bite.
Spoon the apple compote equally into the bottom of each bowl. Top with equal amounts of the rice pudding and spoonfuls of milk jam, adding as much as you wish. Serve warm or cold.
Root by Rob Howell is available now