Wargaming has been a leader in online gaming for more than 20 years. With 15 titles in the free-to-play online action games market, it has seen unprecedented success; World of Tanks, for example, has more than 160 million players across the globe.
Much of this success has derived from the company's ability to make effective use of data analytics, in which unstructured data from many sources is collected, cleaned for use, and analysed. This provides very clear direction, for those who know how to use it, on consumer trends and the preferences of users.
Eugene Kislyi, Chief of Data and Analytics at Wargaming, explains how it works:
"We collect data on what our players do, on how they play on how they enjoy the games, on what makes them tick, makes them log in, play yet another game, make another in-game purchase. Of course, there are legal limitations on what we can do, and we respect them, we find a balance. And then we apply it. Sometimes there are simple mechanics, sometimes sophisticated mechanics, sophisticated meaning machine-learning driven models, which are applied 24/7 on all of our tens of millions of users, evaluating over 170 different parameters which we can derive from the activity in our games. These enable us to predict whether people are likely to continue, or are likely to move on."
Recommendation engines then act upon that information. These are AI systems that suggest products, services or information to users based on data analysis.
"These enable me to try to find out why a particular person may want to leave and then address the issues that the person is experiencing. Maybe he/she has just run into a jumble, and didn't understand the mechanics in a game. We can tell that it's not the game that is bad, it's just someone who needs a little help, literally, with a pop-up window. So we try to make his/her life easier," Kislyi points out.
But Wargaming does not go to the personal identification level as do Google, Facebook and Amazon.
"But as I said it's doesn't go to the personal identification level. That's some other companies in the world which focus on that," he adds.
The skill with which this kind of analysis is done is critical, Kislyi notes.
"The interesting point is to do it the right way. If you massage a data set long enough, you can get it to tell you anything you want – this is called 'confirmation bias'. You use the data to confirm your own assumptions. It's an easy trap to fall into."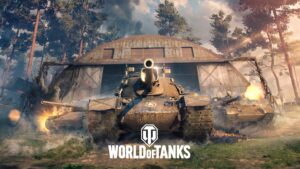 Kislyi points out that online business across the globe has advanced rapidly in recent years.
"When we developed the game World of Tanks, which was, what about 11 years ago, it was an enormously difficult undertaking. Doing the development, finding a technology stack, finding a way to implement the game online, all that took lots of experience, skills, and knowledge. And lots of hands-on coding to make the platform work.
What happened over the years is that every bit of that ecosystem improved and became easily accessible, like AWS from Amazon: If you want a web server, boom, in 30 seconds you have it. If you want 100 web servers, in 35 seconds, you have them. You can develop a multi-platform game fast, you're there with a system which is lightweight, easy to develop and you're on every single platform. Within a couple of clicks, you can start to develop something that will have cinematic quality on any platform you want. Having an online presence is easy today."
This shifts the emphasis to creativity and invention. "With the barriers to entry reduced, we compete more on our knowledge of the market, and that is why analytics are so important," Kislyi says.
While the use of AI is still the most important trend in data analysis, the way forward is not clear, Kislyi continues.
"AI has been the buzzword of the past five years, and it has been growing exponentially. Today, everybody defines it differently. And it was growing exponentially. And everybody was looking at it as a holy grail, which it isn't, but it provides enormous benefit. With that said, more sophisticated companies and more advanced companies like Google, are running into a little bit of a bottleneck on the hardware side, with the science behind it. And with the currently available hardware, to make the next leap, the hardware will need to improve substantially. So a lot of models, and I'm referring to Google, as they run one of the biggest AI modeling exercises in the world for their native language processing capabilities, they are running into the fact that throwing currently existing hardware at the model does not improve it substantially. It means it will need to change a lot, and the science will also change on the way," Kislyi says.
How has Wargaming experienced Cyprus?
"It's been great for us. It's a bridge between East and West. And it really resonates with our people. Our CEO came right with his family back in 2012, and just decided that this is our headquarters. I came two years later, and by then, we had a fully functional headquarters for our multinational company in Cyprus, meaning that not only financial, legal and compliance systems, but product development and leadership, as well as functional leadership.
But what has really touched us, living and working here, is that, when we go to a restaurant, the owner comes out, and shakes our hands, and says 'thank you for being in Cyprus.' That's amazing, and I get emotional, but where else in the world would you find hospitality like that?"