Our electoral system may be absurd, but last Sunday's elections secured some very interesting results
In a nutshell: in the five-year period since the previous round of parliamentary elections was held, the number of registered voters increased by 2.7 per cent to 557,836. The valid ballot papers cast, electing 56 deputies, were 357,712, representing an increase of 1.8 per cent over 2016, yielding a rate of abstentions that was almost identical to that of 2016, despite the sharp increase anticipated by many commentators.
The larger parties (Disy, Akel and Diko) lost about 10 thousand votes or 3 per cent each. In contrast, Elam gained about 10 thousand votes, compared to 2016. Edek (having effectively absorbed Citizen's Alliance) lost about 20 thousand votes, compared to the combined strength of the two parties in 2016. In contrast, Democratic Forces (Dipa), which had split off from Diko in 2018, gained 20 thousand votes, finding itself in a position similar to that of Elam and Edek. The Greens lost about one thousand votes compared to 2016.
This rebalancing of the political power in the House of Representatives is, in my opinion, a positive development for a variety of reasons. Thus, although Diko, led by the son of the late former president Tassos Papadopoulos, gained two additional seats in the House, it has effectively lost the controlling position it boastfully held in the past. The fact that Diko gained two additional seats (nine instead of seven), at a time when it lost more votes than Disy and Akel (which lost one seat each) highlights the absurdity of the Cypriot election system. Admittedly, Diko have also lost one seat, after allowing for the fact that they had 10 deputies prior to the split in 2018.
Another positive development in the recent elections was the ousting of two marginal politicians, Eleni Theocharous and Giorgos Lillikas and their respective parties from the political arena. The first failed to be re-elected while the second was forced to voluntarily withdraw.
Yes, the power of Elam has doubled, but in absolute numbers the new votes secured were confined to 11 thousand. Elam is against reunification on the basis of a bizonal, bicommunal federation. These extra votes have probably come to Elam primarily from Disy. This conclusion is strengthened by the failure of Disy's right-wing candidates to be re-elected. The rising strength of right-wing parties is a phenomenon throughout the European Union and thus Elam's increased showing is not surprising and may well represent protest votes of right-wing voters, who are unhappy with the government on unrelated issues (such as the failure to tackle corruption and collusion or the surge in immigration).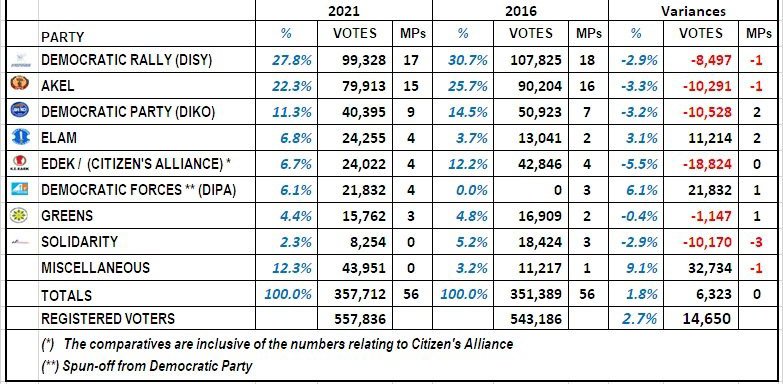 In fairness to Elam, their stand on many issues is more sensible than that of most other opposition parties, which appear unable to distinguish between serious and trivial political issues, are systematically and irresponsibly dishing out promises in an attempt to lure the electorate and are continuously making a lot of noise but fail to achieve much in real terms. Cypriots have grown tired of such relentless daily grumbling and have penalised the parties they considered guilty of this offence.
The big surprise of the election process was the achievement of Dipa, the Diko splinter group, to rank on par with Elam and the old-established left-of-the-centre Edek. These are people who are generally in favour of reunification and objected to Diko's present leader – Nicolas Papadopoulos –converting the party into one exclusively geared to satisfying his personal political ambitions. This is another positive development.
The Greens is another example of the absurdity of the political system. Although they lost one thousand votes compared to 2016, they gained one seat, increasing the number of their deputies to three. The party's stand on the critical issue of Cyprus' political future is somewhat confused, but it would be correct to say that a shift has been noted in favour of reunification. Certainly, their new MP, Alexandra Attalidou, is a valuable addition. Hopefully, she will make a positive contribution into tackling important issues such as those associated with corruption and collusion, the environment and reunification.
What we saw happen to Akel was no surprise. In the past, I have repeatedly predicted the continuing electoral decline of Akel but what we saw in terms of their attempt to arrest this process was a lot of talking but very little by way of action. The big problems, which Akel must tackle if they wish to retain their position as a party capable of seeking and securing a governing mandate, are the following:
Most voters do not trust Akel. They do not believe that it is capable of managing the economy in a responsible and reliable manner. The vast majority of Cypriots are in favour of a market economy that is properly regulated and adequately monitored. Most are also in favour of the state providing a safety net for the less fortunate members of the society. The idea of a centrally planned economy, as conceived by the communists, has been declared bankrupt throughout the world. It has been abandoned by all communist parties which have reshaped and reorganised. Akel must find the strength to follow this trend or it is doomed to oblivion. The choice Akel has is to become a liberal party committed to protecting human decency and alleviating human suffering. And it must convince the electorate that it can be trusted to do so effectively.
Akel must learn to distinguish between important and trivial issues and must confine its public criticism of the government to the important issues, by proposing concrete practical solutions, rather by simply dictating unattainable goals. Again, the issue revolves around convincing the electorate that it is a political party that can be relied upon to govern.
The third problem that Akel must resolve is the "closed-shop" attitude that prevails within its ranks. Not only is it extremely difficult for a liberal centrist politician to join the party but the impression given is that such developments can only take place "by invitation". In fairness, however, this is a problem within most Cypriot political parties.
Ironically, ever since I remember, Akel has always been an entrepreneurial political party, supporting small and medium size enterprises (as almost all enterprises are in Cyprus), as long as they are "ours" and do not belong to "the other side". Akel is well advised to let this entrepreneurial spirit prevail but abolish the "us" and "them" attitude.
Finally, we have Disy. There, Averof Neophytou stole the show. Initially, he carried the burden of the pre-election campaign single-handed: he came out with clear-cut positions (particularly on Cyprus' political future) and he managed to convince people that he was honest and genuine. He lost fewer votes than either Akel or Diko. He injected new blood (seven newly elected deputies out of a total of 17) while re-electing honest and competent deputies, such as Nicos Tornaritis, from amongst the old guard. Well done, Averof Neophytou.
Who is going to be elected as speaker of the House? Electing Edek leader Marinos Sizopoulos or Nicolas Papadopoulos or Elam leader Christos Christou will be a grave mistake. It is a pity that Adamos Adamou, the ex-speaker, is not an available option.
Christos Panayiotides is a regular columnist for the Sunday Mail and Alithia