Mushrooms can feed, heal and even clothe us. One couple is determined that the not-so-humble fungus should have a wider audience
In a country where the supermarket reigns supreme, convincing people to shop fresh, small and local is not an easy feat. Cypriots don't really question where their food comes from or what it took to grow it, but young, independent producers are trying to change that with more sustainable practices. The Cyprus Mail met Vas Joseph and Greta Skemaite of Freyia Labs, a couple trying to make a difference through the not-so humble, as it turns out, mushroom.
Last July, Vas had an idea: he was going to grow mushrooms. A marketeer by trade, he had been recovering from surgery which kept him away from work and lost him many clients.
"I had hit a low point," he said.
But one day, while gardening, he envisioned a sustainable urban farm where he could grow a variety of mushrooms with minimal waste.
"I had been growing mushrooms from age 17 up until I started working, so I had a lot of contacts and some experience already," he said. "I am a geek," he added proudly.
"I was a bit weirded out at first, but I saw the sparkle in his eyes and said okay," Greta, his partner – in life and business – said. With a lot of research and some help from experienced mushroom growers from Egypt and the Philippines, the plan was soon afoot, and a Breaking Bad-esque lab was built from scratch, complete with a flow hood, incubators, air filters and humidity generators. "The house was filled with building materials," Greta commented. "I would come home from the office and walk into a construction site, but it was worth knowing it was giving him peace of mind."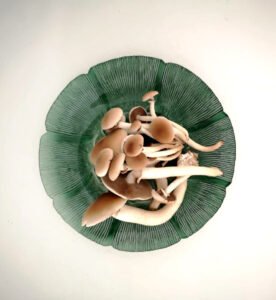 Almost a year on, Vas and Greta grow a variety of specialty mushrooms in their custom-built lab – and not a single button mushroom in sight. From the Cyprus native Anathrika to more exotic varieties like Japanese Shimeji, FungyFungus (a play on fun and funky) offers a range of gourmet mushrooms, but it doesn't stop there. There are also medicinal varieties, like Lion's Mane and Reishi – or nature's Xanax, as Vas described it.
Commercial farms growing on a huge scale to supply supermarkets use manure, Vas explained, which doesn't just stink – it releases gases that contribute to global warming. They also use hormones and antibiotics to boost production, while limiting their species to three or four. "There's a reason for that: logistics," he added. "They want something that isn't nutritionally dense, as the more nutrition it has the quicker it will rot and decompose, they want something that will last in the fridge for two weeks before it's shipped to a supermarket."
Asked how their growing method differs, Vas broke down the process of propagating individual mushroom species and creating the optimal conditions for their growth in the lab, which ensures very little waste and low water and electricity consumption. "It's 95 per cent humidity in there, and we use LED lights at different spectrums to stimulate them," he said. "We also grow seasonally, shifting our production according to the temperature – which we monitor," he explained. For example, summer temperatures are great for growing pink oyster mushrooms, which usually grow in jungle-like conditions.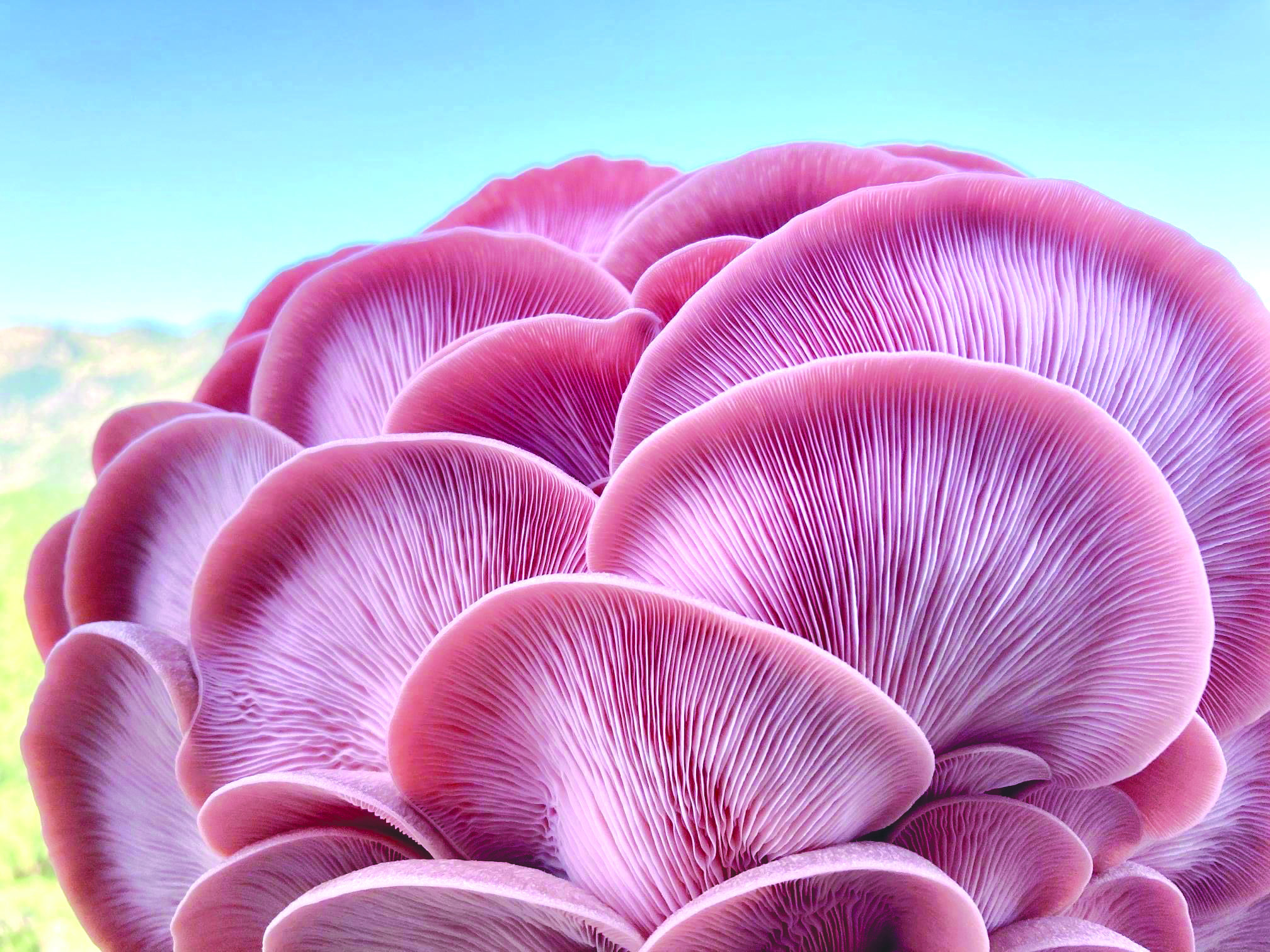 "We have a 'farm to table' approach, meaning we don't sell to supermarkets," Greta said. To order mushrooms from FungyFungus, one must sign up to the waiting list to be notified about availability. Greta and Vas then deliver the mushrooms themselves.
Not producing on a large scale also means there is no need to adhere to commercial size and shape standards, she pointed out. "It doesn't matter if it's huge or a tiny delicate flower; we're growing it because we can deliver it to you".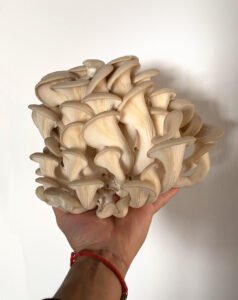 Greta described growing mushrooms as an all-consuming process that dominates their thoughts and conversations. Vas "goes to bed with his book [Growing Gourmet and Medicinal Mushrooms by Paul Stamets]" and "we can't even go on proper holidays because the mushrooms need babysitting," she added. Vas agreed, calling the business "a labour of love". "You can't wake up one day and decide 'I'm going to be a mushroom grower,' you really need to be passionate to get things moving, and constantly educate yourself," he remarked, describing a recent major contamination in the lab that cost them a whole harvest of pink oyster mushrooms. "You have to live and breathe mushrooms, and really dedicate your time to figuring out where things go wrong".
But how profitable can this business be in a place like Cyprus, I ask. "We run a Facebook group for British growers and we're seeing our friends who work in England… they are literally making a killing with half of what we have," Vas said. "It's a difficult market, but we are essentially making the market." Plans are underway to move to a bigger facility which they both hope will enable them to move towards upping production to potentially meet demand from clients like restaurants, and yes, even supermarkets.
"If we can supply the entire island using our philosophy that's fine, as long as we get to stick to it," he remarked.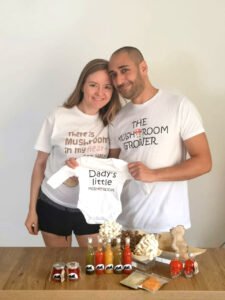 With a larger processing capacity, gourmet and medicinal mushrooms will be sorted into separate categories – but that's not all. Greta explained that it was a huge yield of chillies grown from seeds from Lithuania that started it all, and later gave Vas the inspiration to expand the business to mushrooms. Freyia Labs, which is actually the brand FungyFungus falls under, also encompasses Fire Alchemy, a range of chilli products including hot sauces, chilli jam and infused salts. "Once we've moved to our new facility we're hoping to have a more clear separation between our branches," Vas said.
Mushrooms are interesting organisms. We've already covered that they can feed us and heal us, but did you know they can also dress us? Scientists have created alternatives to plastic, and even leather, from mushrooms, with Stella McCartney recently launching a bag and jacket made from Mylo, a mushroom-derived leather. Biofabrication is another frontier Freyia Labs wants to conquer once content with food.
With Greta expecting a girl, both are looking to the future. "It's very important to cultivate sustainability, do something meaningful for younger generations," said Vas. "What kind of education will we give our child?"
Visit fungyfungus.com to join the waitlist and learn more about the range of mushrooms available