Texas, Louisiana, Mississippi, Alabama, Florida – together, the shoreline of these five states constitutes The Gulf Coast. Prone to thunderstorms, floods and hurricanes, it's a hot and sticky place, littered with swampy bayous, mysterious lagoons, and countless rivers feeding into the Gulf of Mexico.
Fishing is, of course, still a main industry here, and although those of the Coast's roughly 64,000,000 residents who make a living from tourism have not had it easy of late they're still doing a good job of serving up traditional Gulf fare to the odd sightseer, with royal reds a particular favourite…
A uniquely Gulf Coast delicacy, these deep-water shrimp are a dark red in colour, and purportedly far tastier than their pink, white, and brown cousins. Incredibly flavoursome and reminiscent of lobster or bay scallops, the reds are easy to cook and most frequently appear either boiled or in pasta dishes.
Marine cuisine continues with breakfast shrimp (served with grits, another southern classic), fried catfish (rubbed with a blend of chili powder, cumin, coriander, cayenne and paprika, and topped with homemade salsa), and jambalaya rice (slow-cooked chicken with shrimp on a bed of brown rice). Oysters are another coastal favourite. Fatter in winter, thinner in summer, they're always mild in taste and relaxed on the half-shell in a way you don't get with the cold-water iteration, and are enjoyed raw, chargrilled, and fried on po boys – another iconic Gulf Coast dish.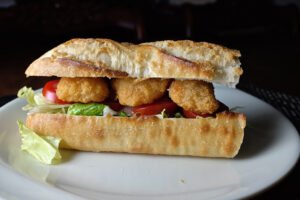 Ubiquitous across the region, the po-boy consists of roast beef or fried seafood served on French bread and 'dressed' with lettuce, tomato, pickles, and mayonnaise.
Another Louisiana invention, gumbo is now commonplace across the South. Never twice the same, this hearty dish usually consists of a mix of sausage, chicken and shrimp (or possibly crawfish, oysters, crab meat or fish depending on where you are) in a strongly-flavoured stock. Add to this the Creole holy trinity of celery, bell peppers, and onions, and you've got a tasty stew.
Chicken-fried steak, sizzling fajitas, red beans, fried okra and cornbread add to the hearty menu, while iconic desserts include beignets, Mississippi mud pie and key lime pie.