Wouldn't you like to own an original work of art by Jeff Koons? Or a video of Eric Clapton and Rihanna arranging a song together?
Suppose you could also help vulnerable children at the same time?
The "Listen" Campaign, a massive annual and global effort to help vulnerable children will kick off its NFTs Auction and shop in October.
With its global management team possibly hosted in Cyprus, "Listen" will reach 500 million people, feature 100 stars and artists, and will give grants to 75 proven projects. It will continue for years, indefinitely.
"The Listen Campaign is on a mission to show the world the problems faced by its 1 billion vulnerable and disadvantaged children, and to celebrate proven solutions that can be replicated and scaled up. In a decade the Listen campaign should generate $4 billion of media exposure about solutions to their problem; activate a community of 35 million participants, and provide $1 billion of grants to children's projects," explains campaign founder Tony Hollingsworth.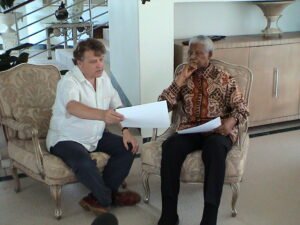 The collectible NFTs ("non-fungible tokens," or unique objects with provenance assured by the blockchain) will start in October but special Utility Tokens with the name $LSTN that provide unique benefits to the holders can be registered for on the website: http://www.listentoken.com.
The NFTs will be auctioned in monthly auctions and the best of the citizen art will be sold in the Listen Collectibles Auction and Shop – only Listen token holders may bid on them, however, in the monthly auctions.
Each of the Star Collectibles will be highly unique and of great quality: Imagine that these might be a piece of art by Jeff Koons, footage of Rihanna and Eric Clapton arranging a classic song together, a manuscript with handwritten notes of Margaret Atwood, a special short performance by Samuel L Jackson.
The other proceeds of the sales/auction income, plus a 5 per cent royalty on each subsequent sale, will help cover the costs of the giant campaign – the annual surplus of each annual campaign will be distributed to The Listen Charity to support over 75 children's charity projects around the world.
To launch the Collectibles Auction and Shop the producers of the Listen Campaign are providing 200 NFTs of music stars from their archive of nine major global broadcast events, such as Nelson Mandela's 70th Birthday Tribute where 83 major stars such as Whitney Houston, George Michael and Stevie Wonder came together to celebrate his birthday and call for his release from prison, an event that played a huge global role in ending apartheid and reached 600 million people. NFTs from these events will feature digitally remastered collectables and be uniquely framed
Token holders who stake their $LSTN on the Auction and Shop platform will receive various benefits, including:
The right to bid for the Star Creative Artist's NFTs in the monthly auctions which are only open to $LSTN holders; the more tokens you hold, the better access you get. Benefits last for three years and may be improved, altered or extended.
'Silver Badge' status for every 250,000 to 499,999 $LSTN staked for 30 days, entitling the user to a five per cent discount on their purchases in the Listen Collectibles Auction and Shop.
'Gold Badge' status for every 500,000 + $LSTN staked for 30 days, entitling the user to a ten per cent discount on their purchases in the Listen Collectibles Auction and Shop.
The right to vote for the winners of The Listen Creative Arts Awards
The accrual of Listen Points (Listen Points are the loyalty reward system of the Listen Campaign and provide each holder with exclusive benefits and prize entries, including discounts on tickets, merchandise and Pay Per View streaming).
There are many more rewards available and explained on the Listen Token website.
The $LSTN supply is capped at 1 billion. 38.83 per cent of the total supply will be sold via private sales and 2 per cent of the total token supply will be reserved for the public sale (Initial Dex Offering, or IDO, a decentralised and permissionless sale).
37 per cent will be reserved for Listen to fund future development of the campaign. 13 per cent will be reserved for the Listen Auction and Shop founding team and global partners. 9 per cent (90,000,000 $LSTN) will be reserved for community rewards. This breakdown ensures the sustainable development of the campaign, incentivising all parties, contributors, participants, and early backers.
The start of the "Listen" Campaign in March 2022 seems assured, and there is a strong possibility of its campaign management team and the production of a TV documentary series and a major feature documentary being hosted in Cyprus. The ministry of finance has been working to make this possible, and there has been progress.
Listen Collectibles Auction and Shop The Star Creative Artist's NFTs (blockchain-based digital collectibles