By Jonathan Shkurko
The concept of family-run restaurants tends to be inappropriately exploited and used way too lightly. Not trying to be too pedantic but a family-run restaurant is one that a family owns, which means that usually the waiters or waitresses and the cooks or chefs are from the same family.
I firmly believe the concept is exploited because customers are naturally drawn to the idea of eating in a cosy, family-freindly setting. In my humble opinion, there's a reason for that. Food tastes better at home than anywhere else.
If you agree with all the above, you should definitely pay a visit to what I consider to be the best family-run restaurant in Nicosia, French delight Au Bon Plaisir.
Apart from in France, of course, it is hard to find French restaurants in general, and not just in Cyprus. Whereas Italian restaurants are to be found on every corner all over the world, French ones are lower in numbers and more, how shall I say, discreet.
It is even more difficult to find a French restaurant that makes you feel like you're eating at home, surrounded by warmth but without being overwhelmed by attention. And where the food is sensational.
In that sense, Au Bon Plaisir is one of the best restaurants I have tried in Cyprus.
The menu is vast and traditional, offering some of the highlights of French cuisine, such as escargots (snails for the one who worryingly doesn't know what I'm talking about) cooked in garlic and butter, onion soup, foie gras, duck confit and all sorts of cheeses.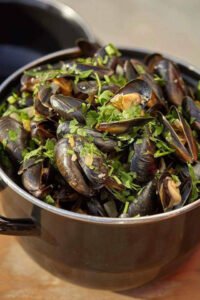 Oh, and unlike your mum used to tell you (some still do!), do fill up on the bread, as the fresh baguettes are served with Beurre Maître d'Hôtel, a vintage way of preparing butter by mixing it with very finely minced parsley, lemon juice, salt and pepper. Tres chic and tres simple!
I have visited Au Bon Plaisir on more than one occasion, once actually for a memorable New Year's Eve dinner and have not once left disappointed. Au contraire, each time I pay a visit to the place, I end up discovering new dishes. I don't have a favourite, so I enjoy trying everything.
On my most recent visit, I ordered fresh mussels à la marinière, served with white wine, onions, tomato, garlic and parsley. They were stunning and among the freshest I have ever tasted. Although quite full – as portions are generous, just like at home – I felt I had to try the beouf bourguignon, a hearty beef stew marinated and cooked in red wine with carrots, onion, tomato and garlic. I definitely recommend it.
All was accompanied by an honest bottle of Beaujolais, the simplest of French wines. Mind you, the wine list is extensive and includes great wines, so my choice of a simple one was on purpose.
Au Bon Plaisir hits the right notes with yours truly. The food is exquisite, the atmosphere is vintage and the staff seems to actually take pleasure in seeing you eat. If that does not remind you of family, I don't know what does!
VITAL STATISTICS
SPECIALTY French food
WHERE Larnakos 87, Palouriotissa, Nicosia
WHEN Monday-Sunday: 7pm-11pm
HOW MUCH €6 to €14 for starters, €10 to €30 for mains, €5 to €7 for desserts
CONTACT 96 755111