Two months after a deadly fire ripped through their communities, the people of the affected villages are slowly piecing their lives back together. Jonathan Shkurko speaks to some of the worst hit, who are still waiting for promised government funds to get back on their feet
Two months after a devastating fire swept areas of Limassol and Larnaca district leaving four dead and destroying over 55 square kilometres of land, life in the worst hit areas is slowly but steadily resuming.
The fire started in Arakapas at lunchtime on July 3 and was not fully extinguished until around 8am on July 5.
Aside from Arakapas, it destroyed homes and businesses in Eptagonia in the Limassol district, and Ora, Melini, Odou, Ayioi Vavatsinias and Vavatsinia in the Larnaca district. Extensive damages to crops and forest lands were also recorded.
Firefighters reported that over 50 private residences were completely destroyed, several of them holiday homes.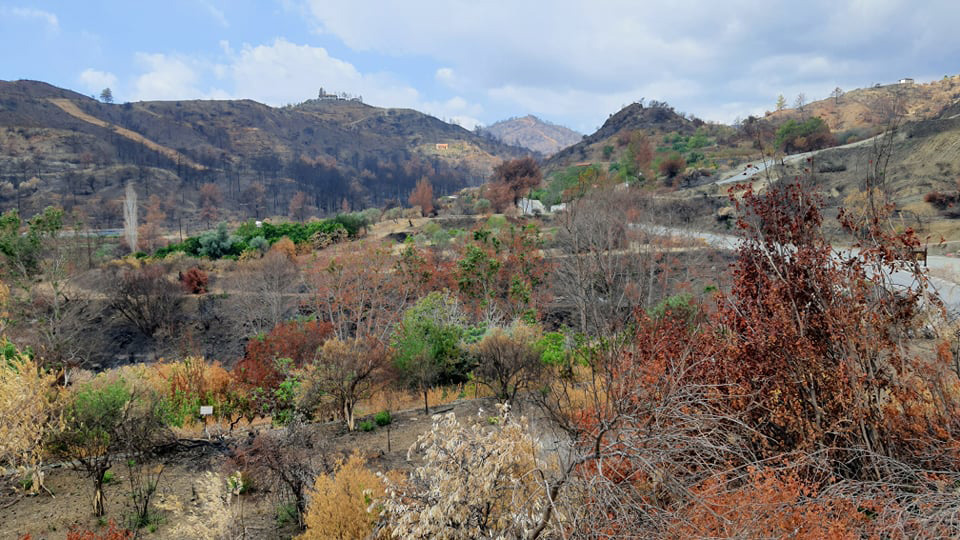 With such a tragic toll on their shoulders, residents of the affected areas could be excused for succumbing to pain and dejection. Yet, two months later despondency seems to be the last thing on their minds.
"We simply cannot let ourselves be defeated by what's happened," Maria Solomonidou, 28, plant manager at Oros Machaira honey factory in the village of Odou told the Sunday Mail.
"Things are much better now. We all needed a couple of weeks to process the shock of what happened, but after that everyone in the village realised that we had to treat what happened like a challenge.
"We now have to rebuild everything that was destroyed. Of course it's not ideal, especially as we poured years of hard work into what we are doing. However, now we can actually do things our way from scratch. There is no time to be sad about what happened, we need to get back into it," she said.
The villages of Odou, like several others in the area, is a very tight community. After working and living alongside each other for years, almost everyone in the village knows each other.But what distinguishes Odou is the higher presence of young people in the village, the majority of whom are involved in agriculture, where they are trying to apply new ideas to traditional working methods.
"This helped us a lot. We know what happened to each one of us and we know how serious the damages we suffered were. We now help each other even more than before, day in, day out," Solomonidou said.
She added that the hardest toll was endured by the older generations, whose resilience and optimism were tested by the fire. Even though most houses in Odou were mostly spared by the flames, the village suffered the most extensive damages to its numerous fields and crops, where older people have worked for the better part of their lives."It was undoubtedly harder for them. So it was up to us, the younger generations to lift their spirits by including them in the rebuilding of our community. Some of them are still trying to cope with what happened, but the majority of them are now beginning to see a new future for themselves as well."
Stefanos and Evangelos, two young people working at the café in central Odou also agreed that the older generations are suffering more.
"We need to understand that, apart from their crops, some of them lost their homes, the result of years of labour. Effectively, they lost their entire fortune," Stefanos told the Sunday Mail.
"The village itself was mostly spared by the fire, but the area around it suffered the most in terms of economic losses," Evangelos added.
"Our parents and grandparents saw their work crumbling in front of their eyes in a matter of hours. That is why it is up to us to step up now. We owe it to them, if anything at least to thank them for what they did for us young people while growing up."
However, no matter how high the spirits and how noble the ambitions, there are still huge problems to overcome, particularly as far as the compensation from the government is concerned.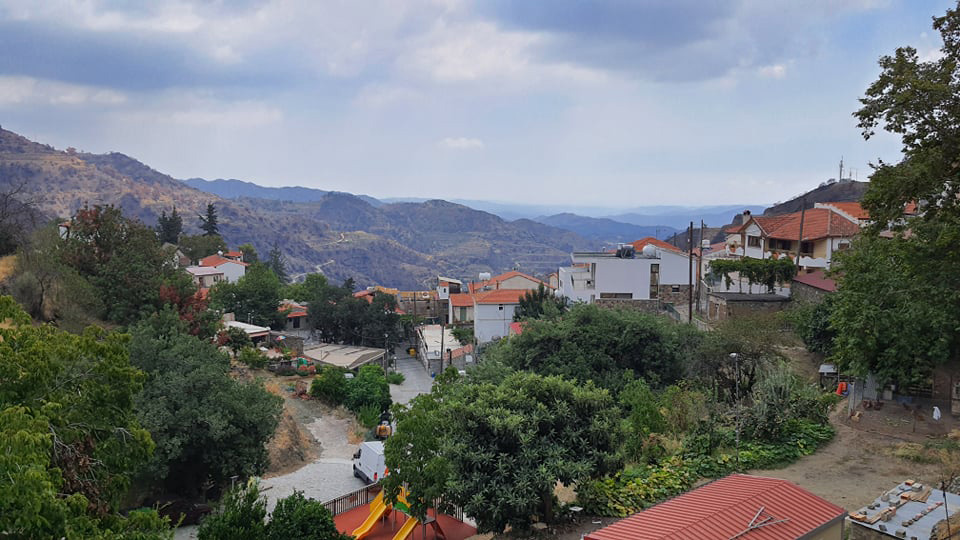 After the fire, the Cabinet approved a €6m budget to compensate people who lost their homes and businesses in the wildfire, including the families of the four Egyptian workers who perished.
The total amount of losses after the inventory and valuation amounted to approximately €5.2m.
For damages up to €50,000, in addition to the lump sum of €10,000 for people whose house was burned, the government promised that 80 per cent of the remaining amount will be given.
To put it into context, for an estimated loss of €50,000, the compensation amounts to a total of €42,000. Moreover, the government announced that people who lost their vehicles in the fire will be compensated with 50 per cent of the car's value, with a ceiling of €5,000.
Farmers who lost their farming equipment, including vehicles, will also be compensated with 50 per cent of the value of the equipment, with a ceiling of €10,000.
Nevertheless, despite big promises, the money is yet to arrive in Odou, according to several of its residents.
"What we received from the government in terms of money is close to nothing," Solomonidou said. "We expected some delay in the compensation process, but we were hoping to at least see a significant amount of what we were promised by now. We need the money so that we can continue being productive, but we don't know when we will get it."
Solomonidou's thoughts were shared by Michalis Nicolaou, a student whose family has roots in Odou stretching back to his great grandparents.
"As far as I see it, private companies have helped us much more than the government," he said.
"For example, we received help from supermarkets like AlphaMega and Sklavenitis in the form of coupons and we didn't even have to ask for their help or apply for them. They simply allocated €50 worth of coupons per each member of all families living in Odou and coordinated their efforts with the local council," Nicolaou said.
Other sizeable donations came from NGO Tech Island, which announced the financial support to the tune of €320,000 to help 54 students from fire-affected areas, and from multi-asset broker Exness, which donated €300,000.
"My grandparents' house and business were worth close to €1m. So far, they only received around €10,000. I know a lot of people are in need of help, but the government needs to do much more, if only to make people like my grandparents not feel like they have worked in vain throughout their entire lives," Nicolaou concluded.