The electricity authority (EAC) on Monday said they have communicated with several customers who were wrongly charged thousands of euros in their electricity bills to correct the amount.
Speaking to the Cyprus Mail, the spokeswoman of the authority Christina Papadopoulou confirmed there were "isolated incidents" of households that were charged extremely high for electricity.
The authority "identifies the incidents and communicates with the customers and issues the corrected bills", the spokeswoman said.
The cases include a couple living in a village in the Limassol district who were charged €41,703.41 for two months. The couple also has photovoltaic panels for domestic use.
Their bill, which was posted on Facebook by a third party late on Saturday, made the rounds on social media and was picked up by local news agencies.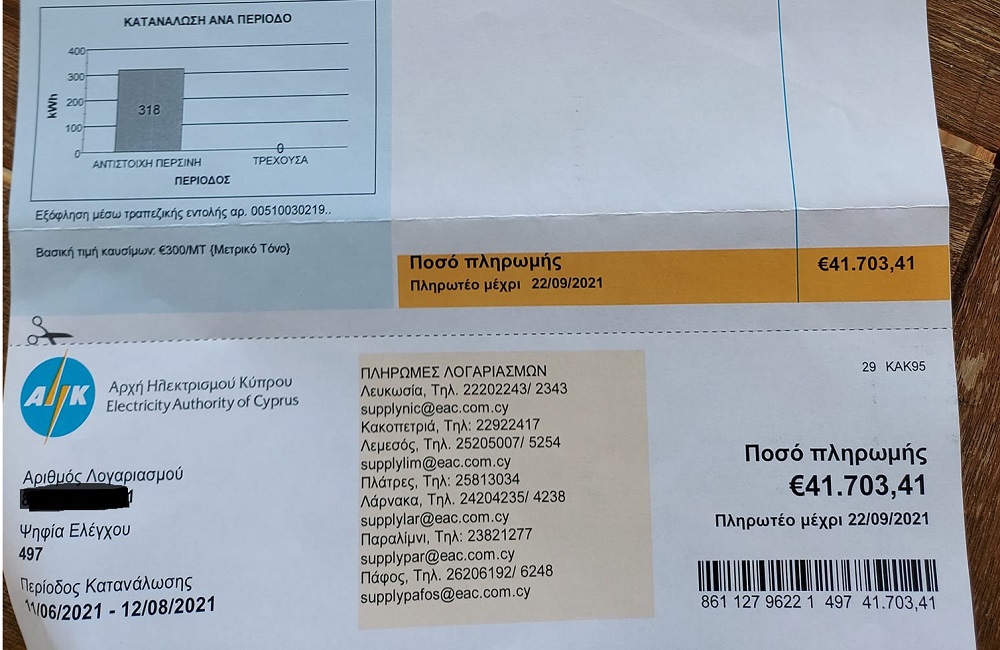 The post claimed that the couple had made multiple attempts to communicate with EAC without a response.
"It's certainly a mistake but you understand the shock they had and still have because communication with the EAC…after numerous attempts and in a subtle manner, the answer is pretty much call on Monday when the office will be open. This in 2021…this is Cyprus."
After the case attracted the attention of local news media, the state-owned authority contacted the person on Sunday and communicated the correct amount which was "very small" Papadopoulou said.
"The person had realised that it was a mistake and later posted his thanks to the authority," the spokeswoman added.
Explaining the error, the spokeswoman said it was "a complex issue" and concerned new software which was recently put into use.
She added the EAC issues "more than half a million bills in a span of two months", but that they are investigating the incidents.
EAC is the only electricity provider in the island since it was founded in 1952.