Fish butcher and chef Josh Niland is hoping to revolutionise how we treat, cook and eat fish. ELLA WALKER finds out about his latest undertaking
Chef Josh Niland can be brilliantly blunt. "If you write a vanilla cookbook that just puts another fillet on top of another vegetable, I think I'll go crazy," he says over Zoom from Sydney, Australia. "It's so boring, the way we continue to see fish."
The restaurateur and fish butcher is doggedly trying to revolutionise the fish business, has developed a whole new fin-to-gill ethos to keep us eating fish in a sustainable way – one that doesn't decimate the oceanic ecosystem.
He set out his stall in his hugely successful debut, The Whole Fish Cookbook, for which Niland won two prestigious James Beard Awards and sold a whopping 100,000 copies. In it, he outlined fish butchery as an opportunity to make the most of every fish we buy, cook and eat.
Now his new cookbook, Take One Fish, demonstrates the benefits of fish butchery for home cooks, and for seeing every fish as more than its fillets. He considers the potential of 15 diverse fish species and looks at the maths: "If I can generate the yield of two fish from one single fish, that means one less fish gets taken out of the water."
Niland calls the book "an indirect message of sustainability and making better decisions" – done in a way that's as "provocative and humorous" as possible, hence the witty, graphic photography, bold tone and galvanising recipes.
With Take One Fish, he hopes to "offer tangible solutions for a protein" that is quite difficult to a lot of people.
There's a big, crumbed swordfish cutlet "that wouldn't be out of place on a pub menu anywhere in the UK", and tuna mince made using the less desirable cuts. "All of a sudden we've got lasagne, koftas, mapo tofu," he adds. "It's a wonderful way to introduce children experiencing fish for the first time."
Tuna Mapo Tofu
Serves 6
1tbsp Sichuan peppercorns
190g fresh ginger, peeled
190g garlic cloves, peeled
10 French shallots, peeled
375g doubanjiang (fermented broad bean paste)
300ml grapeseed oil
80ml rice wine
50g caster sugar
125ml tamari
1tbsp sesame oil
1.8kg minced/ground tuna
200g silken tofu, cut into small cubes
1 bunch spring onions (scallions), finely sliced
40g toasted sesame seeds
1 dried red chilli, finely sliced (optional)
Steamed short-grain rice, to serve
Toast the Sichuan peppercorns in a dry frying pan until fragrant, then use a mortar and pestle to grind to a rough powder.
Place the ginger, garlic, shallots, doubanjiang and 150ml of the grapeseed oil in a food processor and blitz to a smooth paste.
Heat 100ml of the remaining grapeseed oil in a large heavy-based saucepan over a high heat. Add the paste and fry, stirring occasionally, for eight to 10 minutes until dried and fragrant, then reduce the heat and simmer for a further 15 minutes, until the rawness from the vegetables has been completely cooked out. Stir in the wine, sugar, tamari and one-third of the ground Sichuan peppercorns, then spoon the mixture into a large bowl.
Wipe out the pan, add the sesame oil and remaining two-and-a-half tablespoons of grapeseed oil and heat over a high heat. Working in two batches, add the tuna mince to the pan and fry for two minutes, or until the mince is coloured and has separated into individual strands, then stir through the fried paste mixture to combine.
To assemble the mapo tofu, return the tuna mixture to the saucepan and warm through over a low heat. Add the tofu, cover with a lid and heat for three minutes, then spoon into serving bowls. Top with the spring onion, sesame seeds, chilli, if using, and the remaining ground Sichuan peppercorns.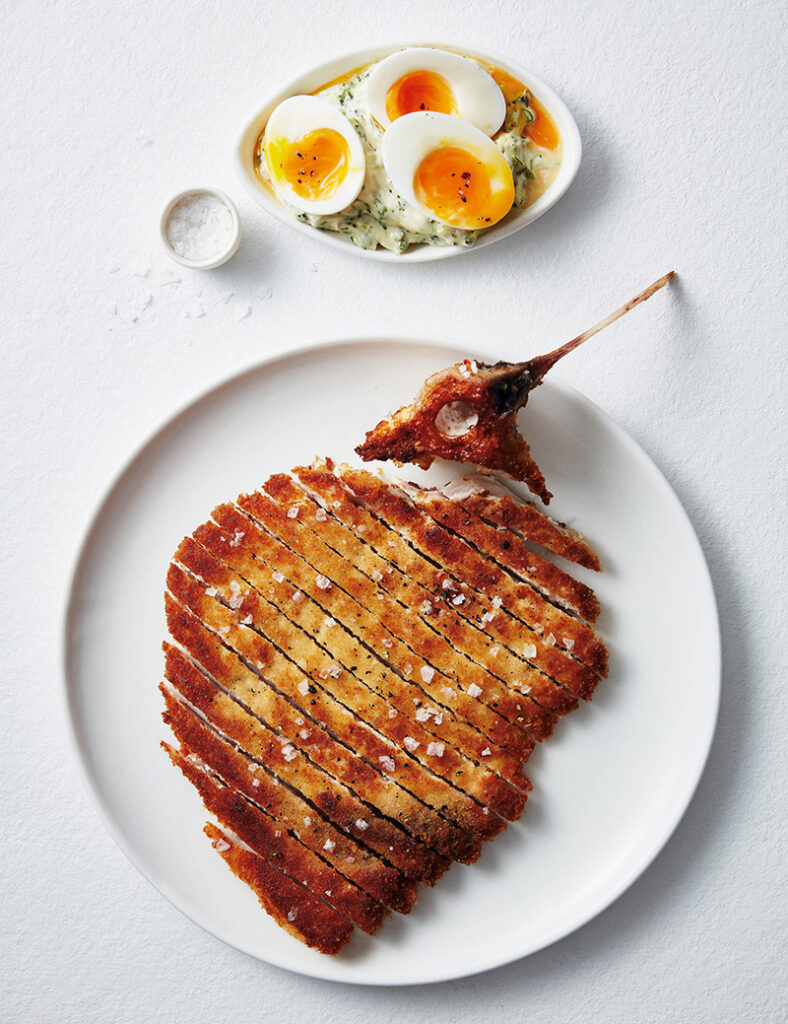 Swordfish Schnitzel and Egg Salad
Serves 2
2 × 250g swordfish cutlets, bone in
250ml full-cream/whole milk
1 large egg
Sea salt flakes and freshly cracked black pepper
250g plain flour
180g white panko breadcrumbs
160g ghee
For the egg salad:
4 soft-boiled eggs, cooled and peeled
100g freshly made or best-quality mayonnaise
1tbsp Dijon mustard
1½tbsp finely diced red onion
1½tbsp finely diced
Celery heart
1tbsp tiny salted capers, rinsed and drained
1 bunch chives, finely chopped
Pinch of cayenne pepper
Sea salt flakes and freshly cracked black pepper
Place each swordfish cutlet between two sheets of baking paper and beat with a meat mallet to an even thickness of approximately 2-3mm.
Place the milk and egg in a shallow bowl, season with salt and whisk to combine. Tip the flour and breadcrumbs onto separate flat baking trays or dinner plates.
Dip the swordfish first into the flour and tap away any excess, then dip it into the egg mixture, allowing the excess to drip away. Lastly, coat with the breadcrumbs, pushing down firmly so the breadcrumbs stick evenly from edge to edge.
Melt half the ghee in a large cast-iron frying pan over a medium heat. Add one cutlet and cook for four minutes, keeping the pan moving to swirl the fish around in the hot fat and turning it over halfway through cooking, until golden and evenly coloured on both sides. Season liberally with salt and pepper, then transfer to a plate lined with paper towel to rest. Repeat with the remaining ghee and the second cutlet.
For the egg salad, halve the soft-boiled eggs lengthways. Stir all the remaining ingredients together in a serving bowl until combined, then position the halved eggs on top. Season with a little more salt and pepper. Serve with the swordfish cutlets.
Take One Fish: The New School Of Scale-to-Tail Cooking And Eating by Josh Niland is available now