By Katie Wright
Veteran food writer Claudia Roden is reaching a major milestone birthday just days after we speak, and she is in disbelief.
"Well, I just can't imagine that I'm 85," the author of more than 20 cookbooks, who was born in Cairo, tells me on a Zoom call, sitting in the study of her North London home, rows and rows of books lining the wall behind her.
"I thought I would forget things about my travels. But then suddenly it all comes back. When I cook, for instance, something with fried garlic and crushed coriander, then memories of Egypt come, and I just feel happy."
Having relocated with her parents to London in the 1950s, Roden began her career focusing on Middle Eastern food, before turning her attention to the Mediterranean, an area she is revisiting with her latest book, called simply Med.
Her love affair with the Mediterranean stretches back to her early childhood, when her family holidayed in Alexandria on Egypt's coast and she found the city joyous.
So after her marriage of 15 years had ended in 1974, her three children had became independent in 1983, and she found herself free to travel, she decided to head back to the Med.
And so began "my way of life for decades", crisscrossing the countries that bordered the sea, munching her way through the kitchens of southern France and Spain, the islands of Italy, as well as North Africa, Syria and Turkey.
"I found when I travelled, especially in the Mediterranean, at that time everybody was glad to speak about food. Everybody was there, outside in the piazza, looking for somebody to chat with, have a conversation. It doesn't work anymore. Because now everybody has a mobile phone and they don't want to be disturbed."
Her classic Mediterranean Cookery was first published in 1987 – but three decades on, when she had reached her Eighties and wanted to bring the culinary delights of the area to the next generation, she decided against venturing out on another expedition: "I didn't have the strength to travel, and research and drive and carry a suitcase, sometimes up a hill."
Instead, she decided to go on doing what she loved most – cooking and having friends and family round her kitchen table. The aim of her book Med was to find the dishes mined from her memory or, as she calls them, "remembered magic moments" that gave them the most pleasure.
Catalan Fish Soup
(serves 6)
1 large onion, chopped
2 tbsp olive oil
8 garlic cloves: 6 finely chopped and 2 crushed
good pinch of saffron threads
2 litres fish stock (use 3 fish stockpots)
100ml dry white wine
800g new potatoes, peeled and cut into 1.5cm slices
1 tsp fennel seeds
strips of peel from ½ orange
800g skinless fish fillets, such as hake or monkfish
200ml good-quality bought mayonnaise
juice of ½ lemon
good pinch of chilli pepper, plus extra to serve
4 tbsp chopped flat-leaf parsley
salt and black pepper
In a wide pan, fry the onion in the oil over low heat, stirring occasionally, for 5 minutes until it begins to soften. Add the chopped garlic and stir for 2 minutes until it just begins to colour.
Stir in the saffron and pour in the fish stock and the wine, then put in the potatoes, fennel seeds and orange peel and season with salt and pepper. Simmer, covered, for 20–25 minutes until the potatoes are tender.
Ten minutes before you are ready to serve, remove the orange peel and put in the fish. Cook, covered, over low heat for 4–10 minutes, depending on the fish and the thickness of the fillets, until the fish becomes opaque and the flesh begins to flake when you cut into it with a pointed knife. Break the fillets into pieces.
In a jug, beat the mayonnaise with the lemon juice, the crushed garlic and a pinch of chilli.
Just before serving, add a ladleful or two of the hot stock into the mayonnaise mixture and beat it in, then gently stir into the simmering soup. Heat through but do not let it boil or the mayonnaise will curdle. Serve sprinkled with parsley and pass round some chilli for anyone who would like to add more.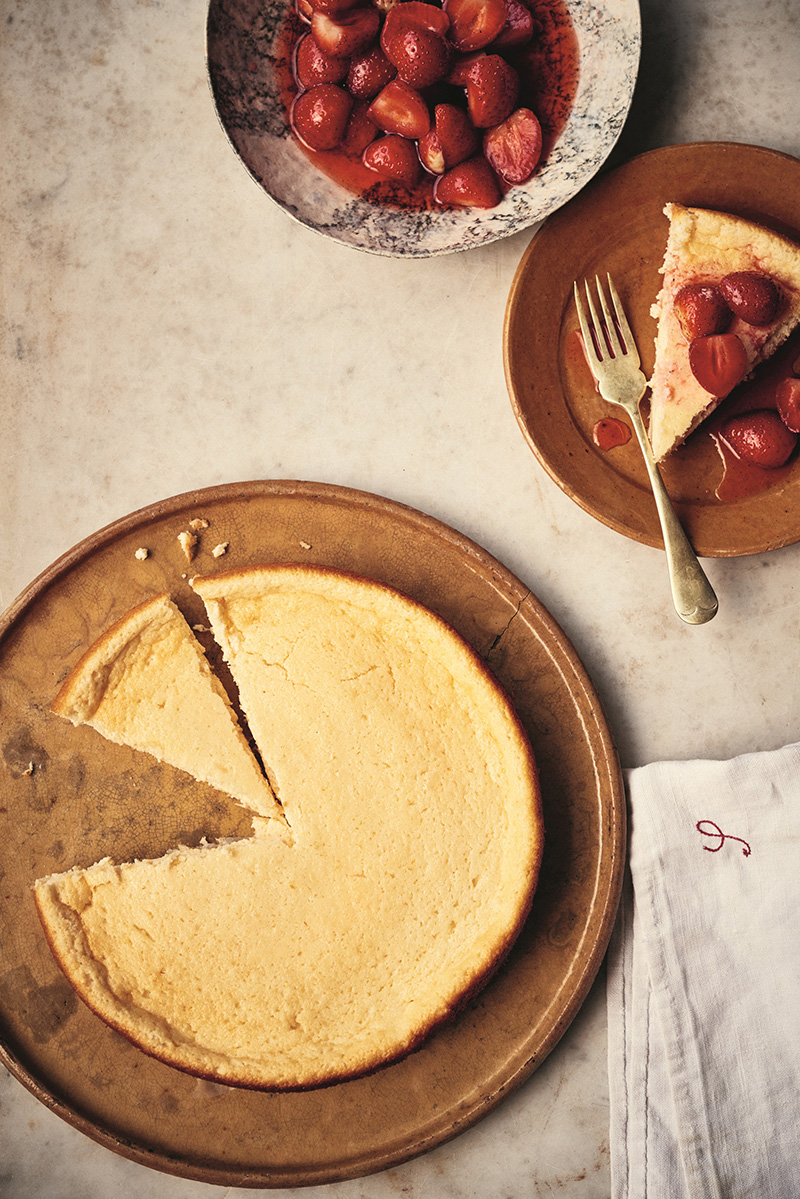 Yoghurt Cake
(serves 6-8)
Butter or sunflower oil for greasing
4 large eggs, separated
100g caster sugar
3 tbsp plain flour
400g full-fat Greek-style yoghurt
grated zest and juice of 1 unwaxed lemon
For the strawberries:
500g strawberries
60g caster sugar
juice of ½ lemon
Preheat the oven to 180C/160C fan/gas 4. Butter or oil a round non-stick cake tin (about 23cm in diameter) with a removable base.
Using an electric whisk, whisk the egg whites until soft peaks form.
In another bowl, using the same whisk, beat the egg yolks with the sugar until thick and pale. Add the flour, yoghurt, lemon zest and juice and beat to a homogenous cream.
Gently fold the egg whites into the yoghurt mixture and pour into the prepared tin. Bake for 40–45 minutes, until the top is lightly browned – watch it carefully for the last few minutes of cooking so that it doesn't brown too much. The cake will puff up like a soufflé and then subside.
Let it cool a little before lifting it out onto a serving plate. Serve warm or cold.
For a beautiful accompaniment to the yoghurt cake, briefly rinse 500g strawberries, hull and cut them in half through the stem end, then sprinkle with 60g caster sugar and the juice of ½ lemon and leave for 1 hour.
Med by Claudia Roden is available now