By Katie Wright
Given the time it takes to research, compile and publish a recipe book, most of the titles hitting book shops right now started life long before the pandemic began. Shelf Love is different.
The first Ottolenghi Test Kitchen cookbook – co-authored by founder Yotam Ottolenghi and head of the OTK (as it's known) Noor Murad, with recipe contributions from other team members – was conceived during the UK's first lockdown, as an ode to 'that one shelf in the back of your pantry' (or fridge or freezer) where all kinds of pulses, grains, condiments, spices and other culinary surprises lie in wait.
"Noor and I were having these conversations… and it became really clear that something really quite dramatic is happening," Ottolenghi says, thinking back to spring 2020. "People were really excited about the subject that we were covering in this book, which is kind of rediscovering their kitchens, rediscovering old simple ingredients that you can get in abundance."
"Raiding!" is what Shelf Love is all about, Murad says. "Emptying out your shelves, using up what you have, being quite creative and playful with recipes, replacing certain spices with others based on what you have at home."
As any Ottolenghi fan would expect, Middle Eastern flavours loom large, as do vegetarian dishes, like chickpeas cacio e pepe and sweet potato shakshuka, as well as carnivorous delights like sesame-crusted feta and black lime beef skewers.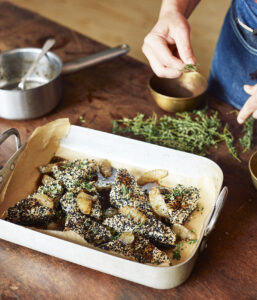 Sesame-Crusted Feta with Black Lime Honey Syrup
Serves 8
2 blocks of feta (360g), each cut into 4 triangles
35g rice flour (or plain flour)
1 large egg, well beaten
100g mixed black and white sesame seeds, lightly toasted
2tbsp olive oil
½tbsp picked lemon thyme leaves, or regular thyme leaves
For the syrup:
120g runny honey
1tsp ground black lime (optional)
3 lemons: 1 juiced to get 1tbsp and the other 2 left whole
Line a shallow baking dish, about 30cm x 20cm, with baking parchment.
Pat dry the feta pieces, then dip each piece in the flour, gently shaking off the excess. Coat in the egg, followed by the sesame seeds, making sure the feta pieces are completely coated. Transfer each piece to your prepared dish and refrigerate for at least 30 minutes, or longer if time allows.
Preheat the oven to 220C fan. Drizzle the coated feta pieces with the oil and bake from cold, for 18 minutes, very gently flipping the pieces over halfway, or until golden and warmed through.
While the feta is baking, put the honey and black lime, if using, into a small saucepan on a medium-high heat. Once it starts to bubble, turn the heat to medium and cook, stirring occasionally, until it turns a deep amber caramel, about six to seven minutes. Take off the heat and stir in the lemon juice. Set aside to cool for five minutes.
Use a small, sharp knife to peel and segment the remaining two lemons and stir the segments into the cooled honey mixture.
When ready, pour the lemon syrup directly over the feta in the baking dish, sprinkle with the thyme and serve at once, straight from the dish.
Za'atar Salmon and Tahini
Serves 4
4 salmon fillets (600g), skin on and pin bones removed
2tbsp za'atar
2tsp sumac, plus ½tsp extra for sprinkling
60ml olive oil
250g baby spinach
90g tahini
3 garlic cloves, crushed
3½tbsp lemon juice
1½tbsp roughly chopped
Coriander leaves
Salt and black pepper
Preheat the oven to 220C fan.
Pat dry the salmon and sprinkle with salt and pepper. In a small bowl, combine the za'atar and sumac, then sprinkle this all over the top of the salmon to create a crust.
Place a large ovenproof sauté pan on a medium-high heat and add a tablespoon of oil. Once hot, add the spinach and a pinch each of salt and pepper and cook for two to three minutes, until just wilted.
Top with the salmon, skin side down, and drizzle the top of the fish with two tablespoons of oil. Bake for five minutes.
Meanwhile, in a small bowl whisk together the tahini, garlic, two-and-a-half tablespoons of lemon juice, a good pinch of salt and 100ml of water until smooth and quite runny.
When ready, remove the pan from the oven and pour the tahini all around the salmon (but not on the fish at all). Bake for another five minutes, or until the fish is cooked through and the tahini is bubbling. Spoon over the remaining tablespoon each of lemon juice and oil and top with the coriander and extra sumac.
Ottolenghi Test Kitchen: Shelf Love by Noor Murad and Yotam Ottolenghi is available now