Turning her back on finance for art, one local woman makes personalised clay dolls to order. ALIX NORMAN takes a closer look
Lady Gaga is dressed in the stunning Schiaparelli two-piece she wore to the presidential inauguration, complete with oversized dove brooch on the left breast. Maya Angelou wears printed monochrome, symbols denoting freedom above her head. And Iris Apfel is clad in her trademark rainbow garb, with chunky necklace and oversize specs. And yet, despite the incredible detail, each is no more than 25 centimetres tall: a miniature of the real person; an exquisite doll.
These are the So Sophie Art Dolls, collectible clay creations from the mind of local artist Sophie Adamou. Made for customers across the island, each doll is a charming portrayal of either a real-life personage or a beloved fictional character. So alongside Lady Gaga and friends, we get a ginghamed Dorothy, Toto at her feet; an aproned Maria von Trapp with guitar and floating musical notes; and Miyazaki's Princess Mononoke, complete with headband, spear, and shark-tooth necklace. And there are also a number of more personal pieces, likenesses of local people, commissioned by friends and family to celebrate a significant event…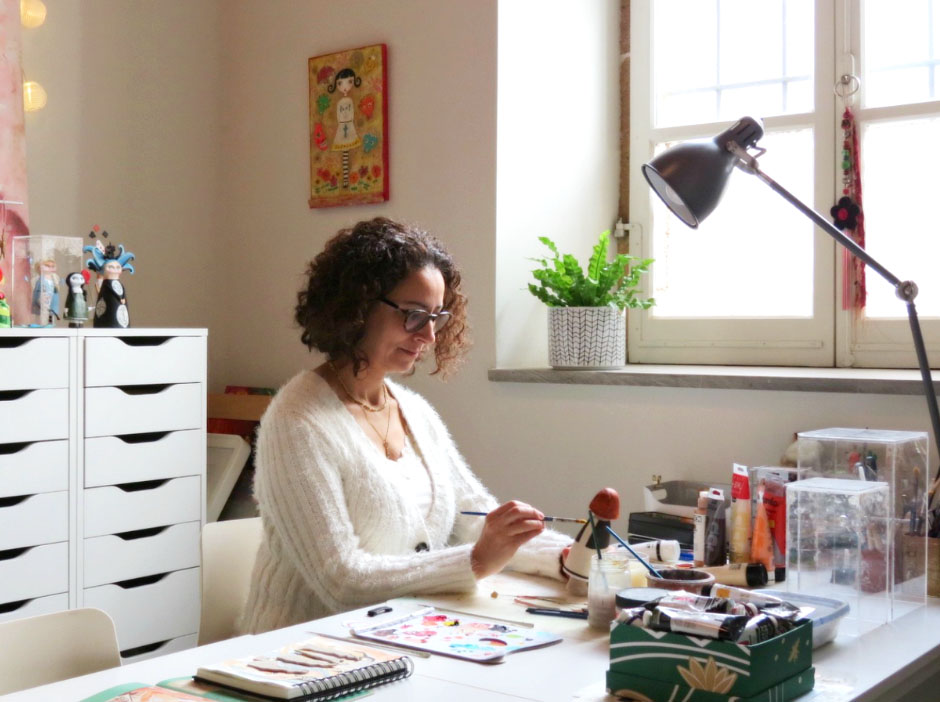 "Actually, the majority of my work comes from commissions," explains Sophie. "There are always a few dolls available for sale, but most are tailor-made to order – usually a gift for a well-loved friend or family member. It's a good way to give something unique; something that's wildly different from the more usual present," she continues. "A doll in the likeness of the recipient – perhaps wearing a favourite outfit or accompanied by a beloved pet – is incredibly personal and fun. And though it will never be an exact resemblance, the easily-recognisable characteristics are all there!"
While each commission is entirely original, so too are the better-known figures, explains Sophie. "No two dolls are ever alike. Even those which depict the same person – I've done quite a few Frida Kahlos, and a number of figures from Klimt paintings – are different. Their expressions, their clothing, their time of life – all will be unique to that particular doll."
These one-of-a-kind dolls are a labour of love for their creatrice who, after several decades in an entirely different field, set up Love Art and Beyond, the brand under which the dolls are sold. "I worked in corporate for years," Sophie smiles. "Up until 2016, I was in Information Systems with a bank. But as the half-century approached, I felt it was time to turn my hand to something different – to follow the more creative path that had always fuelled my soul. So I took voluntary redundancy to focus on art.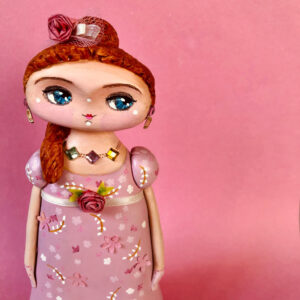 "Initially, I had no idea what I wanted to do," she adds. "I'd always painted and drawn, and knew I wanted to start a creative venture. But it wasn't until I took a course in doll-making with an expert that I realised this could be the way forward."
Experimenting with clay, and working long into the night to create her first pieces, Sophie found her passion. "I lose interest relatively easily," she admits with a laugh. "But doing this, I was never bored; I was always challenged. I wanted to make more and more…"
At first, Sophie made dolls for her friends. "Then I held an exhibition, and sold out on the first day while receiving twice as many commissions for future pieces. And that gave me the confidence to really go for it…"
Five years on, having just turned 50, the creatrice has made a huge success of So Sophie Mixed Media Art Dolls. And with so much going on in the business, she doesn't have time for boredom!
"The business certainly takes a lot of work," Sophie reveals. "But I enjoy a challenge, and I love learning new things. I'm entirely self-taught: everything from the dolls to the website, writing and sharing, are skills I've taught myself over the past few years."
With each doll taking between 10 and 15 hours to complete (including an initial sketch, often shared with the client; modelling the form; painting the details; writing each doll's story on the accompanying Inspiration Card; and a final photoshoot of the completed creations) Sophie is kept very busy. But her unique combination of creativity and strict adherence to deadlines – "something I learnt in my former financial career!" she laughs – has made Love Art Dolls a huge success. Her creations have been featured in Dolls online magazine, in Stampington's Art Doll Quarterly, and in the global online Art for Earth project. She's also seen her work shared by The Metropolitan Museum of Art, been a guest teacher at Life Book 2018, and contributed to numerous charities, including Sophia for Children, the Karaiskakio Foundation, and Melathron Agapis Agion Omoloyiton.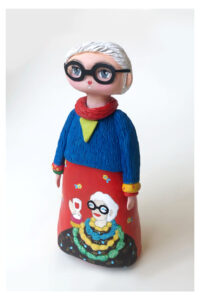 But it's the personal accomplishment, Sophie admits, which means the most. "I feel the business is a huge success in terms of what it gives me. Sometimes, when I'm creating – when I'm researching or sketching, writing each doll's story, modelling the clay, or painting in the details – I can't believe that someone is paying me to do something I love so much! It's an amazing feeling," she adds, "made even more wonderful by the connection I get to create with my clients, and the happiness each doll brings. Bringing a little joy, beauty, and hope into the world – especially given what we've all been through in the last year or so – is very important right now. I've seen people actually cry with happiness when they receive their doll!" she acknowledges.
"Perhaps we're all so conditioned to receiving generic gifts that something extremely personal produces genuine emotion," she muses. "And that's what I've always wanted to do. In So Sophie Mixed Media Art Dolls, I've found my calling: inspiring connection, emotion, and love through creativity."
For more information, visit https://loveartandbeyond.com/