As Christmas decorations come out of storage Antigoni Pitta looks at what is available in Cyprus and which you should you choose
With shops putting up Christmas displays and families dusting off their decorations, the end of November signals festive days ahead. For the environmentally conscious, it may also reawaken the enduring debate of whether real Christmas trees are better than artificial ones.
One of my most enduring childhood memories is driving downtown with my dad to buy a Christmas tree from one of the vendors lining Stasinou avenue. Shortly after we moved into a new house, my parents bought an artificial tree that they still use now, over two decades later. Despite being responsible for the import of Floralink's real Christmas trees, Michalis Papaiacovou is the same. "This is my job, and I have a fake tree," he told the Sunday Mail. "It's all down to personal preference, really".
A quick look around large supermarkets and shops turns up dozens of options for artificial Christmas trees, which seem to dominate Cypriot households every festive period. Purists can still get a real tree, either from a nursery or through the forestry department, but not all trees are created equal.
Floralink and Solomou Garden Centre are among the largest nurseries on the island, importing a few hundred Christmas trees each every year. Both said they always sell out as most trees are pre-ordered by eager customers. At the time of interview, neither had received their shipments for the year, which were surprisingly not affected by worldwide supply chain issues. A Solomou employee said that as these are seasonal orders, arrangements are made way in advance to avoid any mishaps.
The most popular variety imported specifically for Christmas is the Nordmann fir (Abies nordmanniana). Favoured for its dense and attractive foliage and its classic 'Christmas tree' shape, it also doesn't shed like other tree varieties, and the needles don't all as it dries.
The forestry department's Christmas trees will go on sale as of Monday, but anyone planning on getting their tree from a forest station won't find any Nordmann firs. According to spokesman George Constantinou, the public will be able to choose from native species like the black pine, the Turkish pine, and a few firs. These trees were cut down as part of the forestry department's targeted forest thinnings, which help forests thrive by making space for trees to grow.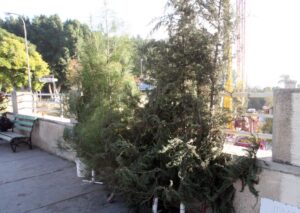 "Our native species are pretty sparse, they shed, and people don't want that," Papaiacovou said. "But these trees [Nordmann firs] are not endemic to Cyprus". He added that the big, real Christmas trees sold by Floralink mainly go to foreign households, expats from colder countries "who want the tree to remind them of winter at home".
There's also the issue of cost. Constantinou said that prices for trees sold by the forestry department start as low as €6 and go up as the trees get bigger, to reach €30, €50, or even more. On average, according to the professionals, a Nordmann fir is guaranteed to cost somewhere between €80 and €100. Prices for artificial trees have a similar range, the only difference being the money is only being spent once.
In 2009, a group of Canadian researchers carried out a comparative life cycle assessment (LCA) of both real and artificial Christmas trees to try and settle the which is better for the environment debate. An LCA assesses the environmental impacts associated with all stages of a product's life, from raw material extraction to manufacture, distribution and use.
The study found most people think real trees are better as they have a lower carbon footprint and don't create demand for plastic, while others argue that an artificial tree that is reused over and over might actually be better in the long run as it produces less waste and doesn't need fertilisers.
Some, including Papaiacovou, may argue that real Christmas trees are guaranteed waste. "People decorate them, they keep them in their house for three, four weeks, and then they die," ending up in a landfill or fireplace. But what about the ones that arrive in pots, with their roots still on? "Theoretically you can plant them, but you can't put them in your garden in the city, they'll die. These trees grow in a specific climate, so they would only be okay if planted in the mountains".
But environmental NGO Terra Cypria disagrees. "Locally sourced trees, according to The Carbon Trust, have a significantly lower carbon footprint than an artificial tree, particularly if it is disposed of in a sensible manner after its use," Environmental Policy Officer Christoforos Panagiotou told the Sunday Mail. And it's true that a tree grown and felled in Cyprus has a much lower carbon footprint than one imported from abroad, even a real one.
Meanwhile, he said, artificial trees are usually made in China, "with the dual environmental impact of being made from plastic, PVC and metal, and then shipped overseas". And while real trees are completely biodegradable and recyclable (they can be used as firewood, to enrich soil, or even repurposed) fake trees are not. As the Canadian study suggests, an artificial tree would need to be used for at least 20 years (my parents are doing well) for its environmental impact to equal that of a responsibly-disposed real tree.
Acknowledging that both types of tree have their benefits and drawbacks, the researchers concluded that regardless of what type we choose, the environmental impact of Christmas trees is negligible compared to other activities, like driving a car.
Panagiotou emphasised that for Cyprus, "with respect to impacts on climate change and resource depletion," the most sustainable option would be a locally sourced tree. However, it still wouldn't be a perfect solution due to its impact on ecosystem quality. "Another option to tackle the 'real vs artificial' Christmas tree debate, is by making a DIY tree using items you already have at home," he said.
"This is pretty much the closest you can get to having an eco-friendly Christmas tree".