By Ella Walker
According to Gino D'Acampo, what's on the dinner table is actually far less crucial than what's going on around it.
The Italian chef, 45 – known for his tan, family-friendly recipes and a certain level of moodiness – says at dinnertime the "talking is more important than the food, to be honest with you, because there's no point having a great meal and everybody don't talk to each other. Or everybody is distracted watching television – that is not the way."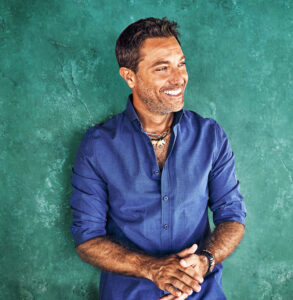 The D'Acampo household – the presenter and cookbook author shares three children, Luciano, 19, Rocco, 16, Mia, 8, with wife Jessica – eat together at 8pm every night. "We don't have mobile phones or television on or radio or anything like that. My family knows that when we eat, there is no distraction," he explains. "We enjoy the meal, and we talk."
Family life is at the core of D'Acampo's new cookbook and TV series, Gino's Italian Family Adventure. But for a chef with three kids, a restaurant empire, cookbooks to write, Family Fortunes to present, and many a trip booked with Gordon Ramsay and Fred Sirieix for their buddy series, Gordon, Gino And Fred: Road Trip, how does he balance work with family life?
"Very easily; I don't work a lot. No, I holiday with my family about six months of the year and I work the other six months, so my balance is at the moment, perfect," he explains. "I only work if I can take the same amount of holidays."
It's a very fortunate position to be in. "I was not born to work like a donkey," he continues. "Otherwise, I would have been born a donkey. You know? I have the luck to be born a human. And I want to enjoy my life."
Perhaps strangely for a chef and cookbook author, D'Acampo says he doesn't want to "force anybody to cook".
"If you approach the kitchen with negativity, look, just go and get a takeaway, get a ready meal," he says blithely. "It's about creating a balance. Right? So, if throughout the week, one day you're getting a takeaway and one day you get a ready meal and the rest of it you cook yourself, fantastic." And on those nights you do cook, he and his family are happy to provide the recipes.
Spicy Aubergine Bake
Serves 6–8
6 large aubergines (about 2kg in total)
5 eggs
150g plain flour
300ml olive oil
350g grated mozzarella cheese
150g finely grated pecorino cheese
Sea salt flakes
For the sauce:
4tbsp olive oil
1 large onion, finely chopped
1.4L tomato passata
4tbsp chilli oil, or to taste
20 basil leaves
250g mascarpone cheese
Fine sea salt and freshly ground black pepper
Slice the aubergines lengthways into slices about 2.5mm thick. Place in a sieve, sprinkle over some sea salt flakes and leave over the sink for one hour to allow any excess liquid to drain from the aubergines.
In the meantime, to prepare the sauce, place the four tablespoons of olive oil and the onion in a large shallow saucepan and fry over a medium heat for eight minutes, occasionally stirring with a wooden spoon. Pour in the passata and chilli oil, then add the basil, one and a half teaspoons of fine salt and one teaspoon of pepper and stir for two minutes.
Add the mascarpone, stir to combine all the ingredients, then reduce the heat slightly and leave to simmer for 10 minutes. Set aside.
Preheat the oven to 180C/Gas 4.
Put the aubergine slices on to some kitchen paper and pat dry. Place the eggs, one teaspoon fine salt and half a teaspoon of pepper into a medium bowl and beat well. Pour the flour on to a medium flat tray. Dip each aubergine slice into the flour and then into the egg to coat all over. Heat 10 tablespoons of the olive oil into a large frying pan and fry the aubergine slices until golden on both sides, about two minutes each side. You will need to work in batches.
Transfer the slices on to kitchen paper to drain off any excess oil. Continue to fry the remaining aubergine slices, again transferring them on to kitchen paper to drain the excess oil.
Layer one-third of the aubergine in a rectangular oven dish, measuring about 30 x 25cm. Spoon three ladles of the tomato sauce on top. Sprinkle over 100g mozzarella and 50g pecorino. Repeat the process twice more. You'll have a little more than three ladles left of the tomato sauce and 50g mozzarella to make a last layer; this extra sauce on top is absorbed through the dish while it cooks and keeps it extra moist.
Sprinkle over a pinch of pepper and cover with foil. Bake in the oven for 20 minutes. Remove the foil from the oven dish and continue to bake for a further 30 minutes.
Remove from the oven and allow to rest for about five minutes before portioning. Serve with some crusty ciabatta bread and salad. Just like mamma used to make.
Gino's Italian Family Adventure: Easy Recipes The Whole Family Will Love by Gino D'Acampo is available now