By Ella Walker
Brussels sprouts have had it rough. Horrifically mistreated throughout the Seventies, Eighties and Nineties, for too long we threw them into boiling water and left them to wilt, stew and practically dissolve.
In the process, generations have grown up thinking sprouts are disgusting, an inedible hell only to be endured on Christmas Day.
"I still have nightmares now, watching my mum on Christmas Eve criss-crossing the bottom of the sprouts," remembers chef Gordon Ramsay. "The minute she blanched them they blew up – all the leaves had separated."
We've moved on now though, haven't we? In recent years the much-maligned, iron-packed brassica has had something of a renaissance amongst celebrity chefs, cookbooks, restaurants and, increasingly, home kitchens. It has slowly been discovered that they don't need to be boiled to smithereens. They can be fried! Roasted! Shredded! Eaten raw in a salad! Who knew?!
With one foot in tradition, Ramsay will admittedly still part-blanch his sprouts – but then he'll "roast them with the most amazing, caramelised shallots, and finish with pancetta".
"The great thing about sprouts is that you can cook them in lots of different ways," says Lucy Brazier, author of Christmas At River Cottage, who also blanches them. "What you need to do is cook them at the last minute, just before you're about to eat them – chuck them into boiling water and do a couple of minutes, so they start to soften but not go too soggy. And then if I'm doing them with chestnuts, I'll stick them in a pan with the chestnuts, and fry them off for a couple of minutes as well, so you get some nice crispy edges."
Chef James Martin also appreciates sprouts with chestnuts, as well as crispy bacon, "thinly sliced with a little bit of cream, and then sweat it off in a pan with a touch of butter" – butter being the focus of his latest cookbook of the same name.
Gino D'Acampo – whose new cookbook is Gino's Italian Family Adventure – brings his Italian sensibilities to Brussels. "We make them with garlic, chilli, toasted breadcrumbs on top – absolutely delicious," he says
So this winter, fully acquaint yourself with the many wonderful facets of the humble Brussels sprout, and release your taste buds from the memory of mushy boiled ones. There's much more to them than that.
Gino D'Acampo's Brussels Sprouts and Chorizo
Serves 4 as a side dish
4tbsp olive oil
1 large onion, finely chopped
1⁄2tsp chilli flakes
150g chorizo, finely chopped
500g Brussels sprouts, trimmed, then par-boiled for 5 minutes
3tbsp maple syrup
Fine sea salt
Pour the olive oil into a shallow saucepan and set over a high heat. Add the onion and chilli and fry for three minutes, stirring occasionally with a wooden spoon. Add the chorizo and continue to fry for a further eight minutes, stirring occasionally.
Pour in the par-boiled and well-drained Brussels sprouts, then add the maple syrup and a pinch of salt. Reduce the heat to medium and fry for four minutes, stirring occasionally. So quick and easy, but the flavours together are amazing.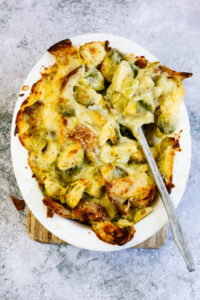 James Sawbridge's Savoury Bread Pudding with Cheesy Sprouts
Serves 4
50g (1¾oz) butter
1tbsp plain flour
75ml (2½fl oz) white wine
200ml (7fl oz) double cream
1tsp wholegrain mustard
½tsp ground nutmeg
½tsp celery salt
150g (5½oz) mature Cheddar, grated
350g (12oz) sprouts, halved
2 slices of sourdough, toasted
Preheat the oven to 220C. Melt the butter in a saucepan and stir in the flour. Mix into a basic roux base and then slacken it with the white wine.
Continue to stir the roux while adding in the cream, mustard, nutmeg, and celery salt, then cook over a low heat for three to four minutes until velvety and smooth.
Add the cheese and allow to melt, then remove the pan from the heat.
Steam the sprouts for four minutes, then add them to the cheese sauce with torn pieces of the toasted sourdough. Pour the mixture into a small casserole dish and bake in the oven for 15–20 minutes, until the cheese sauce is golden and the edges have started to crisp.
Vegan Smashed Brussels
Makes 1 tray
300–400g (10½–14 oz) Brussels sprouts
Olive oil, for cooking
Sprinkle of white sesame seeds
Salt and pepper, to taste
For the garlic mayonnaise:
100g (3½ oz/½ cup) plant mayonnaise
1 garlic clove, grated
Juice of ½ a lemon
Salt and pepper, to taste
Preheat the oven to 220C.
Peel the outer layer of the sprouts and give them a good wash. Bring a large saucepan of salted water to the boil, add the sprouts and parboil for 10 minutes until semi-soft. Drain well.
Line a large baking tray with baking parchment, then spread the Brussels sprouts over the parchment. Make sure the sprouts have enough space in between and flatten them with the palm of your hand or the bottom of a drinking glass until they are as flat as possible. Soak up any excess water with paper towel.
Drizzle the sprouts with olive oil and a generous sprinkling of salt and sesame seeds, then pop in the oven for 10–15 minutes until brown.
Remove the tray from the oven, turn the sprouts, sprinkle with more sesame seeds and pop back in the oven for a further 10 minutes. You want the sprouts to be golden and crispy!
While the sprouts are cooking, mix all the ingredients for the mayonnaise together in a bowl and set aside.
Once the sprouts are golden, remove from the oven and eat immediately while they are super crispy, dipping them in garlic mayo.