By Katie Wright
Wintry weather has begun and now the fashion forecast is clear: it's boots season. More specifically, long boots are taking over from the ankle-high kind and they'll be here to stay until spring.
Want to get on board with the latest catwalk-inspired looks? Whether it's for stomping about in puddles or glamming up for evening, these are the coolest boot trends of the season…
Chunky boots
Originally seen on the runways of Celine, Balmain and Bottega Veneta amongst others, tread-sole rubber and leather boots were a bit of a sartorial slow-burn.
Embraced by alternative fashion fans to begin with, they've now gone well and truly mainstream – which is great news, because they're warm and hard-wearing too.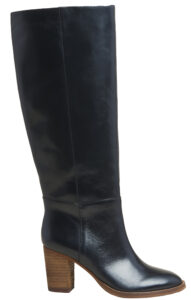 Riding boots
With just a hint of a heel and some subtle buckle detailing, riding boots are comfy to walk in and go with almost anything.
Suede styles have more of a casual feel, while shiny black leather boots can be dressed up with jeans and a statement blouse.
Block heel boots
Classy and cool, Sixties-inspired block heel boots are ideal for teaming with mini or midi dresses.
For even more of a retro-cool vibe, faux snakeskin makes a real statement.
Thigh-high boots
Whatever the heel height, OTK (over the knee) boots look chic with a swishy midi skirt or dress – tights are optional.
Stiletto or flared heel black thigh-highs are glam enough to work with sparkly festive frocks or LBDs.