Lima is a desert city – the second largest in the world after Cairo – and situated in the Sechura Desert, caught between the Pacific and the Andes.
The city was founded in January 1535 by the Spanish who, eschewing the traditional Inca towns of the more hospitable sierra, plumped for a coastal capital that would link South America to Europe. 30 per cent of the country's nationals live in the metropolis, and the city's population is currently approaching 11 million! Although, for all its overcrowding, Lima is still a pretty good place to live. Especially given the food…
Known as the Gastronomic Capital of the Americas, Lima mixes Spanish, Andean, and Asian fare to a create a delightfully unique cuisine. The traditional ceviche is, of course, the star of the show. Developed in this coastal capital, the world-renowned dish is made from fresh fish marinated in limes and rocoto peppers, and served with onions, corn, and sweet potatoes – and, to ensure flavour and freshness, it's never eaten after 4pm! But there's also tiradito de pescado, a lighter version (sliced rather than cubed, and only marinated immediately before eating) that's highly popular in Lima, along with conchas negras, in which black clams take the place of the fish.
Meatier dishes also appear on the local menu. Antichuchos are marinated, grilled cow hearts; pollo a la brasa is rotisserie chicken marinated in soy sauce with red peppers and garlic; and cau cau is a stew that includes offal, tripe, and beef heart.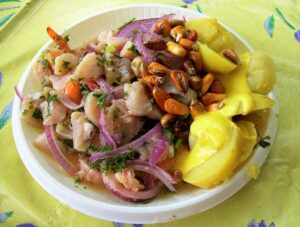 Chifa dishes are also a favourite. When the first Asian immigrants arrived in Lima in the mid-1800s, they fused the elements of their homelands with traditional Peruvian ingredients to create dishes such as lomo saltado (marinated, stir-fried meat served with fried potatoes), nikkei (a style of cuisine that sees sushi served alongside corn, sweet potatoes, and yucca), and chaufa, a unique fried rice dish that's mixed with chicken, seafood or local beef.
And to quench the ever-present thirst in this desert city, we get the traditional chicha morada (made from purple corn boiled with pineapple, quince, cloves and cinnamon), and a sweet, fruity, yellow soda that's Lima's most beloved (and wackily named!) soft drink: Inca Kola.