The war in Ukraine and the sanctions imposed on Russia have ended seven consecutive quarters of growth in the PC market in Europe, the Middle East and Africa (EMEA), said industry analysts Canalys.
Sanctions had restricted the product supply to the region's fourth-biggest market, Russia which accounts for about 7 per cent of all PC sales.
As part of the sanctions imposed on Russia, major PC manufacturers, including Lenovo, HP, Apple and Dell, have stopped shipping products to Russia.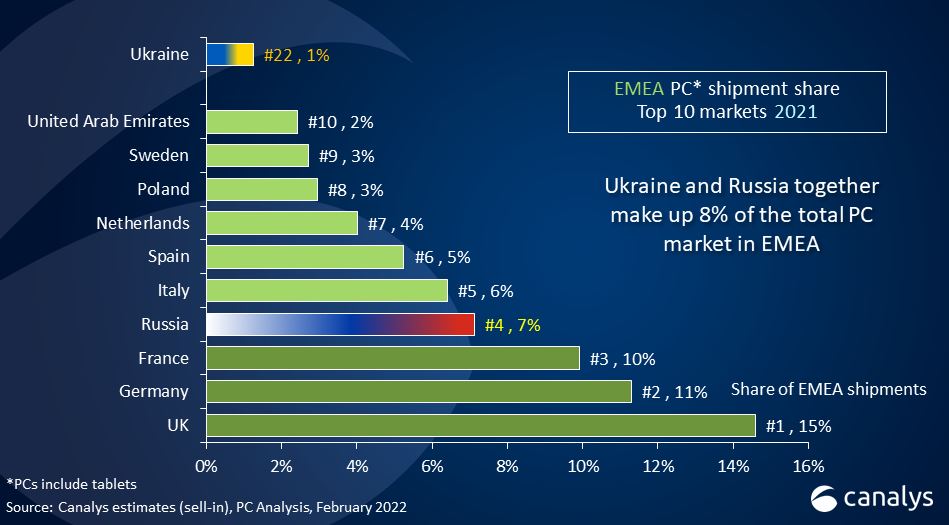 "These vendors even managed to stop some containers that had been mid-way through the journey to Russia at the end of February and divert those deliveries elsewhere," Canalys chairman and CEO Steve Brazier said this week.
Brazier explained that quick changes to distribution contracts prevented third parties from selling into Russia as well, resulting in very few grey market activities taking place.
"The consequences have been stark, with widespread shortages and prices in Russian retail outlets doubling and then rising each week," Brazier added, saying that the aforementioned vendors will most likely deliver no shipments whatsoever to Russia for at least the entire second quarter of this year.
The same situation exists in Ukraine, albeit for different reasons. Ukraine accounts for 1.25 per cent of all PC sales in the EMEA region..
Taking into account market disturbance in both countries, as well as the strong performance of the sector during the fourth quarter of 2021, it is more than likely that year-on-year PC declines will soon be confirmed for the first quarter of 2022.
However, Canalys noted that there are some positive trends being observed in the PC market as well, particularly with many corporate workers in Western Europe returning to the office full-time for the first time since the coronavirus outbreak began.
"Many employees, who have been frustrated by working at home for two years on an old machine, are demanding not just a new PC, but also products with high-resolution cameras, speakers and microphones," Canalys said in an analysis report.
"Many enterprises have increased their PC budgets because staff retention is their biggest challenge, and the cost of a PC is still far lower than the price of searching for a new member of staff," the company added.
That being said, things are somewhat bleaker for regular consumers, who face a number of issues, including high energy costs and rising inflation.
These factors are expected to squeeze this consumer group, reducing the amount of money available to them to spend on various products, including electronics.
"Consumer PC supply moved into equilibrium with demand during the first quarter, and there could be pockets of oversupply by the end of June," Brazier noted.
Finally, Covid-19 continues to be a factor, albeit more so in Asia rather than in the majority of European countries.
"The recent shutdowns in Shanghai, Shenzhen and Taiwan have further complicated the supply chain challenges, and commercial PCs will remain in short supply for at least the next three months," Canalys said, noting that ongoing lockdowns in China and Hong Kong are negatively affecting the PC market.