Pitcairn is one of the very few places in the world to have had zero Covid cases. The tiny little British Overseas Territory in the Pacific closed its borders at the very start of the pandemic and, two years later, has only just reopened them.
"Covid-19 free, Pitcairn Island will resume welcoming international visitors from March 31, 2022 after a two-year border closure to protect its vulnerable population," says the island's official website, referring to the island's efforts to shield an ageing population of just 47 people!
Pre-pandemic, Pitcairn was a popular tourist destination. But it's not somewhere you'd want to live. Despite the promise of free land, the 700 annual residency enquiries submitted since 2013 have failed to yield even one settler. And, by 2045, it's projected that only three people of working age will be left on the island.
It's easy to see why. Pitcairn is one of the most remote places in the world. Sure, it's a tropical paradise in one of the planet's largest marine protected areas, and boasts a fascinating history (it was originally settled by mutineers of Bounty fame). But, if you want to get out, it's a two-day ship trip to New Zealand (the nearest major landmass, at over 5000km distant!) on a boat that only arrives every few months…
Which means local fare is generally of the home-grown type: residents cultivate domestic species such as breadfruit, taro, sugar cane, coconuts, bananas, and beans, and the island's two main dishes, pota and mudda, rely heavily on such native plants.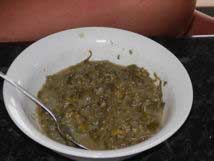 Pota is the mainstay, a laborious concoction made from fresh coconut cream and tale (or taro). Baskets of tale leaves are gathered by hand, chopped into two centimetre lengths, and set to boil. Meanwhile the coconuts are cracked, the flesh grated and mixed with water, and the whole mixture squeezed to extract the cream. Finally, when the tale has reached the appropriate consistency (boil for too long or too little, and you're in for the sort of digestive distress that makes you long to live on the mainland!), the leaves and cream are mixed together and simmered for a further 20 minutes to produce a rather tasty meal.
Mudda is another local meal, and again, the dish requires considerable effort. First, you peel and grate your bananas, and roll the result into small balls. Then you go through the whole coconut cracking process once more to get milk and cream, which are simmered alongside palm sugar. And lastly, the balls are dropped into the mixture (where, unless you've a lifetime of practice, they mostly dissolve), simmered for 10 minutes, and consumed hot from the pan.
It all seems a lot more difficult than, say, popping down to Pizza Hut of an evening. But then the people of Pitcairn aren't really big on convenience. What price escaping the pandemic when you've been cut off from the rest of the world for two years. And had just 46 others for company?!