Well-known Italian street artist Millo has completed his new mural at the Andreas Sylianides park in Yeroskipou.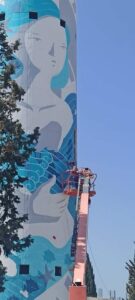 This comes after the destruction of a Millo mural in January last year, a public backlash, apologies from municipal authorities and an invitation extended to the artist to come back to Cyprus and create another artwork.
The original mural, part of the town's Capital of Culture 2017 events, was painted over as the wall was part of a privately owned building whose owners had decided to renovate.
Following the public backlash, the late Yeroskipou mayor Michalis Pavlides and Korantina Homes construction company expressed their desire to collaborate with the artist to create a new artwork.
A year later and Millo has returned to Cyprus, tasked with the creation of a new mural at the Andreas Stylianides park, a project undertaken and sponsored by Korantina Homes.
The new mural, painted on the wall of the Water Department's tower situated in the middle of the park, now stands complete.