One young Cypriot travelled into the depths of Africa's Limpopo, and there discovered what the West has lost
It took Tonia Constantinou two full days to return home from the Limpopo. But it took her over two years to get there…
The 23-year-old architecture student is in Heathrow when we speak. She's en route from Johannesburg (via Frankfurt) to Athens, where she's working for a year between her degree and her master's. Over the last 48 hours, she's taken buses, jeeps, taxis and planes; crossing the equator and bidding adieu to autumn on her long journey north. But the lengthy trip home, she reveals, was easy in comparison to her outward odyssey, which took her deep into a remote region of South Africa…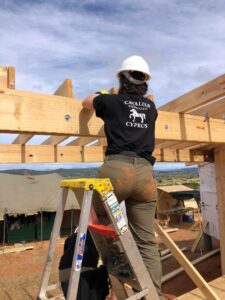 "Originally, I was scheduled to fly out to the Limpopo in 2020," explains Tonia. "As part of my studies at Nottingham, my class and I had designed – and were then set to build – a village school in Malahlela, a tiny community deep in the Limpopo province."
Named for its great, green river, the Limpopo is the northernmost province of South Africa. Bordering Botswana, Zimbabwe and Mozambique, it's one of the poorest regions of South Africa, and Malahlela is among the area's most rural communities. It's extremely beautiful, says Tonia, but incredibly poor. And very much in need of certain facilities – most notably a proper primary school for the local youngsters.
"I became an architect because I could see what a huge impact just one simple building could have on someone's life – or on the lives of a whole community. And I knew this primary school, in one of the most remote areas of South Africa, would do just that!"
Tonia's first task was to fundraise (each of the students contributed £1,000 towards building costs, and had to find another £1,200 for travel and expenses). Much of the money came from events at Nicosia's Cavalier Riding Club, which went to a dedicated GoFundMe page. "I was honoured to find so much support," says Tonia, "and raring to go! But, just a few days before I was due to set out, the pandemic hit. And everything was postponed…
"One year became two," Tonia laments. "In the meantime, I'd finished my degree and taken a year out to work in Greece. Classes at Nottingham had moved on, and new students had taken over. I began to think I'd never be part of the project…"
Then, in early 2022, Tonia received a welcome message: the project was finally going ahead, and certain alumni had been invited to join! Full of joy, she packed up once more and set off for Africa. "Very unprepared," she acknowledges, "for such a different world. Right now, I'm here in the busiest airport on the planet. I'm talking to you via the internet, with running water and bathrooms right around the corner. But for the past 14 days, I haven't been able to take any of these amenities for granted…"
Malahlela, she reveals, is similar to the Cyprus of 70 years ago. "Infrequent electricity, no internet, subsistence living. The school was actually operating – but from a rickety corrugated iron hut that was both hot and unsafe. So a new building would make all the difference."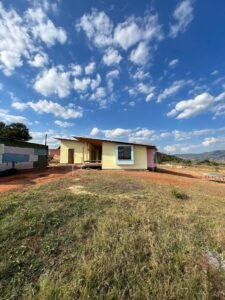 Working as a team, the students had designed the new school to maximise light – "we knew we couldn't rely on electricity for lighting" – and air. "It's hot there!" exclaims Tonia. "I mean REALLY hot. And I speak as someone who grew up in Cyprus!" Using local, sustainable materials, three teams each spent two consecutive weeks on the project, constructing three classrooms, a kitchen and an office space from the ground up.
"I was part of phase two," says Tonia. "So when we arrived, the first group had already completed the foundations and the basic structure of the walls. Our job was to install the doors and windows, finish the walls and the roof, and cut a wooden deck. I worked on covering the timber frames with plywood, cutting beams and rafters," she adds. "There was a great deal of hammering and sawing! We couldn't always charge our power tools, and often had to resort to age-old methods. But it was eye-opening seeing it all come together; knowing that all the work was very worth it, that you were part of an initiative that would change a whole community for the better!"
By the time you see this in print, the final group of architecture students will have come and gone, completing the exterior cladding, the flooring, and the painting. The Malahlela primary school will be up and running, catering to two teachers and over 30 youngsters. Its designers and builders will have left the Limpopo behind, flying north into the hustle and bustle of Europe. But they will, says Tonia, be forever changed. Not by the physical experience of hard labour and heat, but by the emotional implications of a life-changing experience…
"The thing that struck me the most about the entire experience was the people of Malahlela," says Tonia. "They have so few of the possessions or amenities we take for granted. And yet everyone seemed so happy; much happier than us. Everywhere we went, complete strangers would smile and wave; faces lit up as we drove past; there was dancing in the street!
"The Limpopo is a place not of mansions, but of mud huts," she muses. "And yet there was a genuine happiness you don't see in the west. These are kids who have never seen a PlayStation in their lives. But they'd stare in fascination at a beautiful sunset or spend hours cheerfully watching wildlife. I know the school we've built will enable the children of Malahlela to enjoy a better life," she concludes. "But I also hope it teaches them to cherish their innate, unquenchable joy in the simple things of life. I look around Heathrow – so vast, modern and glittering. But I don't see happiness."