By Lauren Taylor
You've probably heard the saying that dessert cookery is 'scientific'. One mistake and your cake/tart/meringue will fall into a heap. It's a reputation Anna Higham – executive pastry chef at the esteemed River Cafe – is trying to fight. "I always hear so many people say that they really don't know how to make pudding, or that it's this really scary thing." To which she says: "No, this is just cooking, it's the same principles. You're just not as familiar with it [because] you don't do this every day."
Higham wants home cooks to approach dessert cookery by engaging our senses and tasting – like we would with a meat, fish or a veggie dish – and to think about seasoning a pudding, in the same way we would season a savoury dish, but instead of salt and pepper, using sugar or other flavourings to adjust the taste.
Fruit is the focus of Higham's debut cookbook – The Last Bite – a beautiful collection of more than 150 pudding recipes, including many innovative flavour combinations, laid out season-by-season. Think goat's cheese and cherry tart in summer, fig leaf ice cream with fig leaf oil and warm almond cake in autumn, and clementine granita with clementine leaf cream and pumpkin seed oil in winter.
Plus, with fruit, there's more leeway than chocolate, for example. "If you want to make a delicious fruit-based dessert, there's a lot of space for error and to play around – it's not all ruined," she says.
What's notable, though, is her love of using only one fruit at a time. While you may find additional ingredients, no two fruits ever meet in her recipes (with the exception of summer pudding and Christmas pudding).
So have we all been making a grave error putting blackberries in our apple crumbles or heaping – gasp! – fruit salad atop a pavlova? What's wrong with putting two or more together?
"I mean, nothing," Higham laughs. "I just think if you're going to spend time finding a really good version of that fruit, you've created it in a really respectful manner and tried to cook it to make it taste really delicious and really of itself, then why would you want to dim that shine a little?"
Milk Meringue and Yogurt Mousse
Serves 6
For the mousse
110ml whole milk
40g caster sugar
15g (2tbsp) cornflour
500g thick plain yogurt
250ml double cream
For the milk meringue
200g egg whites, from 6–7 eggs
Pinch of salt
400g caster sugar
50g (6tbsp) milk powder
To serve
250g berries
To make the meringue; preheat the oven to 120C with as low a fan setting as possible. Combine the egg whites and salt in a mixer with a whisk attachment. Whisk at medium-slow speed so that you build a strong, stable meringue. Once the whites hold soft peaks, add the sugar one third at a time, whisking well between each addition.
Gently fold in the milk powder. Line a baking sheet with baking parchment or a silicone mat. Either pipe the meringue into 6–7cm domes or use two spoons to scoop quenelles onto the lined trays.
Bake for two to two-and-a-half hours. The meringues should be crisp on the outside with a slightly gooey centre. Leave to cool in the oven with the door slightly ajar then store in an air tight container until ready to serve.
To make the yoghurt mousse; whisk together the milk, sugar and cornflour in a saucepan. Place over a medium heat and continue whisking gently until the mixture comes to the boil and has thickened. Pour into a shallow container and chill completely in the fridge. Combine the milk mixture with the yogurt, and add 100g of berries in a food processor and blend until completely smooth. Whip the double cream until it holds medium peaks and gently fold through the thickened yogurt. Leave to set in the fridge before using.
To serve, take three tablespoons of yogurt mousse and add the remaining berries along with the whipped double cream, folding through so that you get larger pieces of slightly crushed berries.
Use a sharp knife to cut the top of the meringue and divide it into three rough pieces. Place the base of the meringue in a shallow bowl or plate and spoon the mousse on top. Scatter the berries over the mousse then cover some of the mousse with the top of the meringue.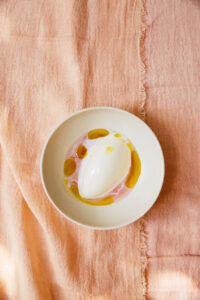 Ricotta Ice Cream with Magnolia Syrup
For the ricotta ice cream
150g caster sugar
500g fresh ricotta
25ml lemon juice
Small pinch of salt
For the magnolia syrup
150g caster sugar
100g (2–3) magnolia flowers
7g (1tsp) citric acid
To make the magnolia syrup; combine the sugar with 750ml of water. Bring to a rolling boil over a medium heat until the sugar has dissolved. When the syrup is boiling, add the whole magnolia flowers. Return to a rolling boil and add the citric acid. Immediately transfer to a shallow container then chill over ice or in the fridge.
To make the ricotta ice cream; combine the sugar with 150ml of water, whisk well and place over a medium heat. Stir occasionally until the sugar is completely dissolved, leave to cool then chill thoroughly.
Once the syrup is completely chilled, add the lemon juice, then blend in the ricotta until it is smooth and season with a little salt. Churn in an ice-cream machine then transfer to a container and leave to set in the freezer before serving.
Scoop a large quenelle of ricotta ice cream into a bowl. Sprinkle on some salt and lay one or two magnolia petals beside the ice cream. Combine the magnolia syrup (two tablespoons) and olive oil (they will remain split). Pour the syrup and oil into the bowl next to the ice cream.
The Last Bite: A Whole New Approach To Making Desserts Through The Year by Anna Higham is available now